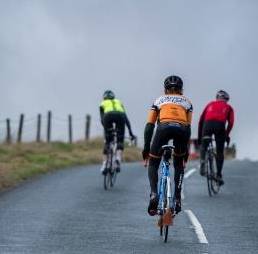 To help local businesses make the most of the Tour de France coming to Calderdale on Sunday 6 July 2014, Calderdale Council is busy supporting them to prepare.
As well as sending out leaflets and information packs to over 1000 Calderdale businesses, and regularly updating www.visitcalderdale.com(external link), Council teams have been out and about delivering a number of free roadshows. The sessions give face-to-face advice to businesses on raising profile through themed products; cross promotion; encouraging people to stay longer; repeat business; and the practicalities of race day.
More than 70 businesses came along to the latest sessions in Halifax, Elland and Hebden Bridge at the start of June. The focus was on presenting the latest information, helping businesses finalise their plans and answering their questions in the run-up to the Tour.
Melanie Thornber who runs The Fox Bar and Bistro in Ripponden, Calderdale, has been to two Council roadshows and found them really useful.
"I learnt things that I didn't know about before. I knew that the Tour coming to Calderdale would be a big thing, but I didn't realise just how great an opportunity it would be for my business. As a result of the roadshows, the Ripponden business community has come together and we're sharing information and ideas. We're all embracing the Tour and working together to raise our profile in the run-up. At The Fox we're running special events like a French-themed afternoon tea throughout July and a breakfast and lunch package with family entertainment during the Tour weekend."
Another business which is planning to make the most of the Tour is Little Valley Brewery, based in Cragg Vale. The business brews a range of organic beers and has created a new beer to mark the Tour de France, which is themed around Yorkshire cycling champion Brian Robinson. Sue Cooper, Co-owner of Little Valley Brewery, is also working with a group of other businesses to organise a special event with food, drink and live entertainment on 6 July in Cragg Vale – the 'Turkey Lodge Tour Fest'. Sue says:
"The Tour de France is acting as a catalyst for businesses, communities and local authorities to work together more closely. From a commercial perspective for Little Valley it is both reminding people that we are here and raising our profile amongst potential customers. We hope that the networks we are building now will be sustained after the Tour and that the work we put in now supports a legacy for greater things to come in the future."
Calderdale Council's Leader, Cllr Tim Swift, says:
"The Tour de France is a brilliant opportunity for Calderdale to promote itself on the world stage. It's wonderful to see our local businesses excited about the Tour, planning and taking action to make the most of it, and we're supporting them in a number of ways.
"Race day alone is estimated to bring up to £3 million into the borough, and a predicted 160,000 visitors. This gives us great opportunities to benefit from a business and economy perspective.
"But we know it's not just about race day. After the Tour, it's predicted that our visitor numbers are likely to increase by between 15% and 30%. We're working with TdFHUB2014 to assess the long-term economic impacts. We are working with other organisations to develop Calderdale as a cycling hub, to create a Tour de France legacy. The aim is to encourage cyclists to use a town as their base for several nights, allowing them to explore the area by bike via a series of routes which link up with tourist attractions, local businesses and refreshment stops – tempting people to stay in Calderdale longer, spend more, tell friends and keep coming back."
Thanks to support from Calderdale Council, The Fox Bar and Bistro is already thinking about the Tour legacy and has taken steps to become more cycle friendly, such as installing cycle storage in the garden and outdoor tap facilities where cyclists can wash their bikes and shoes.
Melanie from The Fox said:
"We've signed up as a cycle friendly pit stop on the Council's tourism website (www.visitcalderdale.com(external link)) and we're getting more bookings as a result. We hope to attract lots of repeat business, and as a result of the support from the Council and other businesses, we're confident that the Tour can only mean great things for The Fox."
For more information about the Tour de France coming to Calderdale, go to www.visitcalderdale.com(external link) or download the Visit Calderdale app for news, events, offers and places to visit in the borough.