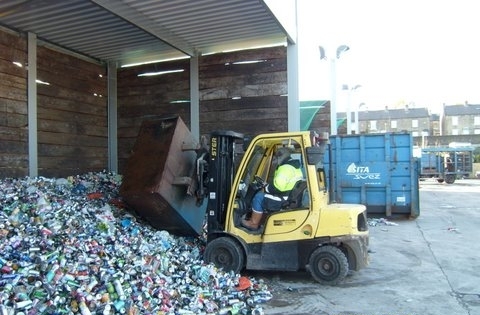 Calderdale residents are being asked to recycle everything they can, from plastic bottles right through to food waste.
Monday 16 June 2014 sees the start of National Recycling Week, so the Council is taking this opportunity to encourage people to do their bit.
Recycled materials are an important resource. Rather than using new materials to produce goods, recycling is a more efficient way of using resources, which then helps preserves natural resources for the future.
It takes a lot less energy to make things from recycled materials; for example recycling an aluminium can uses around 95% less energy than to make a can from the raw material bauxite!
Recycling also reduces the waste materials that are placed into landfill, so we are able to make the most out of our materials. Not only this, but landfill sites produce methane gas – a powerful greenhouse gas that contributes to climate change.
Recycling more of your waste also saves the Council money which can be spent on other services.
Calderdale Council's Cabinet Member for Economy and Environment, Cllr Barry Collins, said:
"We have improved our recycling rates enormously over the last few years and I'd like to thank all Calderdale residents for helping us to achieve this. Last year we made it to the top of the list in Yorkshire and Humber and we need your help to stay there. Recycling not only reduces greenhouse gases and makes good use of old material, it saves the Council money which can be spent on other services."
Calderdale Council's Head of Housing, Environment and Renewal, Mark Thompson, highlighted the need to recycle food waste:
"Your food waste can also be recycled. Recycling food waste means we can reduce the waste going to landfill and turn it into a usable soil conditioner for improving land rather than just throwing it away. Your kitchen waste can literally bear fruit in the future."
For more information about recycling or to order new recycling containers please visit www.calderdale.gov.uk/recycling or call 01422 288002.
Please help us to recycle more; recycle every week.