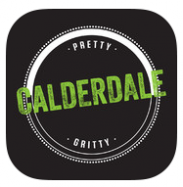 With less than a month to go it's time to start planning how to get the best view of the most famous bike race in the world.
To help spectators plan where to go and what to do during the race weekend of 5 and 6 July 2014, Calderdale Council has launched a VisitCalderdale app.  This has been specially designed to help visitors find information online about what's on in Calderdale, including details of events and offers from local businesses. 
Free to download from your app store, the VisitCalderdale app allows spectators to build an itinerary for their visit. The 'News' section is regularly updated from the Council's Twitter feed @Calderdale and instant notifications will be sent out giving up to the minute information on parking and road closures.
Wi-Fi is being installed along the Tour de France route so that people can access online information quickly and easily throughout the race weekend.
The Leader of Calderdale Council, Cllr Tim Swift,
said:
"Now is the time to make sure your trip to the Tour runs smoothly, by planning ahead. There's plenty of information available to help you decide where you want to see the race, how to get there and how to make the most of this once in a lifetime spectacle. 
"The VisitCalderdale app is a great way to find out what's on. We've also produced a series of handy guides which you can pick up from your local Tourist Information Centre, library, sports centre or download from the VisitCalderdale website. In particular, look out for our 'Really Big Tour de France Guide' which will be published next week. It contains everything you'll need to know about the race weekend in a handy fold out guide. 
There's still time for tourism businesses to include offers and events on the app, free of charge, and these should be sent to
bit.ly/visitcalderdale or emailed to
visit@calderdale.gov.uk
. All requests must be received by 30 June 2014 to be listed before the Tour de France. 
To celebrate the launch of the app, Calderdale Council is running two competitions through the app. 
Youngsters can take part in a photography competition by uploading an image of Calderdale, with their details at 
bit.ly/VCkidsComp
(external link)
. The top three entries will be awarded Amazon vouchers worth £100, £50, and £25. The closing date for entries is 30 June 2014.
And anyone who signs up to receive information and alerts about events in Calderdale through the app will be entered into a draw to win two theatre tickets to the show of their choice at the Victoria Theatre in Halifax.