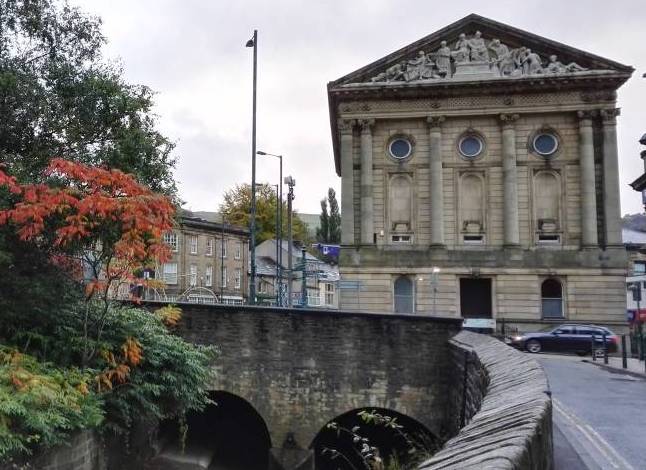 The historic main doors of Todmorden Town Hall are being carefully restored, returning them to their former glory. 
The imposing double doors have been used as the main entrance to Todmorden Town Hall throughout its history. However, time has taken its toll on the oak doors, with the wood having warped and some of the beading being lost over the years. 
To ensure these doors can remain in place for many years to come, Calderdale Council has commissioned specialist repair works, in line with the building's Grade 1 listed status. 
Calderdale company Armitage & Clegg will be carefully repairing the doors, temporarily removing them to be stripped and sanded, the missing oak beading replaced and then painted black – the likely original finish. While this work is taking place, temporary replacement doors will be installed. Historic England has been consulted and given their full approval.  
Calderdale Council's Cabinet Member for Regeneration and Economic Development, Cllr Barry Collins, said: 
"The restoration of the main doors is just one of many improvements taking place at the Town Hall. The historic pediment statues have already been cleaned, and damaged windows have been replaced, and more work is being planned to enhance and preserve the best features of the building." 
Work will start on the main doors next week (from Monday 24 April) and will back in place in time for the Mayor Making celebrations on Saturday 13 May. 
Calderdale Council's Cabinet Member for Neighbourhoods and Communities, Cllr Susan Press, said:  
"Todmorden Town Hall is such an iconic building in the town, it's important that we restore and preserve its features so it can be enjoyed for generations to come."
There's also the chance to see behind the scenes at the Town Hall with the upcoming Total Tour on Sunday 21 May at 2pm. Visitors will be able to see the impressive ballroom, the old Magistrate's Court (now Todmorden Town Council Chamber), the grand staircase and the heritage centre. There will also be special access to the usually hidden caretaker's flat and the former holding cell.  
Total Tours of Todmorden Town Hall are charged at £6.50 per person and include tea, coffee and biscuits. To book on a total tour please visit https://www.ticketsource.co.uk/Todmordentownhall(external link)