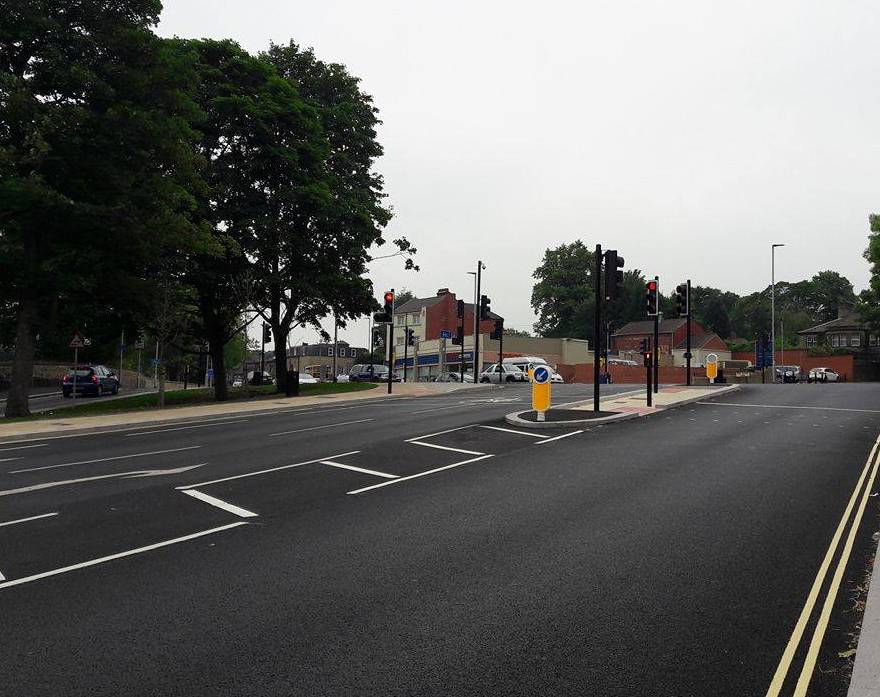 Journey times have improved significantly following the completion of work to remodel the A629 / Shaw Hill / Free School Lane junction in Halifax last month.
Calderdale Council launched the scheme to reduce traffic congestion and delays, and to make it safer and easier for people to walk and cycle in the area. 
These benefits have been achieved by widening the road and introducing extra lanes, new traffic light technology, dedicated cycleways and pedestrian crossings.
The roads will also be more capable of coping with anticipated future growth in visitors and business opportunities as Halifax town centre undergoes exciting regeneration in the coming years.
Shaw Hill is the first of a whole range of planned Council schemes to reduce travel times on the A629 route between Halifax and Huddersfield. The A629 project is the largest individual scheme in the Leeds City Region's West Yorkshire Plus Transport Fund programme, which is investing £1 billion over 10 years in more than 30 transport infrastructure schemes across West Yorkshire and York. The aim is to create around 20,000 new jobs and add £2.4 billion a year to the economy by the mid-2030s.
Cllr Barry Collins, Calderdale Council's Cabinet Member for Regeneration and Economic Development, said:
"I'm delighted that local people are already seeing real benefits from the improvements at Shaw Hill. This is exactly what we're aiming to achieve through our A629 project – quicker and easier journeys, better access to jobs and business opportunities, improved connectivity to and from the M62 and boosted economic growth.

"Calderdale Council is leading the way with transport investment regionally – our work at Shaw Hill is one of the first originally designed schemes to be completed within the whole West Yorkshire Plus Transport Fund programme."
The next phase of A629 improvements will be the widening of Salterhebble Hill, which is due to start in late July 2017.
The work will reduce travel times, especially in the southbound direction, by widening Salterhebble Hill to four lanes; remodelling the junctions at Dudwell Lane and Dryclough Lane; upgrading each Pelican crossing; installing new traffic light technology and improving facilities for pedestrians and cyclists.
A unique retaining wall will also be constructed on the western Halifax-bound side, featuring plants to bring more greenery to the area.
This will be followed by a major upgrade of the Calder and Hebble junction in late 2018. The detailed design work is currently underway to ensure the best possible solution.
West Yorkshire Combined Authority Transport Chair Cllr Wakefield said recently that these are exciting times for transport in West Yorkshire and the Leeds City Region. Talking about the West Yorkshire Plus Transport Fund he said:
"Transport is not about any single solution but a range of ideas and investments that create an integrated network that supports our aims of generating growth, creating good-quality jobs and connecting people and businesses to opportunity."
The unprecedented investment in transport is just one part of the 'next chapter' for Calderdale, which will also see major transformations to public spaces and business premises over the next few years. These exciting projects will build on the borough's unique heritage, fine architecture, vibrant business sector and strong communities.
The first phase of the work starts with over £150 million investment to improve Halifax town centre.
Visit www.calderdalenextchapter.co.uk(external link) for more information and to sign up for updates.