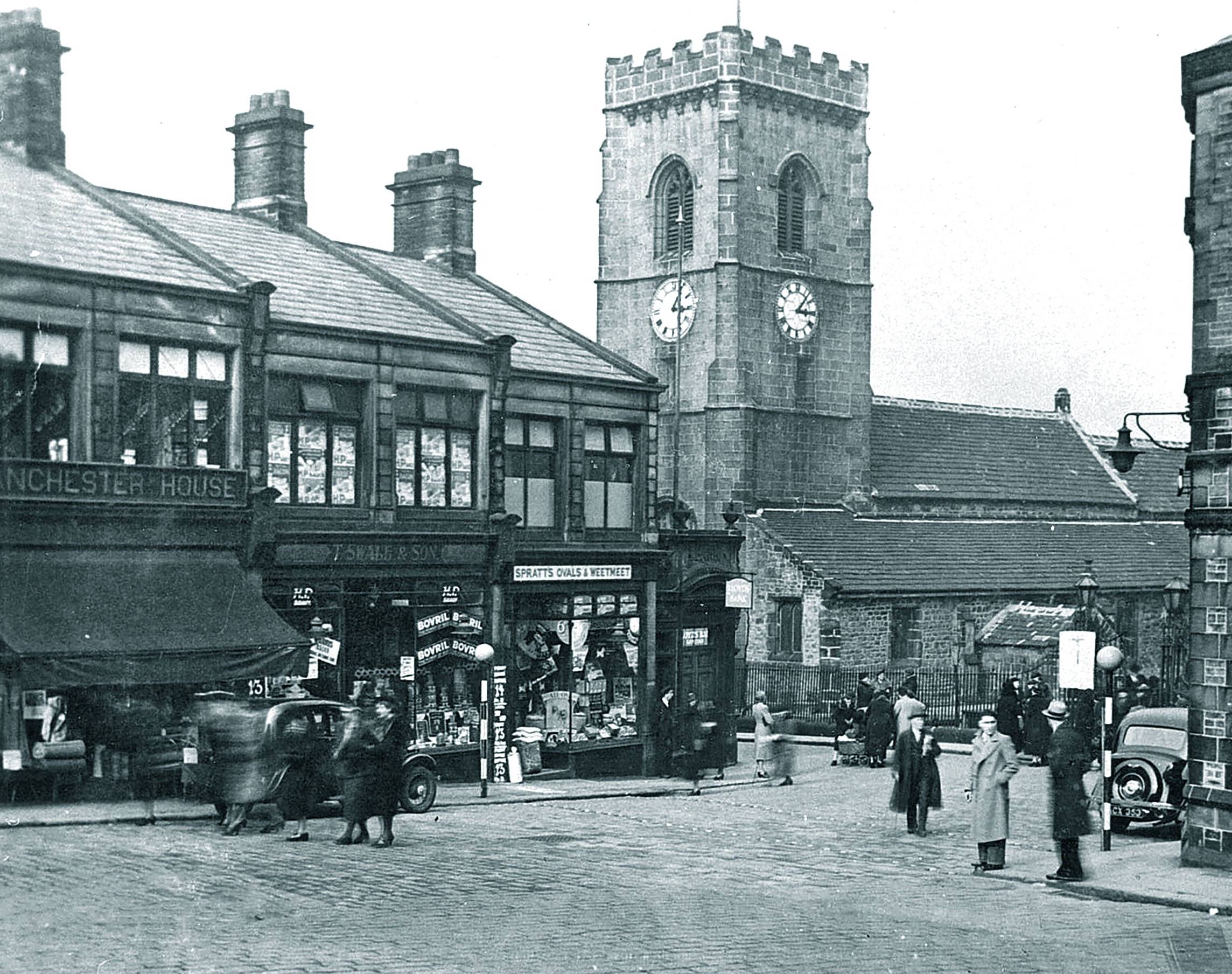 Elland is counting down to an array of exciting community events to celebrate its 700th birthday – and Calderdale Council is inviting local people to join the party.
This year it's the 700 year anniversary of Elland becoming an official market town. The town received a Royal Charter on 24 February 1317 from King Edward II, allowing it to host a weekly market and two fairs a year.
To mark this significant part of Calderdale's history, the Council, Elland Development Board, Elland District Partnership and other members of the local community are holding a series of events throughout the year.
Cllr Tim Swift, Calderdale Council's Leader, said:
"Elland has a proud history and an exciting future, and the town's special birthday year is the perfect opportunity to bring communities together to celebrate. The events are not just about peeling back the layers of Elland's heritage – they're also about recognising everything that's great about the town today.

"So come along, share the stories, join in the fun and be part of an important milestone that will be remembered for years to come."
How can you get involved?
'Happy Birthday Elland' event – Saturday 29 July, 10am – 4pm 
Organised by Calderdale Council, Elland District Partnership and the Elland community.
A fun day for the whole family, taking place all around Elland town centre and including:
A street market with locally produced food and crafts.
Entertainment, face-painters and craft activities for children.
A performance of 'LANDED' by internationally acclaimed performance artists Two Destination Language, as part of the new Calder Valley-wide arts programme, 'Landlines and Watermarks', which demonstrates how Calderdale towns have recovered from the 2015 floods. LANDED will star Elland residents telling their stories of the town to one audience member at a time. Elland Central Square, 10am – 2pm (each performance lasts about 10 minutes). Free tickets are available in advance through the Square Chapel Box Office: www.squarechapel.co.uk

(external link)

/ 01422 353073.
'Come and Have a Go' at Boxhall playing fields – a range of free activities for children and families, provided by local organisations showcasing what's available for young people in Elland.
'I am Elland' at The Brooksbank School – Friday 30 June, 6pm
An exhibition of art, photography and writing by students from the school, followed by a celebratory concert featuring local musicians, including Elland Silver Band and Elland Male Voice Choir, headlined by Lizzie Jones. Tickets are £10 (including cheese and wine) from the Victoria Theatre Box Office (01422 351158) and funds will go to Overgate Hospice.
Elland Vintage Weekend – Elland Cricket Club, Friday 15 – Sunday 17 September
Organised by the Rotary Club of Elland
Elland Vintage Ball – Friday 15 September, 7pm. Tickets include a three-course dinner.
Elland Retro Tea Party with live 1950s-style entertainment and the chance to test your jive skills – Saturday 16 September, 2pm – 4pm. Entry is free with a pre-booked ticket.
Elland Vintage Fair with children's entertainment, dog show, vintage stalls, food retailers, birds of prey, live entertainment, dancing and a fly-past by the Lancaster Bomber. Sunday 17 September, 10am – 5pm
For more information visit www.ellandvintageweekend.com(external link)
Elland Charity Carnival
Organised by the Elland Charity Carnival Committee
Saturday 8 July, Elland town centre, 10am – 4pm
There will be a variety of stalls, attractions, food and entertainment, a procession through the town and children's activities taking place on Boxhall playing fields.
Schools Yorkshire Tour
A selection of Calderdale schools are taking part in the inaugural Schools Yorkshire Tour* (12 – 27 June), a cycling relay involving school children across Yorkshire.
Local pupils will cycle sections of the Tour de Yorkshire route in Calderdale on Monday 26 June, ending on the closed road cycle track at Elland-based Brooksbank School, where pupils will take part in a welcome event and aim to cycle 700 laps in recognition of Elland's 700th anniversary. The event at Brooksbank will start at around 1.30pm, with the baton expected to arrive at about 2.30pm.
* The tour has been organised by the 10 Yorkshire councils in partnership with Sustrans and the West Yorkshire Combined Authority, and supported by YPO. Pupils will pass a baton over 245 miles from the start in Sheffield to its final destination in Leeds on Tuesday 27 June.
Elland Time Travel at Elland Library – Thursday 13 July, 2pm – 4.45pm
A free event hosted by Calderdale Council's libraries service.
A creative writing workshop travelling through Elland's past, present and future. Drawing loosely on local history, current everyday experiences and your own wild imagination, the workshop uses words to imagine an Elland you've never seen before. For more information and booking details head tothe Council's What's On page or call Elland Library on 01422 374472.
Elland History Trail
Written by theGreater Elland Historical Society, designed by Elland-based firm Design It, and funded by the Elland Development Board.
Step back in time and find out which buildings and events have helped Elland to grow and thrive. Packed with interesting facts and photos of Elland past and present, the 'Elland: A Town History Trail' booklet is a revamped version of the original guide created by the Greater Elland Historical Society in 1983. Pick up a copy from Elland Library or via the Historical Society, take a walk around the town and see how many landmarks you can spot.
Other activities
The Council is hoping to create an Elland time capsule, to bury at the 'Happy Birthday Elland' event, and is looking to reinstate the war memorial from Elland Pool in a significant place in the town.
Local business quotes
Karen Bancroft from Keir Woodward Travel Agents in Elland said:
"As with many local small towns, Elland can boast a great variety of interesting independent shops. The development of Lowfields Business Park and other nearby industrial sites has transformed the area into a busy and successful commercial centre."
Sharon Edwards from The Wellbeing Centre in Elland said:
"The Wellbeing Centre chose Elland as a location as it is close to the M62 and within easy reach of all major surrounding towns. The friendly atmosphere of this market town and its super location made it the ideal choice."
Did you know?
Elland is mentioned in the Domesday Book of 1068, in which it's known as Ealand, roughly meaning 'land by the river' in Anglo-Saxon.
The 'Elland 700' celebrations launched officially on Tuesday 31 January 2017 at Elland Cricket Club, where people gathered to find out how the anniversary will celebrate the town and its history. A special celebration weekend took place in February at St Mary's Church, Elland, featuring a history talk about the church, a special service and a chance to look around the church, which is the oldest building in Elland.
The Elland Development Board, which was formed last year and is involved in 'Elland 700', is made up of representatives from Calderdale Council, local businesses and members of the local community. It works to bring forward regeneration in Elland to ensure a thriving market town and a place that residents, businesses and visitors can be proud of.