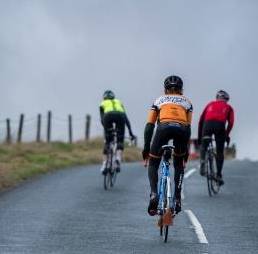 It's now less than month until the Tour de Yorkshire cycles into Calderdale, and visitors and residents are being reminded of the road closure arrangements on the day. 
On Sunday 30 April, 18 teams of cyclists will travel through Calderdale as part of Stage 3 of the race. To make sure that spectators, cyclists, support teams and volunteers can enjoy a safe event, there will be a number of road closures on the route, while the race passes through.  
Most of these will be rolling closures, meaning police motorcycles will ride ahead to close off junctions and stop oncoming traffic. The roads close around 30 minutes before the cyclists are due to pass and open up almost immediately behind them but this may be longer in areas where there are large crowds. 
In Calderdale, the Cote de Shibden Wall climb will be one of the toughest climbs in the Tour, and is expected to be a busy location for spectators. As such, this section of the route will be closed to traffic from 8.30am on race day, and any vehicles parked on this road on the day may receive a fine. Visitors wishing to see the race in this area are strongly advised to use public transport. There are regular buses from the centre of Halifax to Stump Cross which is close to the climb. 
Residents living in this area will have already received a letter alerting them to the access and parking restrictions. 
The Tour de Yorkshire will also be passing through Brighouse where the annual spring market, which will be Tour de Yorkshire themed, is taking place. Roads within Brighouse town centre will be closed, and this is expected to be a key viewing spot – why not get there early and enjoy the market? 
Other events this weekend include Northowram Scarecrow Festival and various other communities celebrating as the race passes through. 
The Leader of Calderdale Council, Cllr Tim Swift, said:
"The Tour de Yorkshire is fast approaching, so it's important that people know the arrangements for travelling around the borough on the day of the race.  
"In most areas, roads will reopen shortly after the race has travelled through, but Shibden Wall and Brighouse town centre will be closed for most of the day, so plan ahead if you want to spectate in this area. 
"The Tour promises to be a great event, and if you've yet to plan your day, pick up one of our Tour de Yorkshire pocket guides at Calderdale visitor centres, libraries and sports centres for all the information you'll need for a great Tour." 
You can find additional information about the race, including the race route and timings at visitcalderdale.com(external link)