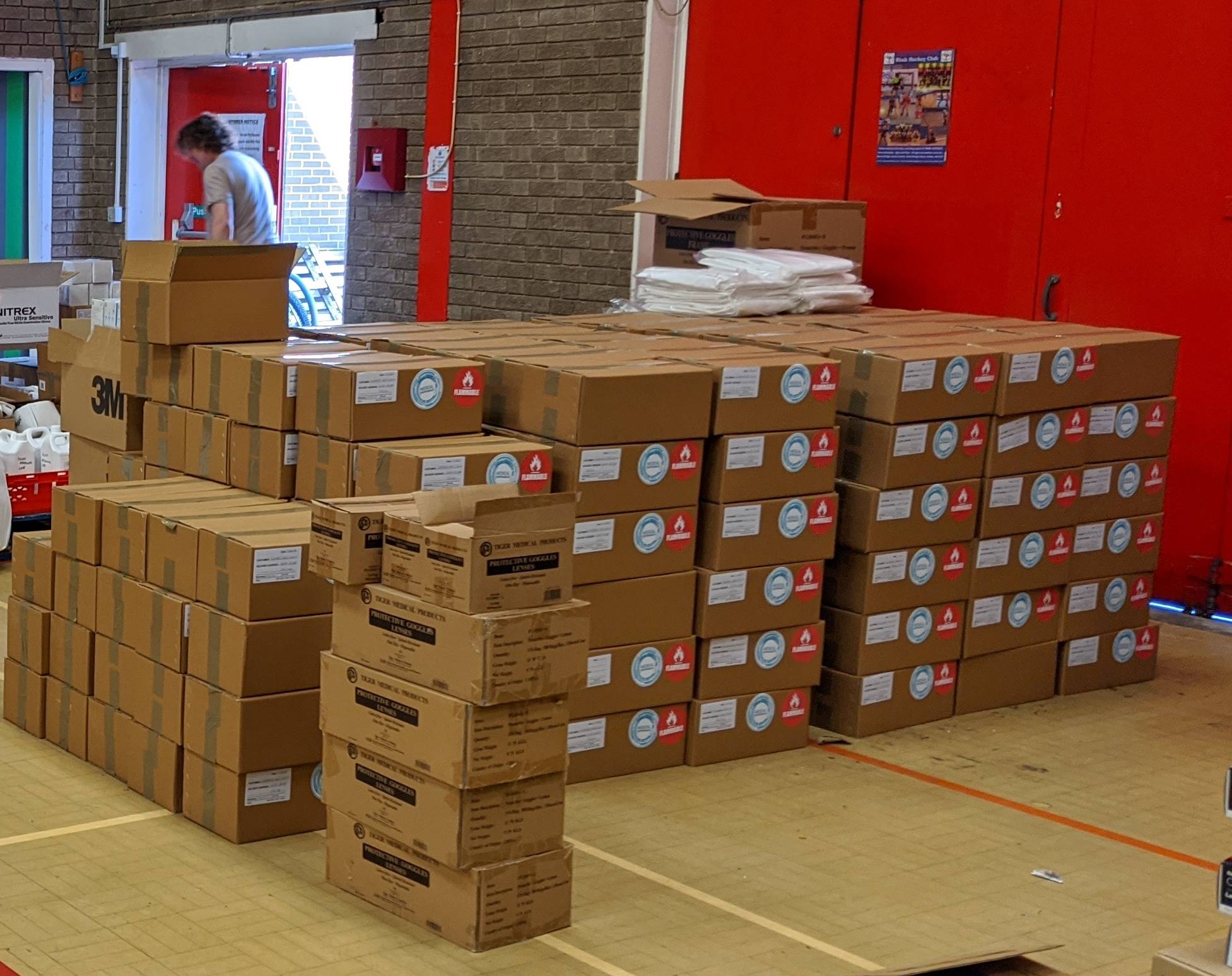 The mission to boost supplies of Personal Protective Equipment (PPE) in Calderdale continues, with more local businesses coming forward to provide vital items in partnership with Calderdale Council, to help keep frontline care staff and residents safe during the COVID-19 pandemic.
The Council is coordinating the distribution of PPE to its care workers and providers, including care homes, across Calderdale. In just eight days at the end of April, the Council delivered nearly 46,000 pieces of protective gear, including masks, eye protection, gloves and gowns. Over the last few weeks it has distributed over 1000 litres of hand sanitiser.
Staff who usually work in the Council's leisure services have taken on this crucial distribution role, helping to reduce the spread of the virus.
Cllr Tim Swift, Calderdale Council's Leader, said:
"A real team effort is ensuring that frontline staff and residents in Calderdale are getting the essential protection they need. For this we give many thanks – to the care workers looking after people; to staff taking on different roles to distribute PPE; to those supporting our care providers and assessing PPE stocks daily; to the local businesses helping to boost supplies; and to those providing PPE data to the Government to make the case for our need.

"There is still a critical need in our acute, primary and community health sectors – at any one time we try to have at least 72 hours' worth of PPE to ensure confidence. We will continue to call on Government for a long-term, sustainable solution to the national shortage."
As well as the Council and the West Yorkshire Local Resilience Forum doing everything they can to ensure enough PPE at all times to all sectors, supply from local businesses is growing.
Marshalls, the hard landscaping manufacturer based in Elland, is one of the businesses going the extra mile to support the united effort. It has kindly sponsored Thomas Dudley Limited to produce 1000 face shields, which Marshalls has supplied to Calderdale Council for use in social care.
This builds on Marshalls' previous donation of some of its own PPE to Calderdale Royal Hospital to support the COVID-19 response, as well as its supply of 100 tonnes of flooring materials for the Manchester Nightingale Hospital.
Martyn Coffey, CEO of Marshalls plc, said:
"We're really pleased to be able to support our local key workers and help them to stay safe during this time."
For up-to-date and reliable information about COVID-19, use trusted sources such as:
www.gov.uk/coronavirus(external link)
www.nhs.uk/coronavirus(external link)
www.calderdale.gov.uk/coronavirus
The Council urges everyone in Calderdale to follow the Government guidance on Staying at home and away from others(external link). This is the single most important thing you can do to protect the NHS and save lives. As well as social distancing, you can reduce the risk of catching and passing on COVID-19 by washing your hands(external link) with soap and water often, for at least 20 seconds, avoid touching your face and follow the 'catch it, bin it, kill it(external link)' guidance.