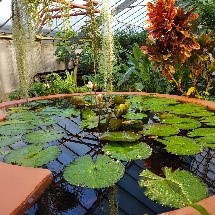 The popular Jungle Experience attraction at Manor Heath Park is set to reopen on Good Friday (7 April), with free admission across the Easter weekend.
The Jungle Experience is located in Manor Heath Park, just outside Halifax. It's a large tropical greenhouse filled with a wide range of plants and animals from all over the world, with information boards for visitors to find out more.
The attraction has been closed since the COVID-19 pandemic, with deterioration of the wooden walkways causing further delays in its reopening.
Initial quotes for the repair work were high, so Calderdale Council staff have been carrying out repairs themselves, with staff from the Green Spaces and Street Scene team using their skills to repair decking, replace the fencing and point the various structures within the greenhouse.
The Jungle Experience is now ready to reopen and as a special 'welcome back' offer, the Council is offering free entry to the attraction over the full Easter Weekend, from Friday 7 April until Monday 10 April 2023.
Visitors will be able to enjoy seeing terrapins and fish in the pond areas, and tropical butterflies in the Butterfly Zone. There are also a variety of plant species on display, including Bird of Paradise, tropical waterlilies, orchids, banana plants and the fascinating insect eating plants in the Savage Garden area.
Calderdale Council's Assistant Director for Neighbourhoods, Andrew Pitts, said:
"The Jungle Experience is a great facility in a marvellous park and I'm pleased that we're able to reopen this attraction following significant repairs.

"A lot of hard work has taken place at the facility and I'd like to thank the staff who have used their skills to make the repairs, allowing this great attraction to reopen and saving the Council a considerable amount of money.

"To celebrate the reopening, we're offering free entry over Easter weekend, so it's a great time to pay the park a visit and enjoy the Jungle Experience and the many other fantastic facilities available at Manor Heath."
The Jungle Experience is open every day from 10am and entry is usually £1. Manor Heath Park also has additional attractions including the beautiful walled garden, play areas, outdoor gym, picnic areas and café. For more information, visit https://new.calderdale.gov.uk//leisure/parks-and-open-spaces/parks/manor-heath
ENDS