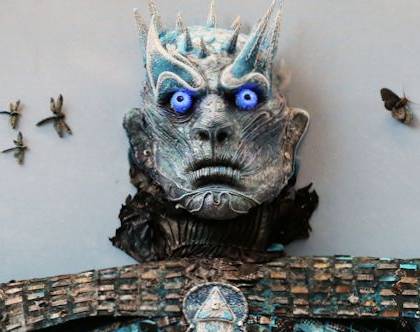 It may just be the start of the summer holidays, but 'winter is coming' to Bankfield Museum this week, as a giant White Walker from the television series Game of Thrones will be displayed from Saturday 30 July.
The Hardhome Embroidery, featuring a thirteen feet high White Walker, was originally created for the television network HBO as a backdrop to mark the eagerly awaited release of Games of Thrones series five on DVD.   
The highly detailed work is over 17 feet wide and features imagery from one of the most intense battle scenes in TV series history – the massacre of Hardhome (Series 5, episode 8).  
The embroidery took over 5,000 hours to complete using a wide range of textile and mixed media materials, creating a one-off piece that showcases the artistry of hand embroidery and textile design in an impressive and imposing way. 
The Embroiderers' Guild led the design and production including contributors from The Royal School of Needlework, Hand & Lock and Fine Cell Work.
The work is making its first northern debut in Halifax. It has only been displayed for one weekend in central London so far, and Bankfield Museum is thrilled to be able to display it for their visitors. 
Eager Game of Thrones fans are welcome to take advantage of the fantastic photo backdrop to take selfies. Upload your photos to twitter with #GameOfThronesHalifax
This new addition to Bankfield Museum coincides with their Exquisite Threads embroidery exhibition and will be on display throughout the summer holiday until Saturday 10 September.  
Calderdale Council's Cabinet Member for Neighbourhoods and Communities, Cllr Susan Press, said: 
"Game of Thrones is one of the most popular programmes on television, with a very loyal fan base.  

"Fans of the series will know how terrifying the White Walkers are, and this thirteen foot high embroidery is particularly imposing. 

"It's fantastic that Bankfield Museum will be showing the exquisite piece for the first time outside of London. The detail is incredible, and even if you aren't a fan of the show I think the level of skill displayed in the embroidery will impress." 
Entry to the museum and exhibition is free.
Bankfield Museum, Boothtown Road, Halifax, HX3 6HG.
Open Tuesday to Saturday 10am-4pm.