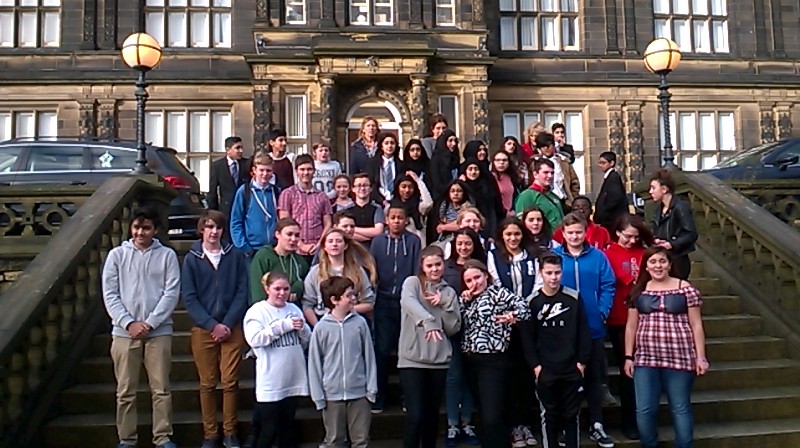 Young people in Calderdale will soon be learning more about healthier lifestyles, as the innovative Youth Health Champions programme is introduced to all Calderdale secondary schools from October. 
The Youth Health Champions programme is accredited by the Royal Society for Public Health (RSPH) and encourages young people to promote healthier lifestyles and better food choices within their schools and communities and act as 'health advisors' to their peers.
Since December, pupils from Sowerby Bridge High School, Park Lane Learning Trust, Halifax Academy and Crossley Heath School have all worked towards and gained a qualification from the Royal Society for Public Health (RSPH) – a level 2 Youth Health Champions certificate, equivalent to GCSE.
Our qualified Youth Health Champions have had some great experiences, recently, students from Park Lane Learning Trust were invited to attend a workshop in London, by the RSPH, to help provide input into the government's childhood obesity strategy.
The workshop was attended by students from other schools across the country. The Youth Health Champions took part in a discussion and provided input about what they thought could be done to tackle the problem of obesity amongst young people. 
Many ideas were put forward, with a student from Park Lane suggesting to put health offers on the back of bus tickets instead of unhealthy fast food offers. Other ideas included better labelled food packaging and age restrictions on certain foods. These were taken away by the RSPH to be fed back to government. 
One of the current Youth Health Champions, Zachary Smith, aged 14, from Crossley Heath School, said:
"Youth Health Champions has helped me gain confidence and meet new friends. It has also given me opportunities to meet great people and achieve things I did not think I could achieve."
The roll out to all secondary schools in the borough will begin this October, with schools working in pairs towards achieving the qualification.
Calderdale Council's Cabinet Member for Public Health and Inequalities, Cllr Faisal Shoukat, said:
"We're really committed to improving health and wellbeing in Calderdale and tackling the problems related to our food choices.
"Our Youth Health Champions have made a real impression within their schools, so we want to expand the scheme to all secondary schools to widen the influence and get more young people thinking about their food and where it comes from, as well as creating tips for a healthier lifestyle." 
Calderdale Council's Cabinet Member for Children and Young People's Services, Cllr Megan Swift, said:
"The Youth Health Champions have had some great ideas and fantastic experiences. I'm really pleased that more young people will have the chance to work towards the qualification and help improve health in their schools."