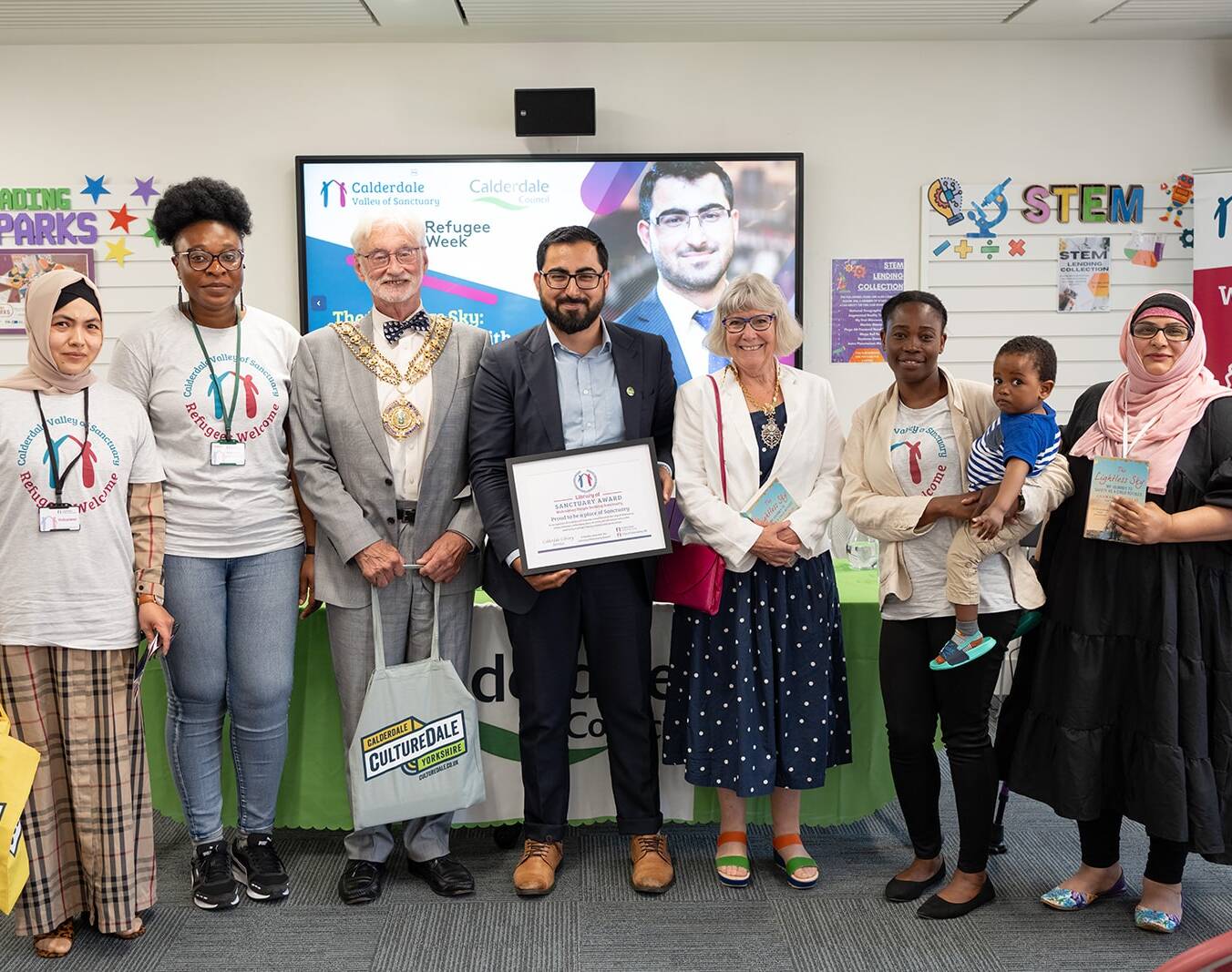 Calderdale Council staff and Councillors have been supporting national Refugee Week (19 – 25 June), taking part in events to show solidarity with refugees and people seeking sanctuary.
Through a programme of arts, cultural, sports and educational events, Refugee Week celebrates the contributions, creativity and resilience of refugees and people seeking asylum.
This year's national theme of compassion reflects the kindness and community spirit that give Calderdale its long and proud history of welcoming people fleeing war and persecution. Most recently, the whole borough has shown great compassion towards those seeking safety in Calderdale in response to conflict in Ukraine, Syria and Afghanistan.
The Council's Central Library in Halifax hosted a Refugee Week launch event on Monday 19 June, organised by Calderdale Valley of Sanctuary and opened by the Mayor of Calderdale. The audience, which included people currently living in Calderdale and seeking sanctuary, heard the story of Gulwali Passarlay, who gave a remarkable and moving account of his journey to the UK from Afghanistan as a 12-year-old boy fleeing the Taliban. His impactful book, 'The Lightless Sky', has shed light on his journey to sanctuary, and his own experiences and commitment to refugee rights make him an inspiring figure in the global community.
At the event, Gulwali presented the Council's Libraries Service with the prestigious Library of Sanctuary Award, which recognises the libraries' exceptional dedication to providing support and fostering inclusivity for refugees and people seeking sanctuary. 
The accolade, granted by Calderdale Valley of Sanctuary and City of Sanctuary UK, acknowledges libraries that surpass expectations in showing solidarity and extending a warm welcome to individuals seeking sanctuary and refuge. It showcases the positive contributions that refugees bring to our society and the many benefits of embracing a culture of inclusion.
The Council also supported a Refugee Week event held by Halifax-based St Augustine's Centre and Mytholmroyd company Sand In Your Eye. Council staff and Cabinet Member for Public Services and Communities, Cllr Jenny Lynn, joined local communities to create a giant piece of temporary land art at Savile Park, Halifax on Thursday 15 June. Teams gathered to spray paint birds on the grass, sending a strong message of inclusion and togetherness as birds are a symbol of compassion, freedom and migration. People have also been making their own paper birds to form a flock on display at Artworks Halifax during Refugee Week.
This video(external link) shows Cllr Lynn taking part in the creation of the land art at Savile Park.
Cllr Jenny Lynn, Calderdale Council's Cabinet Member for Public Services and Communities, said:
"We're really proud to support Refugee Week in Calderdale, both as a Council and alongside our communities and partner organisations as a Valley of Sanctuary that welcomes refugees and people seeking asylum, aiming to make Calderdale a safe and inclusive place for all.

"We're celebrating the talent and diversity that refugees and asylum seekers bring to Calderdale, helping to make it the great place that it is.

"Building on Calderdale's kindness, we strive to reduce inequalities. Through our Vision 2024 for Calderdale, we aspire to be a place where everyone can reach their potential, whoever they are.

"Gaining the Library of Sanctuary Award is a testament to the Council's commitment to providing safe, welcoming and accessible spaces for everyone. It's a huge achievement for our libraries staff, and I'm extremely proud of the team who have worked with Calderdale Valley of Sanctuary and other organisations to ensure people seeking sanctuary get the support they need."
For more information about Calderdale Valley of Sanctuary, please visit https://calderdale.cityofsanctuary.org(external link) and for details of Calderdale libraries, head to https://new.calderdale.gov.uk/libraries
The year 2024 marks Calderdale's 50th birthday and there is less than a year to go. Where do we want to be by 2024? Get involved on Twitter with #VisionCdale2024 and find out more at www.calderdale.gov.uk/vision