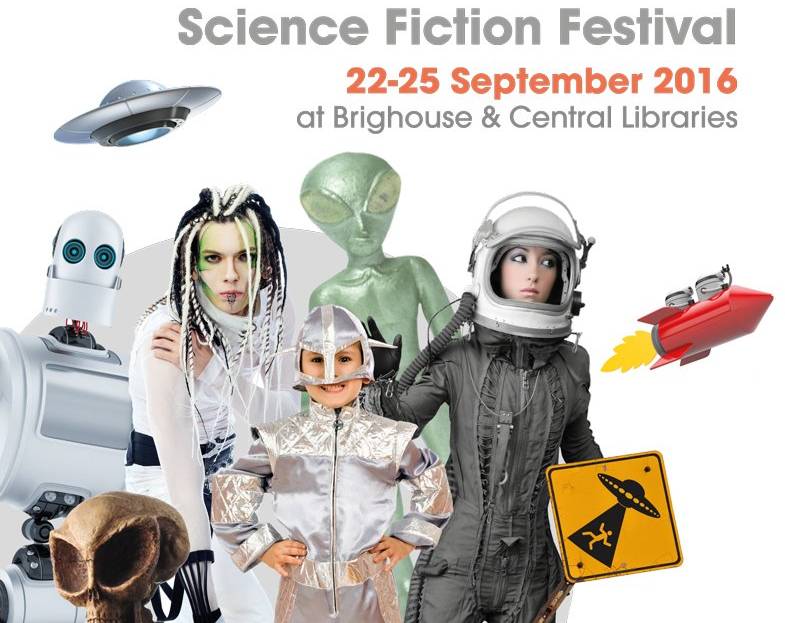 Calderdale Libraries are boldly going where they've never gone before, as they host their first Science Fiction Festival. 
Events run from Thursday 22 – Sunday 25 September at Brighouse Library and Halifax Central Library and includes film screenings, author talks, special effects demonstrations and much more. 
The Festival is suitable for both adults and children; however the Saturday morning is more family focussed, with face painting and family themed events. Fancy dress is optional for all the events, but as always, it's encouraged. 
Calderdale Council's Cabinet Member for Neighbourhoods and Communities, Cllr Susan Press, said: 
"The Science Fiction Festival is something really different for Calderdale Libraries. There's so much going on, not only for fans of sci-fi, but also for anyone with an interest in film, TV and literature.  

"The line up is very impressive and brings together some of the different strands of sci-fi, really showing the breadth of the genre."  
Literature fans are in for a treat, as there are author events at Brighouse Library throughout the Festival, starting on Friday 23 September at 12noon, when local author Joe Pitts will be giving a talk about his novel, Annie's Lights, set in West Yorkshire. 
On Saturday from 11am- 12.30pm, co-author of Doctor-Who-ology, Mark Wright will be reading extracts from his work and talking about everything Doctor Who. He will also be running a writing workshop, for budding sci-fi novelists. 
Later that day at 1pm, author Dan Mickelthwaite will be reading from his debut novel, The Less than Perfect Legend of Donna Creosote, as well as discussing his inspirations and influences. 
On Sunday from 4pm, author of The Prestige and The Adjacent, Christopher Priest will talk about his new book The Gradual, followed by a screening of Christopher Nolan's film adaptation of The Prestige. Tickets are £5/£3 concessions, for this event. 
The Prestige isn't the only film being shown over the weekend. The Festival begins with a screening of the thought-provoking drama, I Origin, at Halifax Central Library on Thursday 22 September at 2pm. More films are being shown throughout the weekend at Brighouse Library, including the classic 1960 movie, HG Wells' The Time Machine, on Friday 23 September and the family friendly Big Hero 6 on the Saturday. 
Most of the events are free, but booking is required at www.ticketsource.co.uk/calderdalembc(external link)  or call Brighouse Library on 01422 288060.