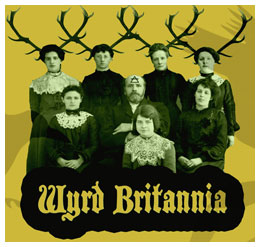 The more sinister underbelly of British folk traditions and folklore will be laid bare this January, in a festival of live music events, author talks and free film screenings all held in Calderdale libraries.
 The Wyrd Britannia festival launches on Monday 20 January, with a screening of 1970s classic The Wicker Man at Halifax Central Library, in the 2013 restored print, now hailed as one of the greatest British films ever made. 
The festival has a wide ranging programme and other visual highlights include rare screenings of a chilling pair of rare BBC Plays for Today – Robin Redbreast and Penda's Fen, both accompanied by short examinations of the sinister side of rural England.
 Music will be coming to the traditionally quiet surroundings of Hebden Bridge and Todmorden libraries too. The "falsetto fairytale folksongs and 16th century poems" of the band Magpahi provide a suitably captivating evening. This will follow author Andy Roberts' talk 'Albion Dreaming – a popular history of LSD in Britain' at Hebden Bridge Library on Wednesday 22 January.
On Saturday 25 January, the Folklore Tapes project will present their 'field-trip' of local folklore in entrancing music and images at Todmorden Library, whilst earlier the same day Chris Lambert binds film, music and book-extracts into 'Tales from the Black Meadow'. 
Calderdale Council's Cabinet Member for Communities, Cllr Steve Sweeney, said:
 "The Wyrd Britannia festival blends live music, films and talks in a captivating way – showcasing just how much more libraries have to offer in Calderdale than books and PCs alone.

"If the events and live performances pique your interest, there is also a large stock of related books, CDs, DVDs and BluRays in our libraries which are available all year round."
Full details of all events and details for booking can be found at http://www.calderdale.gov.uk/leisure/libraries/services/sound-vision/wyrd-britannia.html