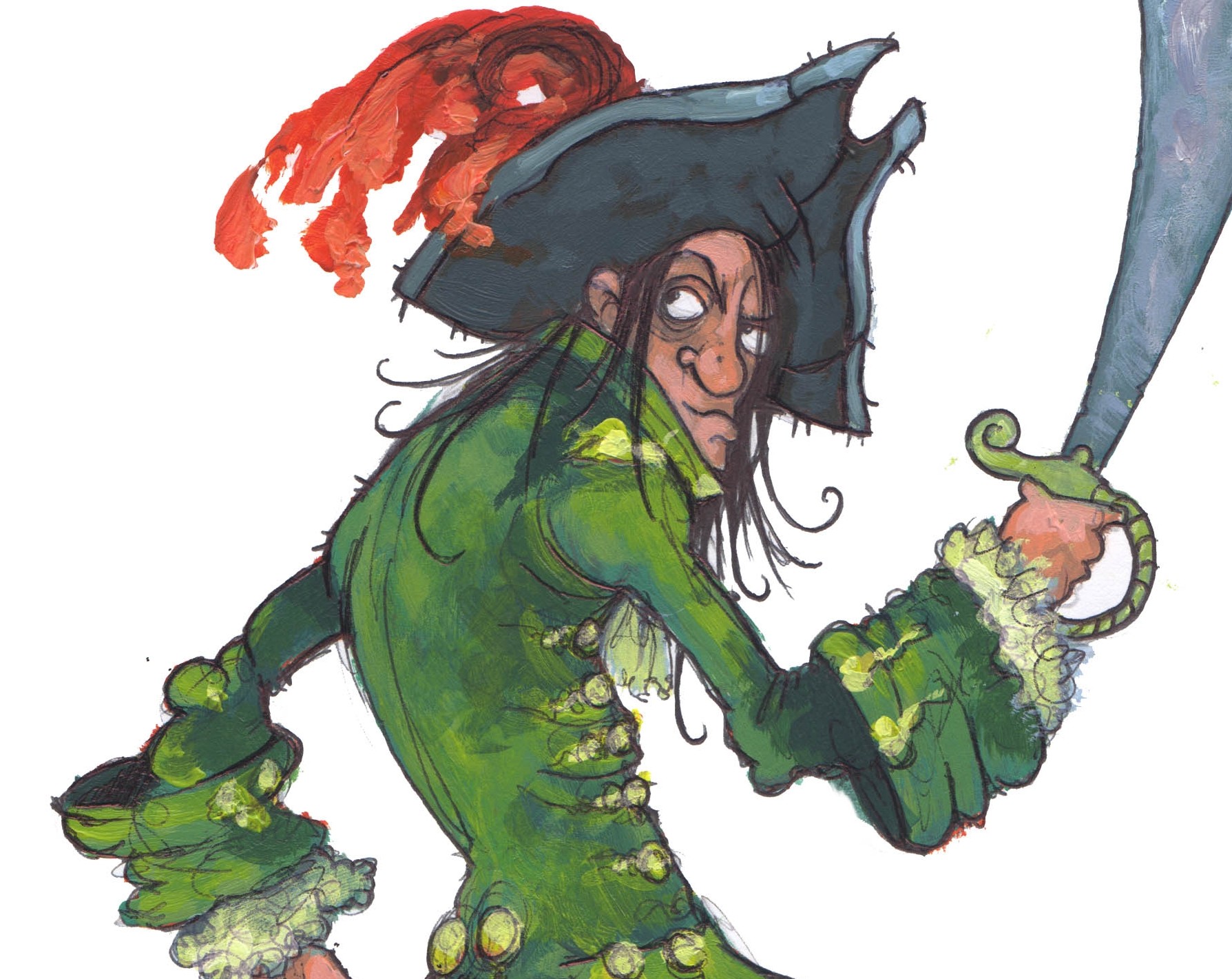 A swashbuckling exhibition of pirates, treasure and adventure featuring original drawings from Pirates 'n' Pistols, the award winning children's book by Chris Mould is coming to Bankfield Museum, Halifax on 25 January – 26 April 2014. 
The exhibition will be officially launched with a book signing with the artist Chris Mould on Saturday 25 January from 2pm-3.30pm. Chris will be dressed as the Bankfield Pirate for the launch, complete with green frock coat, hat and red ostrich feather. A series of pirate events, activities, sea shanties and children's competitions complement the exhibition, and visitors are also encouraged to dress up.
Chris Mould was born in Bradford in 1969 and studied Illustration at Leeds Polytechnic. He is a published author and illustrator and his series of books, 'Something Wickedly Weird' are popular with children and adults alike. His dark and humorous artwork has been presented on the BBC, Channel 4 and with Aardman Animation, the creators of Wallace and Gromit.
Chris also creates intricate and amazing pop-up books "which combine some of the most innovative paper engineering together with Mould's signature brooding style of buildings and beings… A victory for the delight of visceral fears made visual!" (Achuka Books).
 Chris was winner of the Nottingham Children's Book Award and the Swiss Prix Enfantasie Best Children's Novel Award. In 2013, Chris was shortlisted for the prestigious Kate Greenaway Medal for his book Pirates 'n' Pistols, featured in this exhibition.
Calderdale Council's Cabinet Member for Communities, Cllr Steve Sweeney, says:
"This exhibition will be a fantastic addition to the pieces already on display at Bankfield Museum.

"I'm sure adults and children alike will be interested in the items on display. Pirates are a very popular subject and this is a fantastic opportunity to see original work by award winning local author, Chris Mould."
Chris Mould says: 
"There's something strangely appealing about the pirate. In his long coat tails and his shining boots, his plaited hair and his wide brimmed hat. A shining gold tooth in his roguish grin and a menacing glint in his narrow eyes.

"In reality of course, he is a different prospect. Someone to be avoided at all costs. A menace on the water. But within the pages of a storybook, he is a fun and crucial character in any seafaring tale worth its salt!"
 Chris has a studio at Dean Clough in Halifax and lives in Liversedge, West Yorkshire.