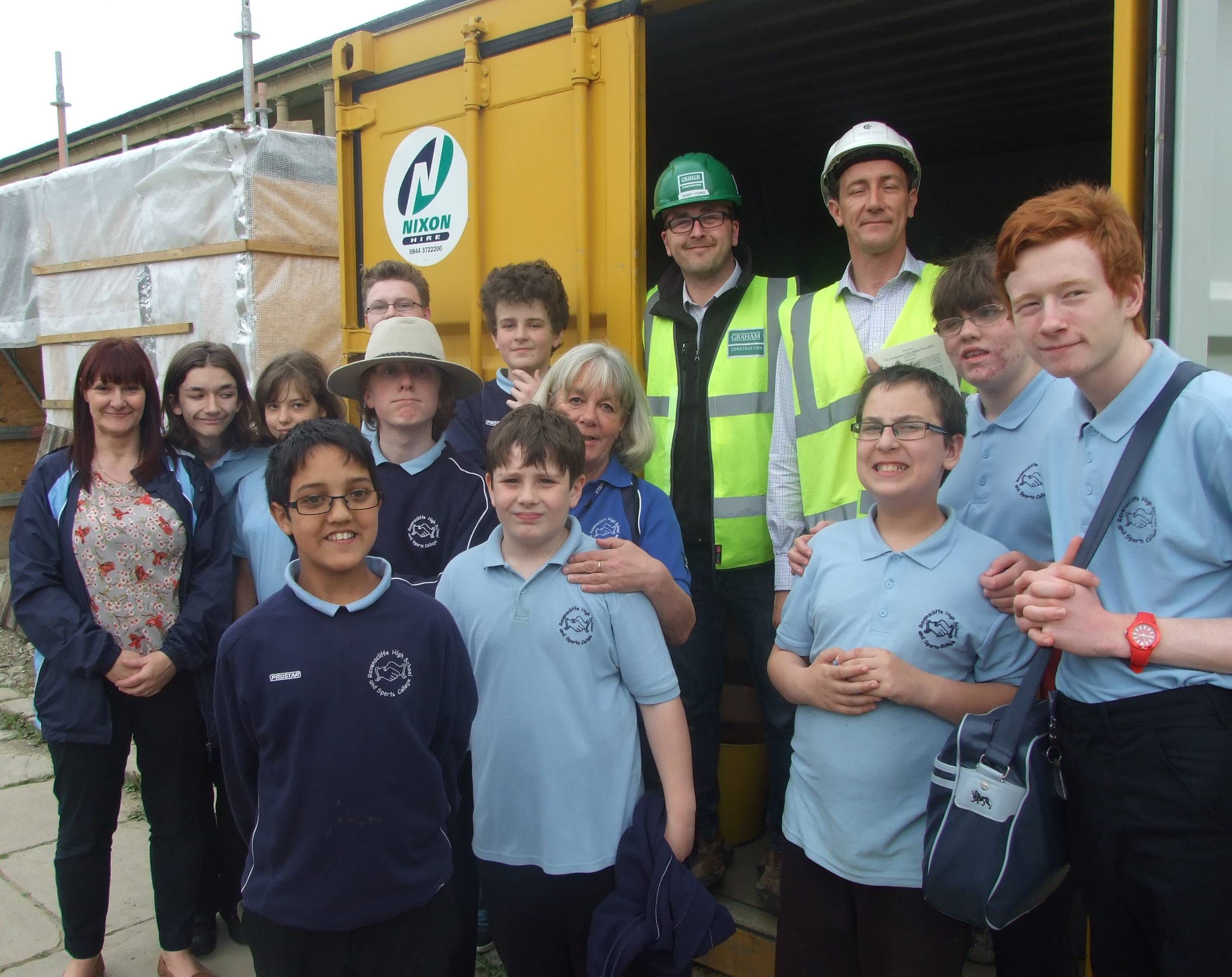 Halifax schoolchildren enjoyed a visit to the historic Piece Hall to see how progress is being made on the major heritage regeneration project.
Contractor GRAHAM Construction and Calderdale Council invited students from Ravenscliffe High School and Sports College as the first of six scheduled school visits.
Nine youngsters and three staff from the school were given a tour of the site and met with some of the builders and engineers working on the project.
Caroline Gee, GRAHAM Community Engagement Adviser for the Northern Region, said:
"The students had the opportunity to talk to and question Sandy Young, GRAHAM Site Foreman and Richard Denneny, Managing Director of Stone Edge Ltd – the stonemasonry sub-contractor – about the project as well as the history of the Piece Hall, then to investigate the work of the stonemasons in particular.

"They learned about the restoration work that Stone Edge are conducting, how new stone from the same stone seam was sourced to match the existing stone on the project and the breadth of stonemasonry skills being used on the project, including the work of a sculptor.

"Working with the Council, the aim is to inspire students to learn more about the history and significance of the Piece Hall and also to get involved in its future."
Ravenscliffe teacher Ian Ross, who helped to co-ordinate the day, added:
"The visit was fantastic. Both staff and students loved being shown around the building and we all gained a great insight into the Piece Hall's past, present and future."
The Grade I listed building is being refurbished and conserved to create a 21st century heritage visitor attraction. The project – which includes the new build Central Library and Archive – has been funded by Calderdale Council and a major award from the Heritage Lottery Fund.
Caroline Gee said:
"Engaging with the community is a key part of this project and we enjoy being able to involve the people of Halifax wherever possible. We are hoping to have six schools visit in total during the build with the next two in September."

Cllr Tim Swift, Calderdale Council's Leader, said:

"This is a great chance for children to learn about the Piece Hall and see its transformation in action. The visits deliver our vision to connect people with the heritage of the building and the local area. The Piece Hall has such a rich past and a really exciting future, and it's wonderful to see youngsters getting a unique insight into such a significant project."
Ravenscliffe High School and Sports College is a leading school for young people with a wide range of special educational needs.