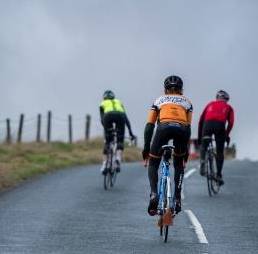 The school holidays will soon be upon us, the time when children and young people (and parents!) are looking to fill weeks of entertainment. Luckily British Cycling, in partnership with Calderdale Council, is running a number of organised, free bike rides across the borough, with rides for all ages and abilities. 
These Sky Ride Local bike rides are led by British Cycling trained Ride Leaders, and take place every Sunday, right through the school holidays. All the rides have age guides and levels from Easygoing to the more advanced Challenging rides, so it's simple to discover the perfect ride for you.
If you're looking for a ride for younger or inexperienced children, why not join in with the Hebden Hamper Ride at 2pm on Sunday 19 July at Hebden Bridge Park? Part of the Waterways and Woodlands selection, this gentle ride is ideal for families with little riders whether on their own bike or in a child seat or tag-along. New and lapsed riders will also enjoy the safety of this traffic free ride.  
There's also an Easygoing ride at the People's Park in Halifax, at 2pm on Sunday 9 August. The People's Park pootle is part of the City Streets and Park Life selection, and is another traffic free ride taking in a circuit of the picturesque park. 
If you're looking for something slightly more challenging, why not try the Steady level rides? These rides are between 6 and 20 miles long and take place on mainly quiet roads with plenty of sights along the way. They travel at a comfortable pace, and take in some modest hills along the way.  
There's a steady, History and Heritage ride on Sunday 26 July starting at 2pm at Ravenscliffe School, or an Eat, Drink, Ride, taking in the five corners of Todmorden on Sunday 2 August at 10am, or try the Wildlife and Wilderness ride at Blackstone Edge reservoir on Sunday 23 August at 2pm.  
If you're up for a challenge, why not try the History and Heritage, 25 mile ride from Brighouse, taking in Queensbury, Ogden Water, Warley and skirting the canal back to Brighouse on Sunday 30 August at 10am? This circular loop will really stretch your legs but the rewarding views will be worth it. You'll need to be fairly fit to take in this ride, and children need to be 11 or older, but it's really not to be missed if you love being on your bike, climbing a few hills and enjoying the views at the top! 
Calderdale Council's Cabinet Member for Communities, Cllr Steve Sweeney, said: 
"During the school holidays it can be challenging to find something to do to fill the time, that isn't too expensive. Luckily, all the Sky Rides are free to take part in, and there really is something for everyone. 

"The rides are also a great way to discover the area. We're lucky that we have such lovely countryside in Calderdale, and taking in a bike ride is a great way to explore it!" 
To find out more about these, or any other Sky Rides and to book a place visit www.goskyride.com(external link) and search for races in Calderdale. For more information on all things cycling in Calderdale visit www.cyclecalderdale.co.uk(external link)