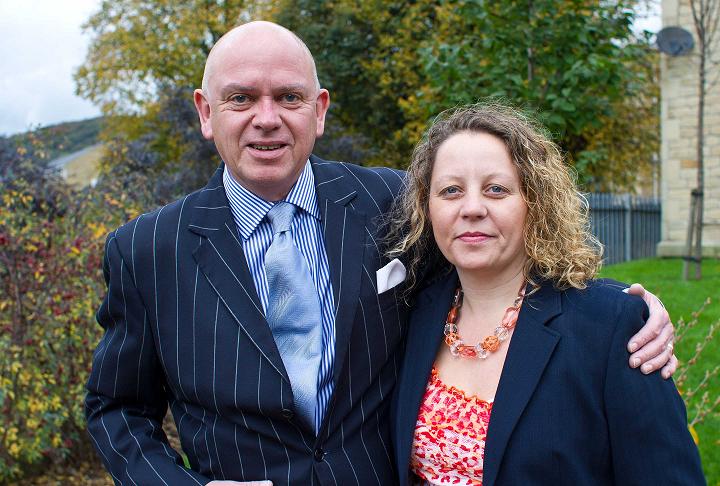 "We'd never considered adoption, but it's the best thing we've ever done. It's made our lives, and our children's lives, complete,"
says Andrew from Calderdale, who adopted two children with his wife Blanch. He tells us about the difference they've made in the case study below.
 Calderdale Council is calling out for more adopters who can help children "make it real", and is stepping up its recruitment campaign during National Adoption Week (4 to 10 November) with extra events, adverts and social media messages. 
 Calderdale Council's Leader, Cllr Tim Swift, said:
 "Up and down the country there is a shortage of adoptive families, and Calderdale is no exception. So at the start of the year, and again in August, we launched our campaign, 'Adoption: help them make it real' to urge people to consider giving a loving home to our borough's most vulnerable children. Since August, more people than ever before have been to our adoption information evenings and 46 potential adopters have come forward. This is really pleasing, but we always need more people to register their interest, as at any one time we have around 40 children in need of a permanent loving home.

 "But we know there are certain things that might put people off coming forward. You may never have thought about adopting before, or you may have considered it but thought you weren't the 'right' person or couple to adopt. But you could be one of the people who makes a real difference to children's lives through adoption. We're keen to dispel any myths that might stop people looking into becoming an adopter." 
Calderdale Council's Cabinet Member for Children and Young People's Services, Cllr Megan Swift, added:
 "We hope National Adoption Week will raise awareness and encourage potential adopters to get in touch. We welcome people with a wide range of different backgrounds and experiences. It doesn't matter whether you're married or single, if you have a disability, or what your age, class, race, culture or sexual orientation is. What matters most is that you're determined to make a difference to a child's life. There are so many people who can make excellent parents, so please come forward.

 "We know that adoption leads to great outcomes for many children – and for many families adoption is a way of building their 'hoped for' family or for experienced parents to extend their family further. 

"We have a very experienced adoption team who offer preparation training for all our adoptive families and work with them very closely throughout the assessment process and in considering the 'right' child for their family. We also offer continuing support with finances and care where and when it's needed, ranging from support groups through to therapeutic support."
 If you have any questions, our adoption team would love to talk to you at their information stall at Hebden Bridge Market on Thursday 7 November between 11am and 1pm. They'll share their expertise to help you make an informed decision and will tell you about the great support they can give you before, during and after the adoption process. 
At the beginning of National Adoption Week the Council is also getting involved in the first ever West Yorkshire 'Activity Day', jointly organised by the British Association for Adoption and Fostering (BAAF) and the Yorkshire and Humber Adoption Consortium.  At the event approved adopters and people who are in the later stages of the assessment process will have the opportunity, in a supported, fun and safe environment, to meet children who need adopting. A number of activity days have been held in other parts of the country and they have proved successful in securing families for many of the children who attend. 
 In addition to the information stall on 7 November, there is lots of information at www.calderdale.gov.uk/adoption or you can call the Council on 0845 245 6000.
We're also working hard on other ways to increase the number of adopters. We've streamlined the way we recruit and assess adoptive parents, and now it only takes an average of six months from starting the assessment process to becoming an approved adopter. During that time you'll learn more about the rewards and challenges of adopting a child and will receive preparation and support from the Council's adoption team.
We also have new advertising material strategically placed on billboards, buses, lampposts, roundabouts and more; adverts in the local media and other publications; clearer information on the Council's website; new information packs and a social media campaign. 
 Anyone who is interested in adoption should visit www.calderdale.gov.uk/adoption or contact the Council on 0845 245 6000.
 What our adopters say: Andrew and Blanch's story
"We'd never considered adoption, but it's the best thing we've ever done." 
Andrew and Blanch from Calderdale never thought they'd be adopters, but now they have the full family they'd always dreamed of. Here, they tell us their story.
 When Andrew and Blanch married in 2001 they were keen to start a family together. They'd talked a lot about having children and it was the natural next step for them both. But after 18 months of trying, followed by hospital tests, unsuccessful IVF and a medical problem that led to Blanch having one of her fallopian tubes removed, it was clear that the couple would have to consider other options.  
"Up until then we'd never even had any thoughts of adoption, let alone consider it, or ever thought that we would be adoptive parents. Why would we? We were a newly married couple who were going to have birth children, so what else was there to think about other than whether the new baby's bedroom should be blue or pink?" says Andrew.  
But just because Andrew and Blanch hadn't thought about adoption before, didn't mean they weren't open to looking into it.
 "Our view was: 'what do we have to lose?'" explains Andrew, who is keen to encourage people to bite the bullet and enquire about adoption. The couple did exactly that, and went to a Calderdale Council adoption open evening. Before that, they still weren't 100% sure if adoption was right for them, but they kept an open mind.

 "After first meeting the Council's adoption team that evening, we knew we wanted to start thinking seriously about adopting. We went home and discussed it together, and decided we wanted to take the next step in the process."
A member of the Council's adoption team visited the couple in their home and talked to them to find out if adoption was right for them. Andrew was 45 at the time, but age isn't a barrier to adopting – there is no set upper age limit. Of course, people must be reasonably healthy and expect to stay fit enough to adopt a child into adult life, but the most important thing is to provide a loving, stable home. Andrew and Blanch's interview went well and they were assigned a case worker, who made more home visits and supported them through the whole process.
 "Our case worker and the other Council adoption team members were absolutely brilliant from day one," says Andrew. "They were a great support and we're truly grateful for everything they helped us with." 
The couple went to approval panel and were later given the wonderful news that they could adopt two children – Louise (4) and her brother, John (20 months), who are now 13 and 10 respectively. 
"It was important to us to adopt siblings – we didn't want to split a brother and sister up; it would give them more stability; and they would be able to support each other through the process and in later life," says Andrew.

 "We can vividly remember the day the children moved in with us. It was fantastic. From that moment we knew there was nothing we wouldn't do for them.

 "Eight years on, we still pinch ourselves when they call us mum and dad. It's a wonderful feeling. They're our children. We'll always be there for them.

 "There have been lots of ups – family days out; seeing them smile; watching our daughter develop into a sociable, sporty young teenager; seeing our son enjoy out-of-school clubs despite his learning difficulties. And most of all, making their lives, and our lives, complete.

 "But I won't lie, there have been challenges too. John can be a handful, and it's tough seeing Louise become more aware of her past. But we're open and honest with them, and we always have the Council's support. Even after eight years, we can pick up the phone and ask the adoption team 'What do you think about this?' and they'll give us advice. We have a personal relationship with them that means a great deal to us. We like to give something back, so Blanch helps out at the Council's adoption evenings, talking to prospective adopters about our experience.

 "If you'd told me when I was in my early 40s that I'd be an adopter, I wouldn't have believed you. But I'm so glad that Blanch and I kept an open mind and went down the adoption route. I can honestly say it's the best thing we've ever done. I urge people not to let any myths or niggles put them off enquiring about adoption. You could make such a special difference to children who've had a tough start in life – and in return they can make an amazing difference to you."