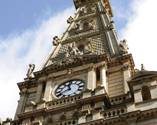 Plans to present The Yorkshire Regiment with the Honorary Freedom of the Borough will be discussed by Calderdale Council's Governance and Business Committee on Monday 4 November at Halifax Town Hall.
The Honorary Freedom has been exercised by the former Duke of Wellington's Regiment since 1945. The Regiment became the 3rd Battalion of the Yorkshire Regiment when it was created in 2006 and has continued to enjoy the freedom to march through Halifax on ceremonial occasions.
In July 2012, however, the Secretary of State for Defence announced that the three battalions of The Yorkshire Regiment would be merged into two, the 1st and 2nd Battalions and that the name and colours of the Duke of Wellington's battalion would be retired.
Calderdale has a long association with the Regiment.  Halifax was home to the former Duke of Wellington's Regiment for more than 85 years and the Wellington Chapel in Halifax Minster still displays the Colours of the Regiment.  In November 2012 the battalion held a homecoming parade to mark the return of the troops following their six-month tour of duty in Afghanistan.
Chair of the Governance and Business Committee, Cllr Barry Collins said:
"The 3rd Battalion, The Yorkshire Regiment (Duke of Wellington's) had a long and proud history with the borough, and people hold them in high regard. We want to continue this tradition of honouring our local soldiers by extending the Freedom of the Borough to the whole of the Yorkshire Regiment.

"This also reinforces the commitment we made in November last year, when we signed the Calderdale Community Covenant, to support the armed forces and those who serve in them."
The Honorary Freedom would grant the Yorkshire Regiment the right to march through the streets of Calderdale on all ceremonial occasions. The 3rd Battalion, The Yorkshire Regiment (Duke of Wellington's) exercised this right for the final time in July 2013 when the colours were laid up in the Regimental Chapel at Halifax Minster.
The Governance and Business Committee will be asked to recommend to the Council that the Yorkshire Regiment be granted the Freedom of the Borough of Calderdale; that a ceremony is held in 2014 at which a formal address will be presented to the Regiment and that a plaque will be placed in the Victoria Hall within Halifax Town Hall to record the event.
The recommendations will be considered at the next Council meeting, on 27 November 2013 at Halifax Town Hall.