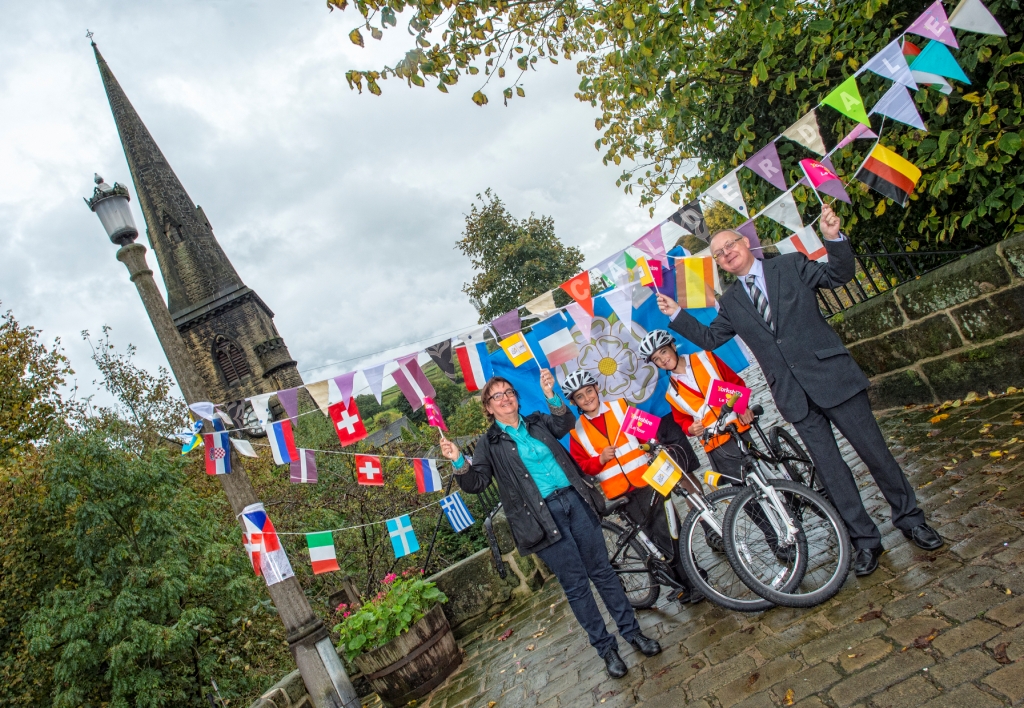 Calderdale is celebrating after the route for the 2014 Tour de France was unveiled at the official launch in Paris today.
The Grand Départ will take place in Yorkshire on the weekend of the 5 and 6 July.  The first stage races from Leeds to Harrogate via the Yorkshire Dales National Park. 
 On 6 July 2014, the world's greatest cycling race will travel through Yorkshire, with Calderdale hosting 22 miles of the Tour during Stage Two.  Known as 'the Historic Stage' the riders will travel the 200km route from York to Sheffield. The Tour will enter Calderdale at Cock Hill, descend into Hebden Bridge and through Mytholmroyd before climbing up Cragg Vale, the longest continuous uphill climb in England. 
Cllr Tim Swift, Leader of Calderdale Council said:
"This is a fantastic, once in a lifetime event for Calderdale.  To have such a prestigious event on our doorstep is an amazing opportunity.  On 6 July the eyes of the world will be on us, enjoying our stunning landscapes and witnessing our great cycling challenges.  Like many people, I can't wait for next summer!"
 Gary Verity, Chief Executive for Welcome to Yorkshire said:
"Yorkshire's will be the greatest Grand Départ in the history of the Tour de France. We will raise the bar for all future hosts with our Cultural Festival 100 days before the race, two stunning stages and a legacy that leaves a cycling imprint on the county which lasts for generations. The Grand Départ will put Yorkshire on the map as a destination capable of hosting world class events in a world class location, providing a springboard to greater things. We are excited, we are proud and we are ready to welcome the world."
 Over 188 countries broadcast the Tour de France to a worldwide audience of three billion people. It is estimated that Calderdale will receive 160,000 visitors on the race day alone and that visitor numbers will continue to be high during the weeks following the race.
Photo taken in Ripponden. Left to right, Calderdale Council's Liberal Democrat Group Leader, Cllr Janet Battye, Ben Kershaw and Penny Haigh from Ripponden Junior and Infant School and Calderdale Council's Leader, Cllr Tim Swift. Photo credited to joolzedymond.com