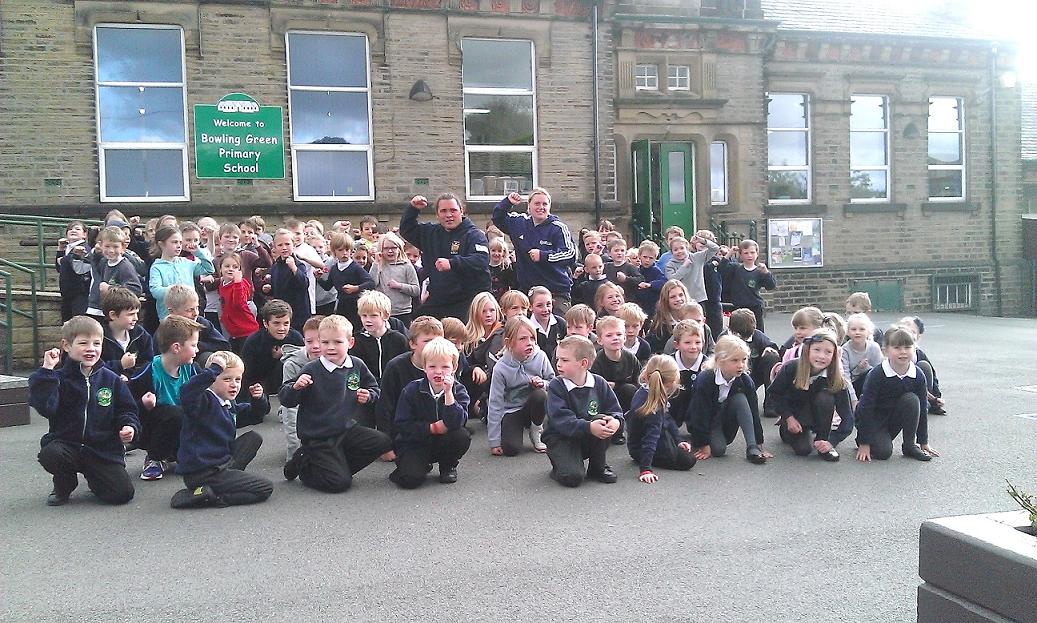 Over 500 primary school children from Calderdale will have the chance of a lifetime to perform the Tongan Haka (Sipi Tau) before the Rugby League World Cup game at the Shay Stadium in Halifax. 
 Tonga will play Italy in the final match of Group C on Sunday 10 November 2013 at 4pm, and the children will be on the pitch before the game to perform in front of the crowd.
 The Sipi Tau is an impressive Tongan war dance. Frank Watene, former Halifax RLFC star, has been visiting Calderdale schools in the lead up to the game and teaching the dance to the children. The schools have then been using a YouTube video to continue to practise up until the big day. Bowling Green Primary School was one of the first schools to take up the challenge and 67 of its pupils will be performing on the day.
 Calderdale Council's Cabinet Member for Communities, Cllr Steve Sweeney, said:
 "It's great that the community and schools are really getting behind the Rugby League World Cup game. This is going to be an exciting game for the whole family to enjoy."
 Frank Watene said:
 "I've been amazed at the response of the schools and the children. It's excellent that over 500 children will be able to perform the Tongan Haka on the pitch before the game and then see the Tongans perform it for real."
Wendy Thompson, teacher at Bowling Green Primary School, said: 
"The children have really enjoyed learning the Haka; it has been a fantastic experience! They are extremely excited about performing before the match. The rugby coaching and the Haka lessons were a fantastic opportunity for the children and staff to work with professional coaches and international players. It was wonderful to see the children's skills develop in such positive and high-energy lessons."
 Some of the students from Bowling Green share their excitement:
 "It's been really good fun learning the Togan Haka!" – Alex and Christy

"We have enjoyed learning the Tongan language, particuarly the 'HE HA' part!" – Charlie and Holly 

"We've had good fun teaching it to members of our families." – Rhianna and Emily  
 Tickets are still available for the game and start at just £10 (£5 concession) and they can be bought by visiting http://www.rlwc2013.co.uk/tickets(external link) or calling the 24 hour ticket hotline on 0844 847 2013.
Photo – Students from Bowling Green Primary School practising the Tongan Haka with Frank Watene, former Halifax RLFC star, and Kim Field, current England Rugby League International who played in the recent women's world cup. Kim is a former pupil of Bowling Green.