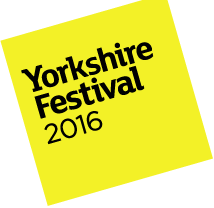 This year's Yorkshire Festival will be more colourful and varied than ever in Calderdale, with songs, music, theatre and even an attempt to create the world's biggest disco! 
The Yorkshire Festival will take place from 16 June – 3 July 2016 and has a programme of cultural events which celebrate the county's artistic richness for residents and visitors alike.  
The Festival will consist of commissioned and independently produced activity embracing all art forms. A wide range of events are planned across Yorkshire, with Calderdale playing a key-role, co-ordinating local authority support for the Festival.  
Calderdale Council's Director of Communities and Service Support and Vice-Chair of the Yorkshire Festival Steering Group, Robin Tuddenham said: 
"The Yorkshire Festival is a real celebration of the arts and culture on offer across our county.  It has such a varied programme of events there really is something for everyone.  Check out the dates for all your local events and have a look at what's on offer a bit further afield.  I'm really looking forward to it – why not be part of it?"   
Four events will be hosted in Calderdale: 
Handmade Parade and Cardbordia – this year's parade, which will take place on 26 June 2016, will include an international dimension when a Russian-based arts organisation will open the first Cardbordia Embassy in Hebden Bridge in the build up to the Parade.  As ever, there will be plenty of opportunities for people to get involved. 
IOU Theatre's Future/Past – from its base in Calderdale IOU will be celebrating 40 years of working in the UK and across the globe this summer and will be moving to a new creation space at Dean Clough. The performances will pay tribute to the creativity of their local community with a free show in Halifax, Hebden Bridge and Todmorden. Keep an eye on www.festival.yorkshire.com(external link) for further details nearer the time. 
Hebden Bridge Arts Festival – Yorkshire Festival, working with Hebden Bridge Arts Festival is supporting a number of new initiatives.  Look out for Recorded Delivery (artist and postman, Kevin Boniface's response to his travels in Yorkshire culminating in Hebden Bridge); A Hark and a Hacksaw – ballads and instrumentals at the Trade Club and pop-up events on the streets. Hebden Bridge Arts Festival will be held from 24 June – 3 July 2016.
Big Disco – taking place across the county on Friday 1July 2016 this requires mass disco participation!  From nurseries to nursing homes, everybody is invited to dance to Yorkshire's favourite disco track and help set a new world record for the number of people dancing to the same tune at the same time. 'Discos in a box' will be available to download in advance to encourage everyone to get involved.   
To find out more about what's happening in Calderdale pick up a festival brochure from your local tourist information office or go to www.visitcalderdale.com(external link). 
You can get more information about all the Yorkshire Festival from the dedicated website www.festival.yorkshire.com(external link), by 'liking' the Yorkshire Festival page on Facebook or by following Yorkshire Festival 2016 on Twitter – @YorkshireFest.