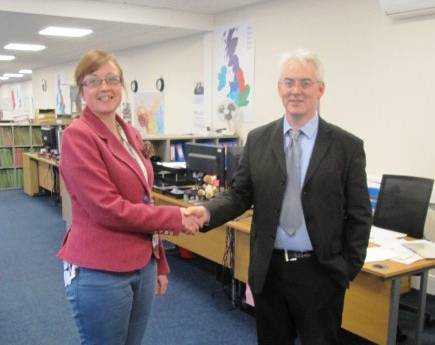 Businesses in Calderdale who are looking to expand, or businesses starting or relocating to Calderdale, could take advantage of the Council's Business Rates Discount Scheme.
It's now a year since Calderdale Council launched the scheme which gives rate relief to new or expanding businesses in the borough.
The scheme encourages the development of new business floor space in Calderdale by giving a 100% discount on new business rates resulting from new or improved employment floor space. It also encourages the improvement of existing floor space by discounting any extra business rates due to improvement for a year.
Lots of businesses have already taken advantage of the scheme, including NIKO, part of the Ultra Finishing Group. NIKO supplies bathroom furniture. Shower trays and bathroom cabinets are currently manufactured at its Halifax site.
The business wanted to improve its existing premises by turning 437 square metres of storage space into office space and turning 230 square metres of warehouse mezzanine into manufacturing space. Improvement works were completed and staff relocated by the end of January 2016.
They applied for the Business Rates Discount Scheme and were successful in delaying any rate increase for 12 months.
NIKO's scheme to provide more office and manufacturing space came about because they were consolidating sites.
This improvement of floor space in Halifax has enabled them to accommodate jobs that were located in Burnley. Without the rates assistance this investment in property to support more jobs in Halifax may instead have taken place at another site. 
Finance Director at NIKO, Ruth Jackson, said:
"The possibility of delaying any rate increase for 12 months, if we were to move more staff over to Halifax, definitely helped sway our board in choosing Halifax as the base for a large proportion of our staff."
Calderdale Council's Director of Economy and Environment, Mark Thompson, said:
"This is just one of the ways that the Council supports businesses and helps them to grow.

"We know there are a lot of sites with development potential, so offering a discount on business rates can enable businesses to expand without immediately occurring costly rate increases.

"This in turn helps the local economy grow and provides new job opportunities for people in Calderdale."
Calderdale Council's Director of Communities and Service Support, Robin Tuddenham, said:
"We want to make sure we do all we can to give businesses the best chance to survive and thrive in Calderdale.

"The Business Rates Discount Scheme not only makes it easier for existing businesses to expand, but could also encourage new businesses to come to Calderdale."
For more information about the scheme, please contact Calderdale Council's Site Unlocking Officer, Duncan Cooper: duncan.cooper@calderdale.gov.uk / 01422 392254.