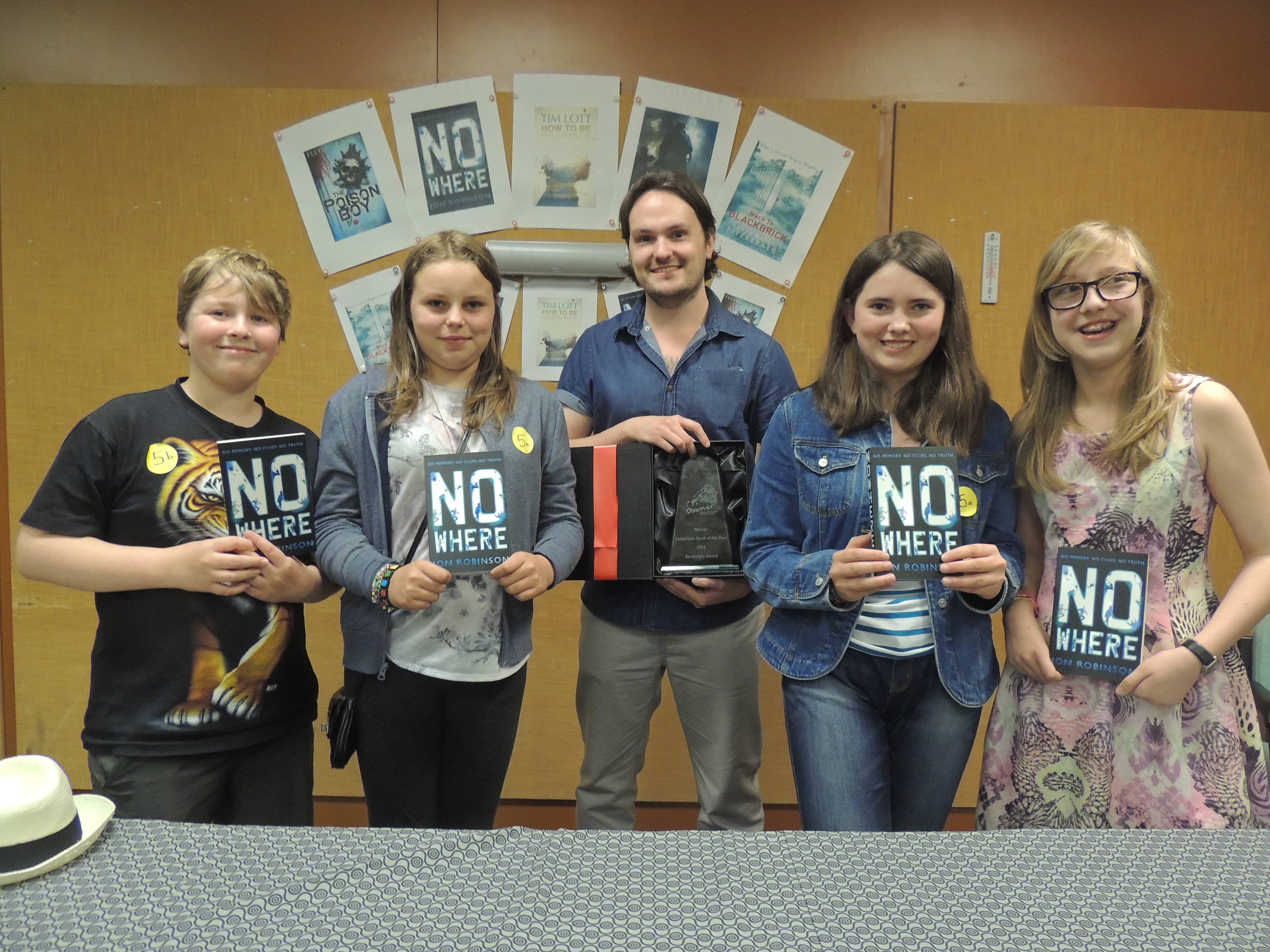 After months of reading and reviewing, on Wednesday 18 June young book lovers from 14 local high schools chose their winner of 
Calderdale Book of the Year for Teenagers.
The students gathered at a literary lunch at the Central Library, Halifax, where they met the authors of the five books shortlisted for the Book of the Year for Teenagers Award 2014. They discussed which was their favourite book and cast their votes.
The winner was Jon Robinson, author of 'Nowhere', and he was awarded with a trophy at the event. The book was chosen from a very strong shortlist, which covered a wide range of genres and styles.
Next Wednesday, 25 June, young readers from 12 primary schools will be down at the Central Library to meet the four authors shortlisted for Calderdale Children's Book of the Year 2014.  
The book awards are now recognised by the UK's major publishers, and winning the award becomes a significant achievement for the listed authors. Primary and secondary school students in Calderdale have been involved in the book award since 2000, where they've each read, discussed and voted on a total of 140 different titles over the 14 years.
Calderdale Council's Cabinet Member for Communities, Cllr Steve Sweeney, said:
"I always enjoy attending this event and meeting so many young people who are thrilled and motivated to be meeting authors in their area. The standard of the children's review writing improves every year and many demonstrate important insights into the stories and characters."
Discover's Learning Manager, Lynne Hackett, added:
"Authors love the award because it introduces new books to a wide range of children and young people, some of whom would not choose to read such titles of their own accord. The young people read all of the books and discuss their responses and feelings about the texts. This is a project which encourages whole book reading, discussion, and listening to and respecting the views of others – all crucial skills."
The shortlisted teenagers' books were:
Back to Blackbrick by Sarah Moore Fitzgerald – a time-travel novel dealing with dementia in the family.
Poison Boy by Fletcher Moss – a swashbuckling quest set in an alternate Britain at an alternate historical time.
Mr Creecher by Chris Priestley – based on the tale of Frankenstein, this huge story questions what it is to be human.
Nowhere by Jon Robinson – 100 teenagers imprisoned and brainwashed – by whom? For what reason? A dystopian novel of the future.
How to be Invisible by Tim Lott – a novel about being different and learning how to cope by understanding the motivations of others.
The shortlisted children's titles were:
Billie Templar's War by Ellie Irving – Billie's dad is fighting in Afghanistan, but she needs him home to help her win the three-legged race. A funny novel about Billie's convoluted attempts to use the Queen to bring dad home.
A Dog called Homeless by Sarah Lean – Callie's mum died a year ago and she aches to talk about her lovely mum, but dad can't bear to do this. Callie begins to see her mum, always accompanied by a big, shaggy dog – how can she convince dad that the dog is their last link to mum?
The Curse of the Chocolate Phoenix by Kate Saunders – a traditional adventure story set in a world where magic blends with the everyday. Kate's world is reminiscent of JK Rowling and Eva Ibbotson with lots of comedy along the route.
The Last Wild by Piers Torday – all the animals have died to stop a virus affecting the human race; just a few insects are left – or at least that's what society is told. But Kester finds he can talk to animals and he is chosen by them to lead the fight to find an answer.  A fantastic story looking at what we are doing to our world today and where it might lead.
Why not borrow a copy from your local library?