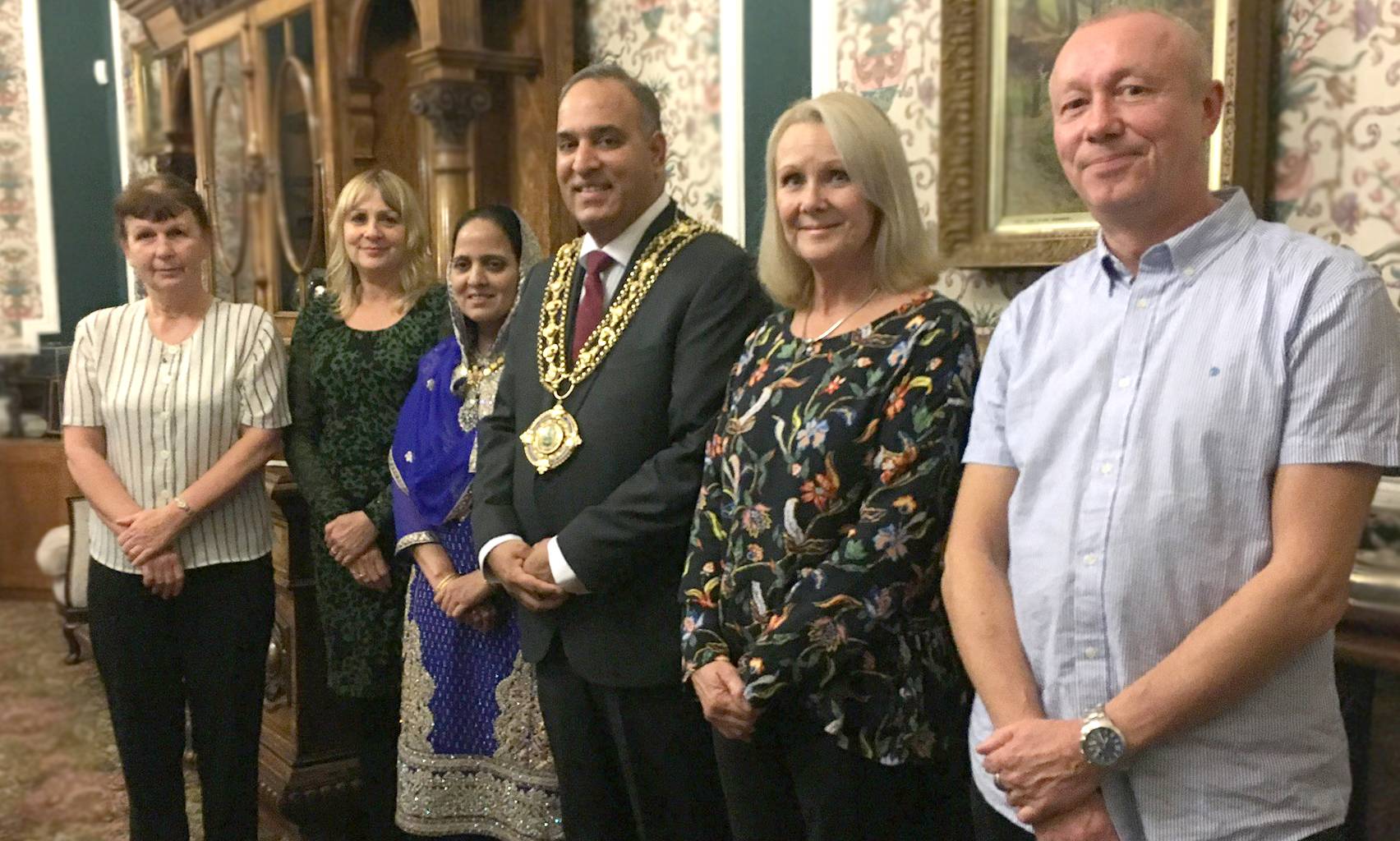 Long serving staff at Calderdale Council have been rewarded for their hard work at the Council's Long Service Award Ceremony at Halifax Town Hall.
Nine employees have recently reached the milestone of 25 years service at the Council, with four attending the special Town Hall ceremony on Tuesday 10 October.
The celebration was hosted by the Mayor of Calderdale, Cllr Ferman Ali, who heard each staff member's story. All had different career paths, but it was clear that the level of service they have provided over the years has really benefitted the Council and people of Calderdale.
The Mayor of Calderdale, Cllr Ferman Ali, said:
"It was a real pleasure to be involved in the Long Service Awards and present awards to staff who have made a real difference in Calderdale over the 25 years they have each worked at the Council.

"It was really interesting to hear their individual stories which showed the varied work of the Council."
The staff who received the recognition at the ceremony are as follows:
David Connolly – Communities and Service Support
Dave began working at the Council in March 1992 as a Graphic Designer.
Design and Marketing is a fast paced and ever evolving industry so over the past 25 years Dave has endeavoured to stay at the cutting edge of those trends. Dave's greatest contribution to the Council and the people of Calderdale ultimately comes through his influential design work.  Most Council employees and Calderdale residents will have seen, been motivated or inspired by Dave's work at some point over the past 25 years. 
Sharon Greenwood – Chief Executive's Office
Sharon started working for the Council in July 1992 as an Administrative Assistant (Budget Control and Monitoring) within the Finance Section of the Education Department. Since 2008 Sharon has been a Finance Officer for Care Services/Inclusion Services her main duties being supporting budget managers within children's social care. Sharon's work is greatly valued by her team.
Wendy Halstead – Chief Executive's Office
Wendy started working for Calderdale Council in October 1991 as a Payments Clerk and has since moved through various levels in Finance, successfully completing professional qualifications and in 2010 Wendy became a Finance Manager. Wendy has given many years' service to the Council, greatly valued within Finance, her team and the services she supports.
Catherine Williams – Adults and Children's Services
Cath is the Senior Sign Language Interpreter for the Sensory Team in Calderdale and supports deaf children across the authority, working alongside another interpreter and a deaf instructor. Cath's role involves providing interpreting support for children and young people, as well as providing support for families. She's a popular and respected member of the team and her colleagues look forward to working with her for many more years.
Other valued staff who were unable to attend the event, but recently reached 25 years of service are:
Stephanie Harrop in Adults and Children's Services
Kim Hunter in Adults and Children's Services
Wendy Stott, in Adults and Children's Services
Beverley Cooper in Communities and Service Support
Barbara Clay in Economy and Environment