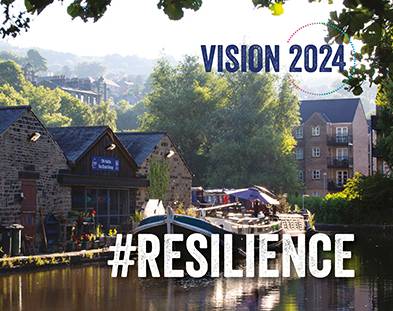 The amazing ability of Calderdale people to recover from setbacks was the focus of the Council's latest Vision2024 themed week on social media.
Thousands of people from across the borough got involved in #Resilience Week from 1 to 7 October 2018, which the Council ran to build awareness of the joint Vision2024 for Calderdale.
In the year 2024 Calderdale will celebrate its 50th birthday. The Council is encouraging people and organisations to think about what makes Calderdale special and their ambitions for the area.
The Vision is for Calderdale to be a place where people can reach their potential, where talent and enterprise can thrive, where people care for each other and are able to bounce back, and a place that stands out as a great destination to visit and where people can live a larger life.
Resilience is one of the themes of the Vision, along with distinctiveness, kindness, enterprise and talent.
Each theme will have its own social media 'takeover' week, with kindness up next in the coming months. Individuals and organisations are invited to support the content, comment and share their own messages and photos covering the themes.
Resilience Week was an even bigger success than the first of the takeovers, Distinctiveness Week, with much higher engagement.
The Twitter and Facebook posts about resilience had a massive reach of nearly 207,000 people and there were almost 5,800 likes, shares, retweets and other engagements.
Cllr Tim Swift, Calderdale Council's Leader, said:
"Social media is an important, interactive way to spread the word about the Vision for Calderdale. There was certainly a lot to talk about during Resilience Week – a massive 140 posts were made covering many services and stories, proving just how resilient Calderdale is! Bouncing back from flooding, future-proofing businesses and being prepared for winter are just some of the examples. As part of the Vision we need to build on this ability to recover from setbacks."
Keep an eye out for the next themed week, and in the meantime, keep sharing content on your ambitions for Calderdale, and anything you're doing that's ambitious and future-facing.
Where do we want to be by 2024? How will the Calderdale of 2024 be different from the place it is now? What ambitions do we share? Join the conversation by following #VisionCdale2024 on social media and visit www.calderdale.gov.uk/v2/council/vision-2024