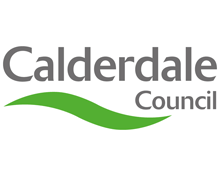 Calderdale Council has responded to concerns from local people about its gritting routes, after further assessment of 190 roads during the last week.
With immediate effect the Council is reinstating gritting on the 70 roads in the table below. Other routes will be added after extra gritters have been brought in and when issues with access to certain roads have been resolved.
The Council's assessments included checking which routes can be reached by gritters – particularly as access to some roads is narrowed by parked cars – and that a safe turning circle is available to accommodate the larger vehicles.
Although some roads are too narrow for gritters to access, alternative arrangements are being investigated, which may include the use of the Council's Safer, Cleaner, Greener service fleet.
Over 600 salt bins have also been checked and replaced where necessary across Calderdale so that residents can help keep neighbourhood streets and paths clear of ice and snow. The Council is installing an additional 200 salt bins around the borough before Christmas. Routes served by grit bins will also receive visits from grit vehicles when weather conditions are particularly severe and persistent. Further work continues on assessment of roads as the pilot gritting policy continues through the winter.
The Council introduced the pilot after national guidance was issued earlier this year giving criteria to all councils, so that they provide a service based on fairness and clear principles. Previously, the Council's gritting programme was based on custom and practice with no clear rules for the selection of routes.
Cllr Barry Collins, Calderdale Council's Cabinet Member for Regeneration and Economic Development, said:
"Our priority is to keep our highways network moving and safe throughout wintry weather and to have a fair approach across Calderdale that is affordable and resilient in the longer term.

"We know that some local residents were concerned about the pilot policy and I would like to thank everyone who has got in touch with the Council to let us know about roads which they feel we needed to double check.

"With the additional roads added to the gritting rounds as part of the review, the Council will be gritting more than 600km of roads – well above the national average and one of the highest percentages of gritted roads in the country."
No gritting system is perfect – rain before, or between, snow and ice can wash out grit, while traffic and parked cars often obstruct access for gritters. Residents are urged to continue to take care in bad weather and consider whether their journeys are essential or can be made without using a car.
List of roads for re-introduction of gritting:
| | |
| --- | --- |
| Street | Area |
| Barsey Green Lane | Barkisland |
| Berry Moor Road | Norland |
| Birch Lane | Luddenden |
| Blue Ball Lane | Ripponden |
| Castle Lane | Ripponden |
| Coal Pit Lane | Clifton |
| Corporation Street | Sowerby Bridge |
| Cow Hill Gate Lane | Bradshaw |
| Danny Lane | Luddenden |
| Deep Lane | Luddenden Foot |
| Doghouse Lane | Todmorden |
| Dunkirk Lane | King Cross |
| Ellen Holme Road | Luddenden Foot |
| Eskdale Mount | Hebden Bridge |
| Fall Lane | Sowerby Bridge |
| Fenton Road | King Cross |
| Gibb Lane | Mount Tabor |
| Green Lane (part Of) | West Vale |
| Halifax Lane | Luddenden |
| Harper Royd Lane | Sowerby Bridge |
| Hill Top Road | Sowerby Bridge |
| Hob Lane | Norland |
| Hollins Lane | Sowerby Bridge |
| Hollins Mill Lane | Sowerby Bridge |
| Jay House Lane | Clifton |
| Kebroyd Lane | Triangle |
| Lands Head Lane | Northowram |
| Lane Ends Lane | Old Town |
| Lightcliffe Road (part of) | Brighouse |
| Love Lane | Halifax |
| Mayfield Grove | Bailiff Bridge |
| Moss Lane | Hebden Bridge |
| Ned Hill Road | Bradshaw |
| Parkin Lane | Todmorden |
| Perseverance Road | Bradshaw |
| Phoebe Lane | Siddal |
| Portland Road | Halifax |
| Queen Street | Stainland |
| Range Bank | Halifax |
| Raw End Road | Warley |
| Rayner Road | Brighouse |
| Ridge Road | Todmorden |
| Rose Grove Lane | Sowerby Bridge |
| Royds Avenue | Bailiff Bridge |
| Sandygate | Hebden Bridge |
| Sandygate Lane | Hebden Bridge |
| Scammonden Road (part of) | Barkisland |
| Spark House Lane | Sowerby Bridge |
| Stoney Lane | Luddenden Foot |
| Stormer Hill Lane | Sowerby Bridge |
| Styes Lane | Sowerby |
| Sunnybank Drive | Greetland |
| Sunnybank Road (part of) | Greetland |
| Tan House Lane | Northowram |
| Thornhills Beck Lane | Brighouse |
| Tower Hill | Sowerby Bridge |
| Trenance Gardens | Greetland |
| Trimmingham Lane | Halifax |
| Trooper Lane | Halifax |
| Victoria Road | Sowerby Bridge |
| Wainhouse Road | King Cross |
| Wakefield Gate | Halifax |
| Walker Lane | Old Town |
| Walton Street | Sowerby Bridge |
| Washer Lane | Halifax |
| Westgate | Clifton |
| Whinney Royd Lane | Northowram |
| Whitegate | Siddal |
| Willow Rise | Halifax |
| Winterburn Lane | Warley |