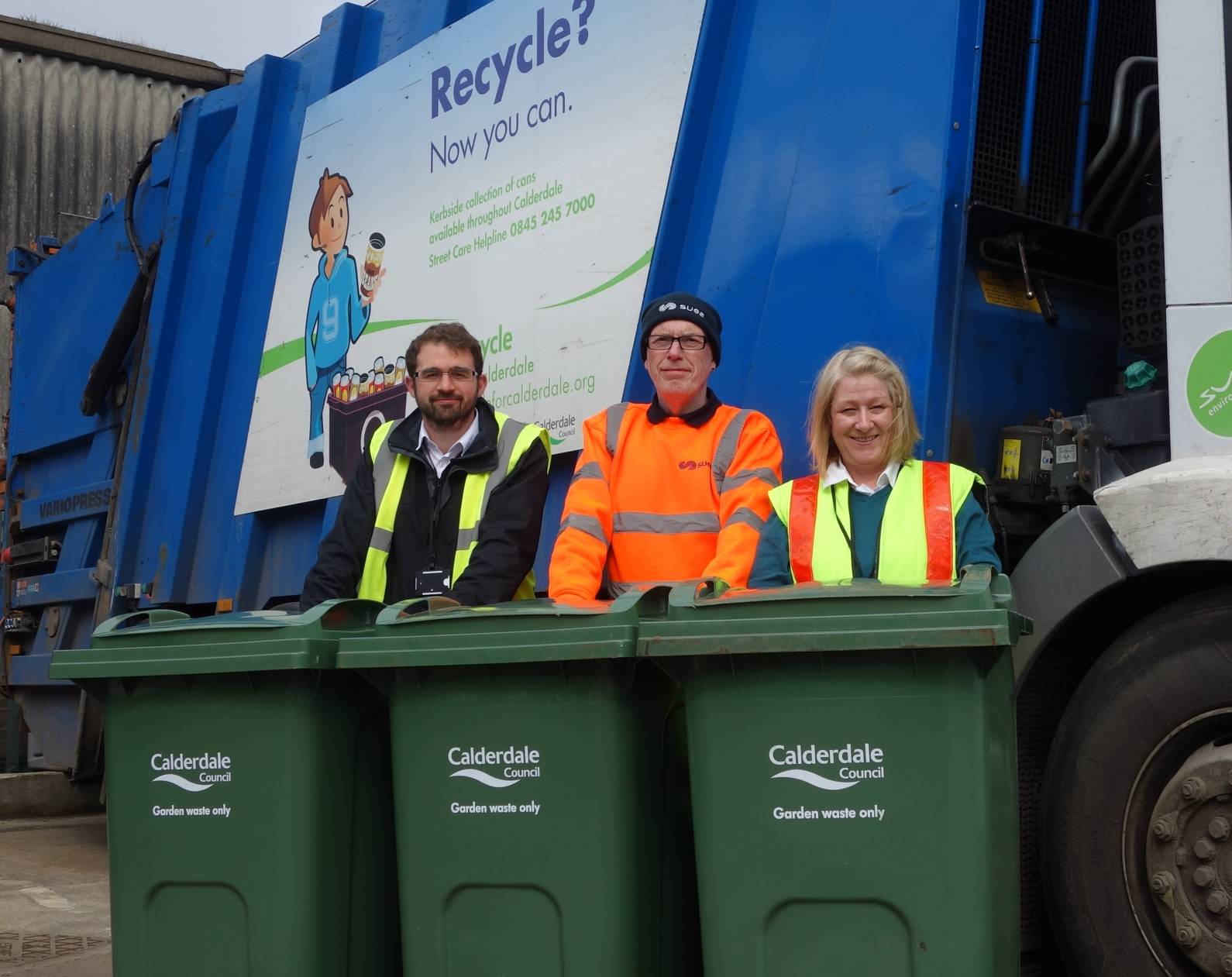 Nearly 2000 local residents have already signed up for Calderdale Council's new garden waste recycling service, and the first collections will start this weekend.
In partnership with waste contractor SUEZ, the Council is offering a new opt-in service for people who would like their garden waste collected from home, using a green wheelie bin.
Crews are ready to go and the new bins are being delivered so the first collections can kick off on Saturday 9 April and Saturday 16 April. You will receive a leaflet showing your collection dates for 2016 when your garden waste bin is delivered – please keep this safe.
Everyone who has signed up for garden waste collections by 30 April 2016 will be entered into a prize draw, and the randomly selected winner will receive their prize in May.
Mark Thompson, Calderdale Council's Acting Director of Economy and Environment, said:
"We're really pleased that so many residents have signed up so far, just a few weeks after we announced our new garden waste collections. We want lots more people to benefit from this great service. Are you green-fingered? Do you want a quick and easy way to recycle your garden waste? If you haven't already registered, I encourage you to join almost 2000 other households and get in touch.

"This is the first step in a number of improvements to our waste and recycling services this year, as part of our new contract with SUEZ. Calderdale is already in the top 10 for recycling rates in England, but we want to help people recycle even more."
Gareth Richardson, SUEZ Senior Contract Manager, said:
"It's thanks to the involvement of residents that Calderdale is amongst the top councils in the country for recycling and we're proud to be a part of that. The introduction of this new opt-in service for garden waste means people can now do even more to put their waste to good use and we hope as many people as possible will get involved."
It's simple to sign up – just visit www.calderdale.gov.uk/gardenwaste or call 01422 288002 if you don't have internet access.
An annual subscription of £40 covers the cost of the service, which includes a green wheelie bin and fortnightly collections on Saturdays between March and November. Residents can share a subscription with friends or neighbours to spread the cost. The subscription must be registered and collected from one householder.
Most general garden waste products can be collected as part of the new service, including grass cuttings, leaves, hedge trimmings, pot plants and small branches. It doesn't include plant pots, soil, rubble or any other garden equipment.
For properties which aren't suitable for a wheelie bin, a sack collection will be introduced at a later date. This will be advertised nearer the time.
The new service is optional; residents can choose whether to sign up. Alternatively, garden waste can still be taken to local Household Waste Recycling Centres or you can compost garden waste at home – visit www.getcomposting.com(external link) for more information.