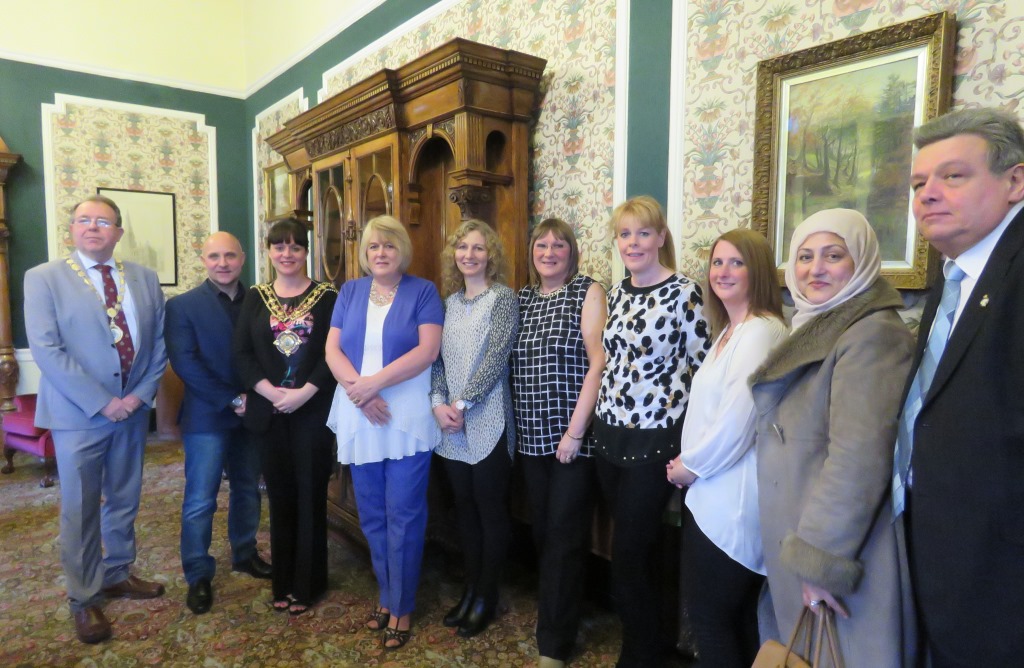 Long serving staff at Calderdale Council have been rewarded for their hard work at the Council's Long Service Award Ceremony at Halifax Town Hall.
Staff who have worked for the Council for 25 years attended the ceremony on Monday 18 April, where their individual stories were presented and recognised by the Mayor of Calderdale, Cllr Lisa Lambert.
Eight staff received their recognition award, and while they all had very different stories and career paths, it was clear that the level of service they all have provided over the years has really benefitted the Council and people of Calderdale.
The Mayor of Calderdale, Cllr Lisa Lambert, said: 
"It was a real honour to present the long service awards to eight staff who have worked at Calderdale Council for over 25 years. It was lovely to hear everyone's stories, which showed the breadth of services provided by the Council." 
The staff who received the recognition are as follows: 
·         Janine Dyson – Adults, Health and Social Care
Janine started work at the Council in March 1991 as a Care Assistant and then moved on to a number of roles in learning disability care in the Upper Valley. She continues to work as a support co-ordinator in this area, and her role has recently expanded to include Older People's Day Services. In addition to her long service award, Janine was also named Employee of the Year in the recent Council annual awards.
 ·         Michelle Iannelli – Adults, Health and Social Care
Michelle started working for Calderdale Council in November 1990 and became a permanent member of staff in 1991 as a Residential Support Worker then Assistant Manager in the "Care In the Community" scheme in Todmorden. In 2012 she joined the Contracts Team, where she still works, supporting contracted providers of services, such as older people's care homes and supported living services for individuals with a learning disability, in developing and maintaining the quality of their services.
 ·         Terry Knight – Adults, Health and Social Care
Terry started with Calderdale Council in November 1990 as a Home Care Assistant in Hebden Bridge before working in a number of Day Centres around Calderdale. In July 2013, Terry became a Specialist Support Worker which is the post she holds today working with older people with Dementia and Adults with a learning disability. 
·         Shabina Mir – Children and Young People's Services
Shabina has had several roles in the Young People's Service as both a Youth Worker and a Manager. Shabina commenced working with Calderdale Council in 1991, as a youth worker and has developed her skills and experience since then. Shabina's management roles have been at Learning by Achievement, the Youth Inclusion Project and now as an Area Team Leader.
 ·         Carl Fenwick – Communities and Service Support
Carl began working with Calderdale Council in December 1990 as a Lifeguard and through his hard work progressed to Relief Duty Manager and finally, in 1996, to Duty Manager.  Carl has worked at all Calderdale's leisure sites over the last 25 years but predominantly at Halifax Swimming Pool.  Carl now not only trains leisure centre staff but has been a key individual in the successful resuscitation of swimmers who have needed CPR and Heart Start Defibrillators. 
 ·         Lewis Kim Bridgman – Communities and Service Support
Kim started in October 1990 as a Computer Operator/Control Clerk in the Finance Department.  In  1996, Kim was appointed Senior Computer Operator and is now an IT Officer. Kim's knowledge has resulted in him being  known to his colleagues as the office guru, helping to answer any queries they may have.
 

        Joanne Bates – Chief Executive's Office
Joanne commenced working for Calerdale Council in March 1991 as an Income Clerk responsible for income for residents in Local Authority Residential Homes.  In January 2001, Joanne was appointed Accounting Technician and then in June 2010 appointed as a Finance Officer which is the post she holds today supporting the Housing and Environment Services.
 ·         Susan Metcalfe – Economy and Environment
Sue commenced working for Calderdale Council in 1990 as a cleaner at Warley Road J&I School.  Over the years, Sue has progressed through the ranks and has been appointed as a Chargehand Cleaner, an Area Chargehand, an Area Manager to finally becoming an Area Facilities Manager.