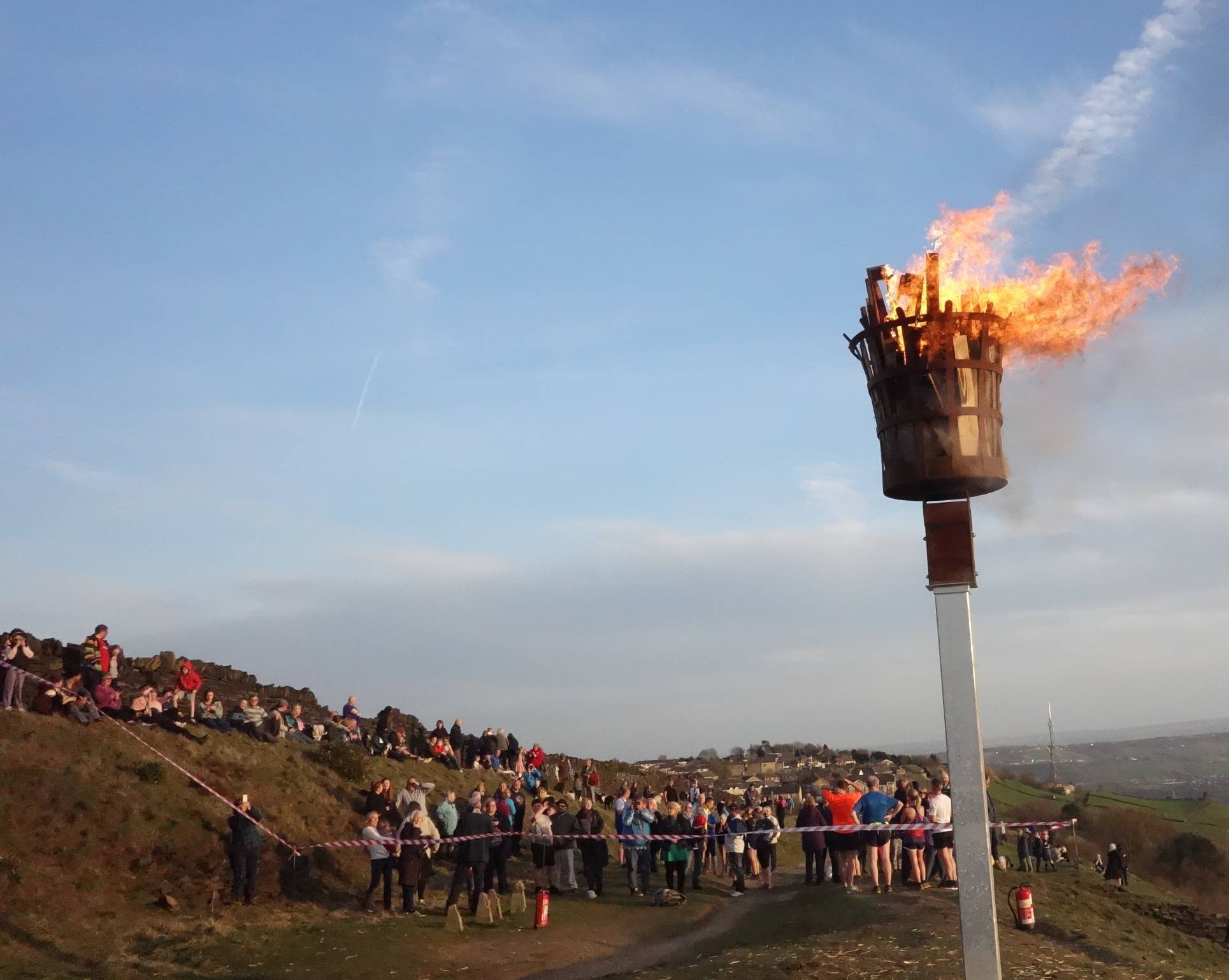 Halifax's beacon lit up the sky for the Queen's 90th birthday celebrations on Thursday 21 April 2016.
The landmark on Beacon Hill formed part of a chain of beacons lit around the UK on Her Majesty the Queen's birthday, after the Queen lit the principal beacon in Windsor.
Calderdale Council registered the beacon to be one of over 1,000 lit in the country. It shone from 7.30pm and could be seen for miles around.
To prepare for the momentous occasion the beacon needed a little care, so minor repairs were carried out to ensure it could continue to shine bright and safely for many years to come.
Cllr Lisa Lambert, the Mayor of Calderdale, said:
"We were delighted to join in with the national celebrations for the Queen's 90th birthday. The beacon was a fantastic display and could be seen by many people for miles around.

"The repairs to the beacon made sure the event was fit for a Queen, and helped to preserve an important landmark in the town so that it can be enjoyed for generations to come."
Haven Building and Maintenance carried out the repairs, and Malcolm Speak from the company lit the beacon. He said:
"We were initially approached by the Council to ensure that the beacon was fit for use to mark this special occasion. The location of the structure means that it is subject to the weather conditions and inevitably degrades over time, therefore needed a little bit of repair work. Lighting the beacon is a technical process and the structure is high up on a steep hillside, however our team of experts were best placed to support this."
Local people also marked the Queen's birthday by attending local historian David Glover's illustrated talk – Queen Mother and Queen – at Halifax Town Hall from 7pm, which raised funds for the Mayor's charities, Parkinson's UK (Halifax and District Branch) and Calderdale WomenCentre.
The Council recently took part in the national Clean for the Queen campaign to get the country looking its best ahead of the Queen's birthday. It was a great success in Calderdale, with people coming together to collect 800 bags of litter and clear up 17 tonnes of fly-tipping.