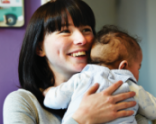 Joint press release from Calderdale Council and the NSPCC
Expectant parents in Calderdale will be offered the chance to take part in a ground breaking Coping with Crying programme to help them prepare for the stress of looking after a newborn crying baby.
New parents can sometimes struggle to soothe their baby and it's one of the most common reasons that new mums and dads seek help from health professionals.  When a baby continues to cry it's very common for parents to feel upset and frustrated.  In the worst cases they may lose their temper and harm their baby. The NSPCC estimates that around 200 babies a year in the UK suffer from serious head injuries as the result of being shaken, hit or thrown(1). Evidence shows that crying is often a trigger for this sort of harm.
Coping with Crying is a pilot programme to support expectant and new parents with the stress they can feel when their baby cries. Parents-to-be and new parents will be able to watch a powerful new NSPCC film about caring for a crying baby, which provides a range of supportive tips and advice about soothing a baby and managing their own stress. It also tells them about the dangers of shaking a baby. The film was created in partnership with experts at Warwick Medical School and Great Ormond Street Hospital, and is based on a similar programme in America, which reduced the number of babies who suffered from non-accidental head injuries by nearly half.
Calderdale Council's Director of Children and Young People's Services, Stuart Smith said: "Having a new baby is a very special, life changing time, however becoming a new mum or dad can also be quite stressful.  This programme offers parents extra advice on what to do if their baby's crying becomes hard to cope with.  There's a lot of support available, from health professionals and through our children's centres, to help new parents adjust to life with a young baby and it's really important that they know that they aren't alone."
Expectant parents in Calderdale will be able to take part in the programme by visiting their local children's centres, where it will be delivered by Children's Centre staff, Calderdale & Huddersfield NHS Trust community midwives and health visitors who have all been trained in Coping with Crying. In Calderdale, the 10 minute DVD will be shown to expectant mums and their partners in the last 10 weeks of pregnancy. Parents will be offered a variety of ways that they can watch the DVD for example by special invite, whilst attending for their antenatal appointment, during an antenatal visit at home and there will be an opportunity to talk to someone who can help with any questions at the end of the DVD.
Chris Cuthbert, Head of Strategy and Development for the NSPCC said:  "This is a ground-breaking new programme based on the best international evidence. It is a relatively simple and low cost intervention, and our evaluation shows that it is helping parents to manage the pressures of new parenthood and soothe their baby. It is critically important that we support families to reduce stress during the significant life changes that accompany the birth of a new baby. We are proud to be extending the programme to many more areas."
Cathy Warwick, Chief Executive of the Royal College of Midwives, said:  "We're delighted to see such promising results from the evaluation of this programme and are proud of our work supporting the NSPCC by jointly developing and hosting online training for midwives. Midwives see first-hand the stress and worry that parents experience when their baby cries, and need to support parents through this. Everyone looking after a baby needs to know that shaking can have very serious consequences. The NSPCC film helps midwives to communicate this important but difficult message."
Over the last two years the NSPCC has been running this programme in 24 hospitals and birthing units and over 30,000 parents have now seen the film. The NSPCC's evaluation results suggest that the film is helping to keep babies safe. Ninety-nine per cent of parents in our evaluation remembered the film at least six months after watching it. Eighty-two per cent said they used advice from the film when caring for their baby. The rate of reported injuries amongst babies with feeding, sleeping or crying difficulties was lower if their parents had seen the film.
Coping with Crying will now test how the film can be shown at different times, in settings outside hospitals, such as during the later stages of pregnancy and in antenatal education classes or postnatal home visits. Nineteen areas of the UK are involved in this exciting extension to the project, which is estimated to reach at least 45,000 parents in the next 18 months. The programme will be evaluated to find out when mums and dads are most receptive to the film's messages and where they can have most impact.