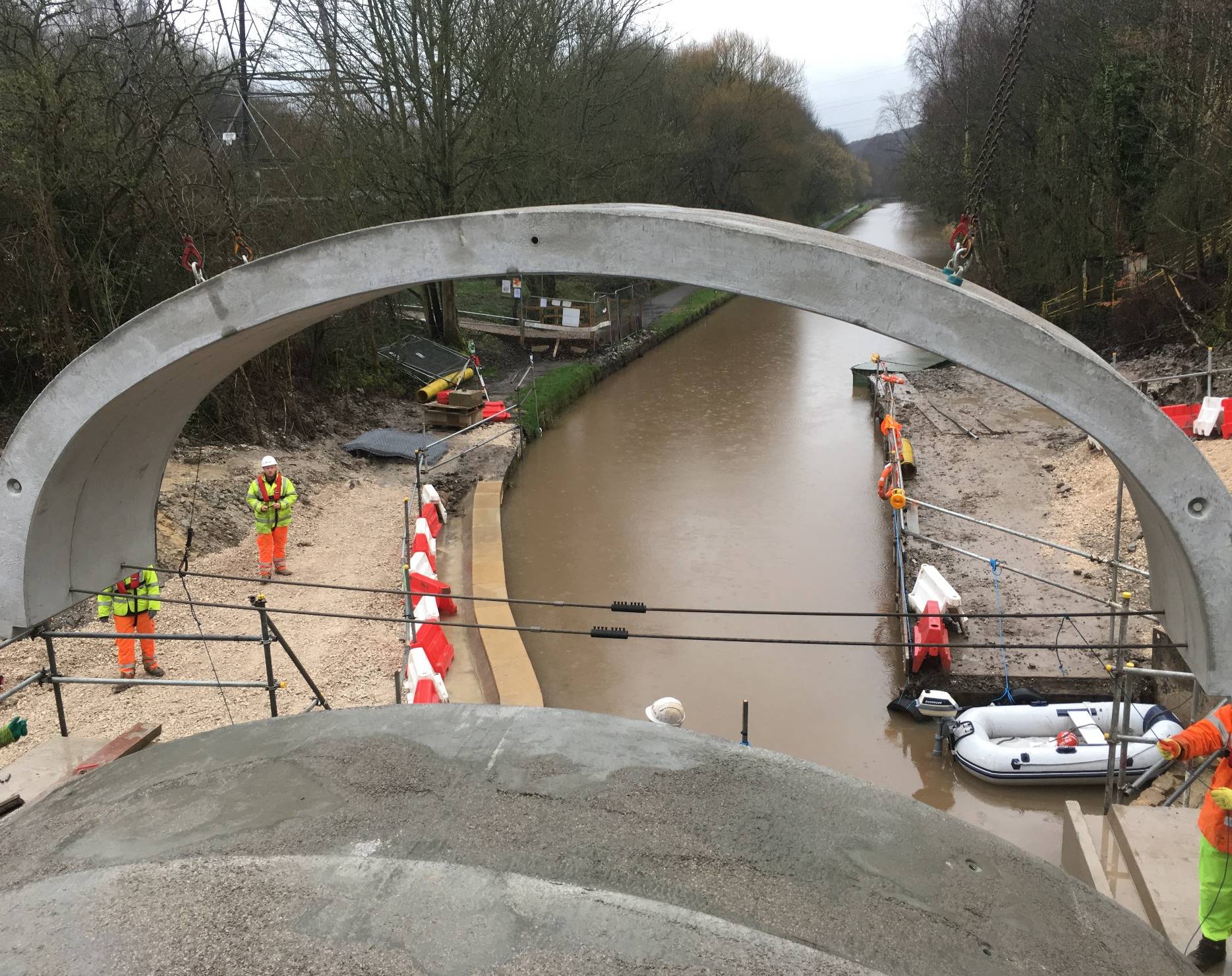 Work to rebuild flood-damaged Crowther Bridge at Cromwell Bottom, Brighouse, has taken a significant step forward, as the new bridge arch is now in place.
Calderdale Council, the Canal & River Trust and the contractorKier Group are rebuilding the bridge after it was completely destroyed by the floods in December 2015.
They recently lifted a concrete arch into place to make the new bridge stronger and more flood resilient.  
Cllr Barry Collins, Calderdale Council's Cabinet Member for Regeneration and Economic Development, said:
"The new bridge is really taking shape now. It's built to modern standards, meaning the arch will be sturdier and will give better protection from any future flooding – just like nearby Elland Bridge. This is another milestone in the Council's ongoing flood recovery works across Calderdale."
Graham Ramsden, project manager for the Canal & River Trust, said:
"Works to rebuild Crowther Bridge are progressing well. The concrete arches are now in position and the canal underneath the bridge has reopened. Soon skilled craftsmen will begin the job of cladding the whole structure in stone so that it reflects the character of the area."
Work completed so far includes damming the canal, forming the foundations of the bridge and building a new towpath.
The remaining work includes building the bridge parapets, waterproofing the bridge, facing the structure in stone and reinstating the road, kerbs and footpath.
It is anticipated that the bridge will be completed in summer 2017. 
The work at Crowther Bridge has been in tandem with the rebuilding of nearby Elland Bridge, which officially reopened recently, to make the design and construction as cost-efficient as possible.
The Crowther Bridge and Elland Bridge rebuilds have been financed through £5.5 million from the Department for Transport flood recovery fund.