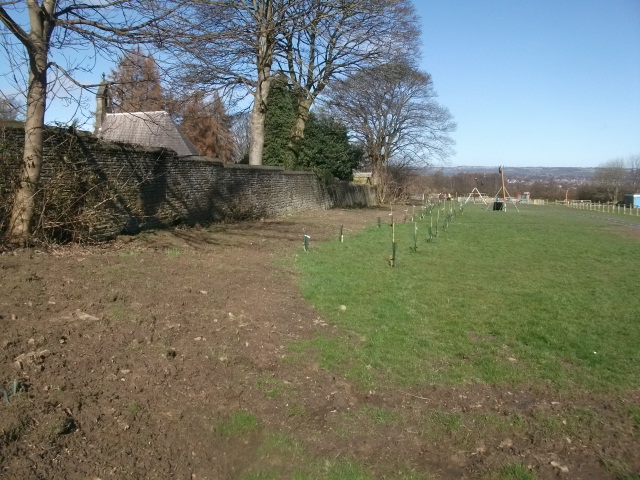 Spring is well on its way, and with it comes a flurry of colour as plants and flowers start to bloom. 
This year, Calderdale Council's Safer Cleaner Greener team is once again working with local businesses and community groups on the Corridors of Colour project 
Corridors of Colours looks to plant wildflowers across the borough, often on otherwise unused pieces of land. The project first began in 2006 on a small number of sites in Calderdale, but it has flourished into something much bigger, with community groups even taking on their own planting projects with guidance from the Council's Safer Cleaner Greener team.
One organisation which has done just that, is HD63 Food, Fruit and Flowers – a group of local residents, who originally came together to share seeds, seedlings, plants and information.  
They came up with the idea of Fruit for All, with the plan of planting fruit trees and soft fruit bushes around Rastrick, for the local community to enjoy. 
The Council helped the group submit a successful bid to Rastrick Big Local who awarded the group £20,000 to plant around 350 fruit trees and 120 soft bushes around Rastrick. 
Working with local schools and Calderdale Council, a list of sites were identified and plans drawn up. They've now planted over 500 fruit trees and nearly 200 soft fruit bushes on 16 sites around Rastrick, and continue to expand their project every year. 
Calderdale Council's Cabinet Member for Neighbourhoods and Communities, Cllr Susan Press, said: 
"This is a great example of the Council working together with Community Groups to enhance the local area.  

"Thanks to the Fruit for All project, everyone in Rastrick is now less than a mile from fresh fruit. This not only makes the area more attractive, but can also act as inspiration for people to grow their own food and learn new skills."
Rich Richardson from Fruit For All said:
"Fruit for All was one of the projects that Rastrick residents voted for in 2016 as a way of improving the local environment. With the help of the Safer Greener Cleaner team we've been able to plant up 16 mini orchards, not just on Council land but in schools as well.

"And now with the planting of wild flower seeds around the fruit trees, we can make these areas even more attractive, increasing bio-diversity and providing a friendly environment for pollinating insects. Contact us through the www.fruitforall.org(external link) website."
This week, the Safer Cleaner Greener team have been giving away packets of wildflowers at The Jungle Experience at Manor Heath, Halifax. The giveaway is linked to Corridors of Colour, and in the next few weeks,  wild flower seeds will be planted at sites around the borough .  
If you'd like more information about this, or any other aspect of Corridors of Colour, contact mark.dempsey@calderdale.gov.uk