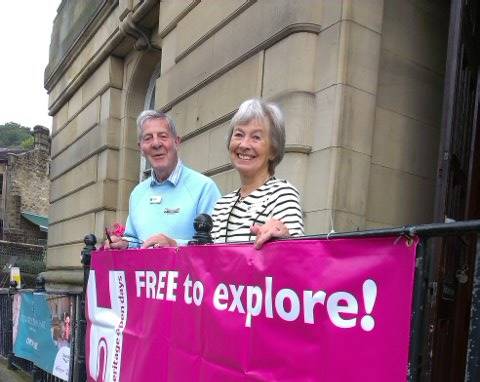 Over 260 people explored the gems of Todmorden Town Hall's heritage last weekend.
The Grade I listed Town Hall opened its doors during Heritage Open Days, where historic buildings across the country showcase themselves to the public.
Visitors enjoyed their first glimpse of the new heritage centre, which officially opened last Friday and was created by Calderdale Council to tell the fascinating story of the Town Hall. They stepped back in time through the exhibition of historic objects, digital archive material and local people's personal memories.
18 public tours of the building, led by volunteers, took place over the weekend. Young and old were captivated by stories of the Town Hall and its many uses,the tour guides' own personal attachments and insights into its history, such as the cell in the cellar where prisoners used to wait before going to court in what is now the Council Chamber, and the funding of the building by the Fielden family in 1875. Direct descendants of the Fielden family were among the visitors to the open days.  
Heritage Open Days were not the only chance to look around Todmorden Town Hall. As part of the Council's aim to open up the building more and celebrate its heritage, the volunteer guides will be holding regular tours throughout the year. Email daniel.jessop@calderdale.gov.uk or call 01706 548105 to book a place.
Gems that can be seen on the tours include the ornate ballroom which once featured an indoor water fountain, the elegant staircase and the Council Chamber which once doubled up as a Magistrates and Civil Court.
The 'Telling the Story' project has been made possible by a Heritage Lottery Fund (HLF) grant of £45,700 and a Council contribution of £3000.
Calderdale Council's Cabinet Member for Communities, Cllr Steve Sweeney, said:
"I'm delighted that Heritage Open Days were such a huge success. Whether people were finding out more about Todmorden Town Hall's history in our new heritage centre, taking a tour of the building or simply enjoying the beautiful setting, the popularity of the event is proof that our heritage project will help attract more visitors and keep our local history alive."
To find out more about the Town Hall, visit Todmorden Town Hall – about the venue. To hire the building for an event, go to Todmorden Town Hall – take a look, make a booking.