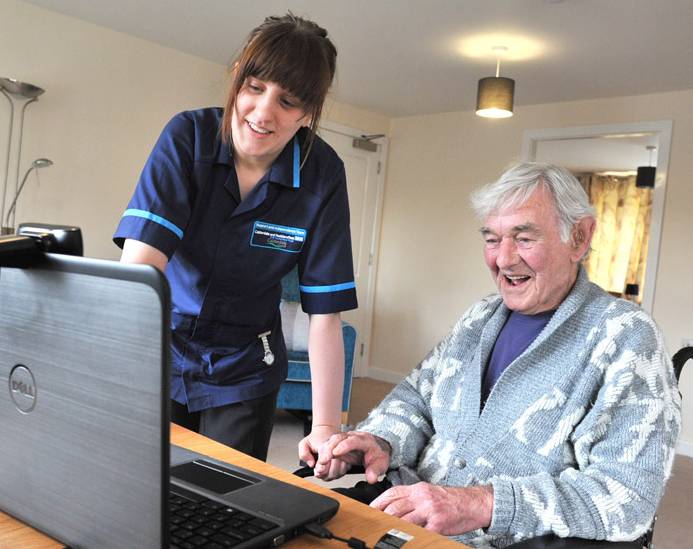 An innovative scheme helping Calderdale residents to stay independent between leaving hospital and returning home has won a prestigious national award.
Heatherstones Court in Halifax, which offers self-contained apartments and personalised support to people leaving or avoiding hospital, has been recognised as the most innovative / specialist solution in the National Housing Awards 2015.
The awards are run by the National Housing Federation to celebrate excellence in housing. This year the awards were presented by comedian Marcus Brigstocke at a ceremony on 10 September in London.
The judges were looking for housing solutions that make a real difference to people's lives by doing something unique, and were highly impressed with Heatherstones Court for being the first scheme of its size and style in the country. Adults of any age from 18 can stay there, each apartment has multiple rooms like a home from home, and there is the option for a partner, family member or carer to stay in the same apartment. It was created by Calderdale Council, Connect Housing, NHS Calderdale Clinical Commissioning Group and Calderdale and Huddersfield NHS Foundation Trust.
The scheme opened in January 2015. Since then it has welcomed 36 residents, providing a safe and pleasant place to recover before returning home. With support from an expert team and modern facilities, people can go to Heatherstones after leaving hospital, or directly from home to avoid hospital or permanent care.
During their temporary stay, residents can access care and support, including physiotherapy and housing advice on site. The aim is to rebuild their independence and return to live in the community. A former resident, Bryn Poulton from Halifax, tells his story below.
Heatherstones was also highly commended in the national Empty Homes Awards in May 2015, as it brought a previously unused site back into use after being empty for seven years. Refurbishment work led to 13 new affordable homes on the site as well as Heatherstones Court, which were occupied very quickly.
The judges of the National Housing Awards were full of praise for Heatherstones Court, saying:
"Using a previously vacant property was excellent and it made good use of resources. The issue of providing suitable care for people leaving hospital is increasingly important these days and this scheme shows an imaginative solution which provides a possible route away from institutionalisation. It was an intelligently worked out scheme and could be replicated, so should certainly be considered as an example of good practice for others to follow."
Cllr Bob Metcalfe, Calderdale Council's Cabinet Member for Adults, Health and Social Care, said:
"It's fantastic that Heatherstones Court has been honoured in this way. We are delighted with the positive feedback from the judges – and importantly, the residents and their families whose lives have been transformed thanks to the scheme. It gives people more choice and control over their own lives – hospital and care homes are not the only option. A stay at Heatherstones helps people stay independent in the community for longer. It provides the right environment for them to look after themselves, with support available if needed."
Cllr Barry Collins, Cabinet Member for Regeneration and Economic Development, added:
"Transforming an unused, deteriorating site into affordable homes and a care solution that builds a better future for our community was an inspired move. Thanks to innovative joint working between the Council and other organisations, we've provided much-needed affordable housing within walking distance of Halifax town centre and major transport routes. And through Heatherstones Court we've ensured that many more people can stay in their own homes for longer."
Martyn Broadest, Connect Housing's Director of Regeneration, said:
"I'm thrilled that the close partnership between Connect Housing and Calderdale Council and health providers which resulted in the creation of Heatherstones Court has been recognised at the National Housing Awards. As Bryn's story illustrates, Heatherstones Court delivers better health outcomes for patients, helping them regain their wellbeing and independence. It's a really imaginative solution that also helps to reduce the pressure and costs on the health and social care systems. We have already had a lot of interest from other areas keen to replicate Heatherstones Court in their communities."
Bryn's story
Bryn Poulton, age 80 from Halifax, had to have his lower leg amputated after an illness, and stayed at Heatherstones Court while adaptations were made in his home. He says:
"I couldn't go back home after hospital because it needed adapting so I could move around in my wheelchair. But I wanted to keep my independence, so Heatherstones was a great alternative to staying in hospital or a care home.

"It was like a home from home – I had my own apartment with an adapted kitchen, a living room and two bedrooms. I enjoyed my stay – I had the freedom to cook for myself, sort my own medication and go out and about when I wanted to. But I had support from wonderful people when I needed it, like physio, walking on my new prosthetic leg and learning how to get help from nurses through a computer. It gave me chance to build my confidence and independence after leaving hospital, and prepared me to go home."
Bryn has now left Heatherstones Court and is back living in his own home.
For more information visit the Heatherstones Court page.