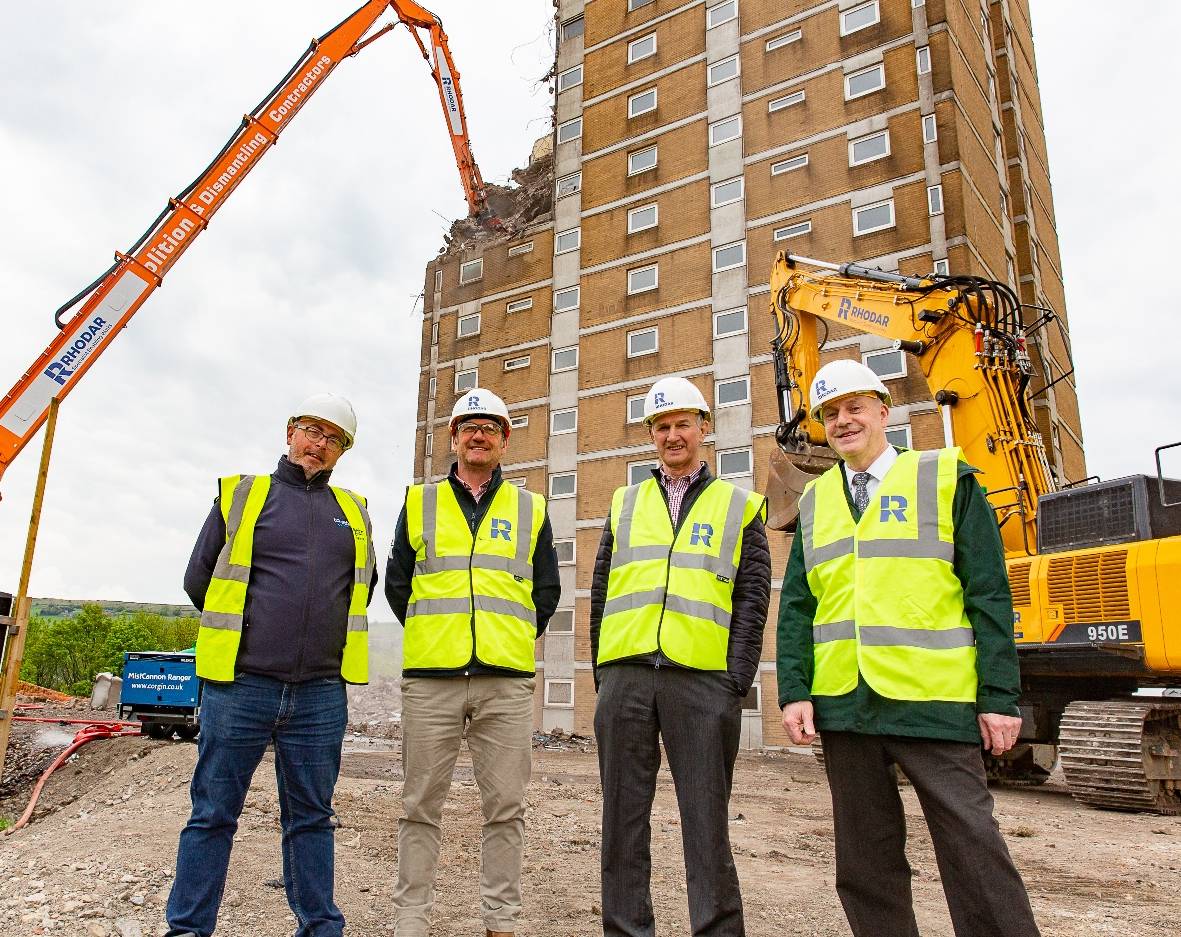 The redevelopment of the Beech Hill estate in Halifax has entered its next stage this week with the start of the demolition of three tower blocks which have stood empty for over 10 years.
The work is part of the Calderdale Together Investment Partnership, a partnership between Together Housing and Calderdale Council which aims to deliver up to 650 affordable homes for rent and ownership over the next five years, including new homes at the Beech Hill site as well at other sites across Calderdale.
The Beech Hill project has received £2.197 million investment from the Leeds City Region Enterprise Partnership (LEP), delivered in partnership with the West Yorkshire Combined Authority, through the Leeds City Region Growth Deal – a £1 billion package of Government investment to accelerate growth and create jobs across Leeds City Region.
Following the successful strip out of Cobden Court, Blenheim Court and Westbrook Court, Calderdale Together Housing Investment Partnership's contractor Rhodar has begun demolishing the flats. The demolition, which is expected to take 20 weeks, will see a 54 metre excavator mechanically demolish the tower blocks down to ground level.
Dave Procter, Chair of Together Housing Group, said:
"These derelict tower blocks have been a blight on the landscape for too long so I am delighted to see them come down as part of our commitment to deliver affordable new homes across the borough, in partnership with the council."
Mark Thompson, Director of Regeneration and Strategy at Calderdale Council, said:
"It's good to see work progressing to redevelop Beech Hill, as part of Calderdale Together Housing Investment Partnership's aim to deliver up to 650 quality affordable homes across the borough over the next five years. The project supports the wider transformation of Calderdale and investment in transport, public spaces and businesses. It also supports the Vision2024 to be a thriving place where people want to live, work, visit and invest."
Andy Fisk, Director of Rhodar's Demolition Division, said:
"This is a prestigious and high-profile project and our teams are thrilled to be a part of a scheme of such importance in the region. Our expertise in both asbestos removal and demolition allows us to provide the complete package to enable developments such as this and it is a pleasure to be able to deliver the first phase successfully alongside partners of the scheme."
The demolition will be limited to Monday to Friday from 8am – 5pm, with moving of materials on Saturdays between 9am and 3pm.
Rhodar is using specialist dust suppression methods on site and stations will monitor the dust, noise and vibration but if residents have any concerns, they can contact Environmental.Health@calderdale.gov.uk