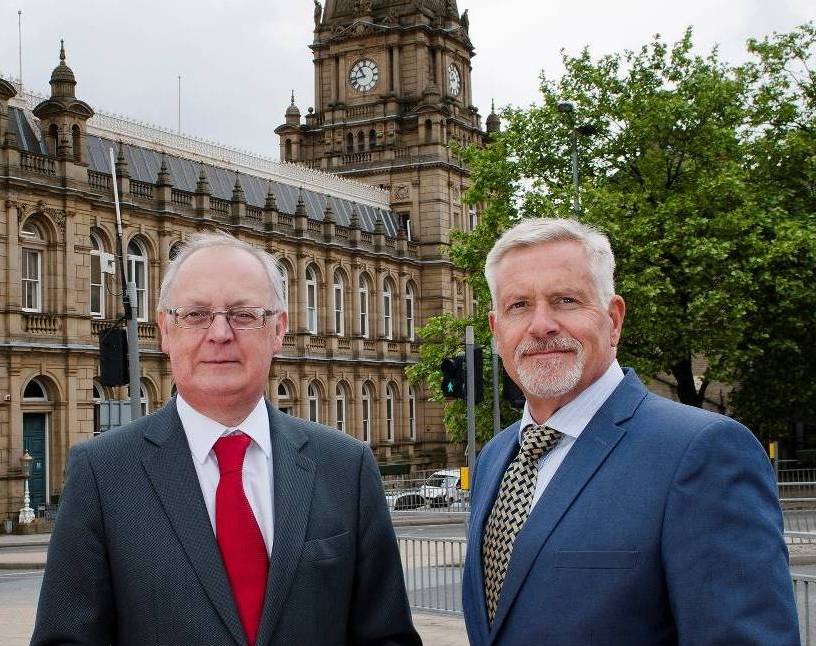 Two prominent members of Calderdale Council have been recognised by the Queen in this year's birthday honours list.
The Leader of Calderdale Council, Cllr Tim Swift, will become a Member of the Order of the British Empire (MBE) in recognition of his contribution to local government and the regeneration of Halifax.  Stuart Smith, Calderdale's Director for Adults and Children's Services, will be appointed as an Officer of the Order of the British Empire (OBE) for his services to children.
Cllr Swift has been a Calderdale councillor for 14 years. He was Leader of Calderdale Council between May 2012 and July 2014, a role which he resumed in May 2015. Vice Chair of the West Yorkshire Combined Authority, Cllr Swift plays an active role within the region, representing Calderdale on Leeds City Region Local Enterprise Partnership (LEP).
An enthusiastic champion of the Piece Hall, Cllr Swift oversaw the transformation of the Grade I listed Georgian building, culminating in its triumphant re-opening on Yorkshire Day 2017.  A world class destination, the Piece Hall has attracted over two million visitors in the nine months since it re-opened.
In September 2017 the new Central Library and Archives in Halifax was officially opened to the public.  The new library incorporates much loved landmarks of the spire and beautiful rose window from the ruins of Square Church.
Both buildings, unique and spectacular in their own right, have received national recognition, scooping six awards and being shortlisted for many more.
Cllr Swift said:
"I was very touched and surprised to be nominated for this honour, which feels like the icing on the cake after the incredible year that we've had in Calderdale.  It's a real privilege to represent Calderdale, both as a Ward Councillor and as the Leader, and I have been very lucky to have been involved in such flagship projects for the borough.

"Although it's important to enjoy their success, we're already working hard on the next phase of our regeneration programme, including the new station at Elland, the major improvements to the A629 and the re-development of Halifax Town Centre."
Cllr Susan Hinchcliffe, Chair of the West Yorkshire Combined Authority, said:
"Many congratulations to Cllr Swift for this well-deserved honour, following his years of dedicated public service championing Calderdale and the Leeds City Region. Through the many roles he has played in our City Region partnership – most recently as Vice Chair of the Combined Authority and Deputy Chair of the LEP – he has consistently provided valuable, considered leadership to ensure the decisions we take have the greatest possible positive impact for the people we serve, and is a passionate advocate for our region."
Commenting on Cllr Swift's award, LEP Chair Roger Marsh OBE said:
"I am delighted to see Cllr Swift's achievements recognised in this year's Birthday Honours. From putting Calderdale on the national map through the regeneration of the incredible Piece Hall, to the important regional roles Tim has played as a LEP Board member over several years, this is a very fitting acknowledgement of his many years of public service."
Chief Executive of Calderdale Council, Robin Tuddenham said:
"I am thrilled that both Cllr Swift and Stuart have had their years of dedicated public service recognised through the Queen's birthday honours.

"Cllr Swift, as Leader of Calderdale Council, has led the rebirth and transformation of Halifax at a time of unprecedented challenges for local government. The impact of the Piece Hall and new library has been remarkable, winning multiple awards and putting us in the national spotlight for what local councils can achieve.

"Stuart Smith has overseen huge improvement in our services for children and young people in Calderdale, tackling complex issues, achieving outstanding ratings from Ofsted for our residential provision, and ensuring effective early intervention for those at risk. This follows a lengthy career where Stuart has always put the best interests of our children first.

"This is wonderful news for the Leader and Stuart and for the Council and Calderdale."
Calderdale Council's Director for Adults and Children's Services, Stuart Smith has spent his career improving the lives of vulnerable children.
He began his career as an English and PE teacher in Toxteth, before moving into youth work and community development at Liverpool City Council. Stuart held several senior roles including 5 years as an Assistant Director and 16 years as Director of Education, Lifelong Learning, and of both Children's and Adult Services. He has worked for a number of local authorities including Kent County Council, Wigan Council and Wirral Council.
Stuart joined Calderdale Council as the Director of Children and Young People's Services in 2012 at a time when the directorate had been judged inadequate by Ofsted.
Under Stuart's leadership the team has gone from strength to strength and has won several national awards, including for its partnership work to protect vulnerable children from CSE.  The Council's 'Troubled Families' programme has been judged 'outstanding' by Ofsted.
Since 2015 Stuart has been Calderdale Council's Director for Adults and Children's Services after the service merged with the Adults, Health and Social Care directorate.
Stuart said:
"I'm very proud to have been awarded this honour and I must say that I am delighted, but I'm also a bit embarrassed because this wouldn't have happened if I didn't have such a great team.

"I know it's a cliché but I really believe that this is down to the strength of the people around me, the senior managers and our fantastic social workers, early intervention and family support workers, who I think are exceptional.  They have turned Calderdale into a centre of excellence, which has achieved national recognition."
For the past six years Stuart has been a Board member of the Children and Families Court Advisory Service, which represents the advocates for and supports children in the family courts during legal proceedings.
Anthony Douglas, Chief Executive of Children and Family Court Advisory and Support Service (CAFCASS) said:
"Stuart understands children, understands families, understands how to provide and radically change and improve services, understands good governance and understands high performing teams and partnerships.

"He is a wonderful human being – clever, compassionate, funny and fabulously resilient. Modest though he is, this honour recognises the major contribution Stuart has made to public services over decades of hard work sustained every day, whatever the pressures and challenges."