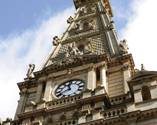 Members of West Yorkshire's proposed new Combined Authority have met for the first time to discuss transition to the new body should the government give the go ahead, and future governance and scrutiny issues.
Meeting as the Shadow Combined Authority and chaired by Wakefield Council leader Cllr Peter Box, the body has no formal powers as yet, but is vital as a forum to discuss the design and future ways of working of the CA.
The membership is made up of the five West Yorkshire council leaders – Cllr Box, Cllr Mehboob Khan (Kirklees), Cllr Tim Swift (Calderdale), Cllr David Green (Bradford), Cllr Keith Wakefield (Leeds) – York City Council leader Cllr James Alexander, the chair of the Local Enterprise Partnership Roger Marsh, and three opposition councillors from across the county Cllr Robert Light, Cllr Andrew Carter and Cllr Janet Battye.
The CA members received an update on the progress through government of the draft order to create the new authority which will have a focus on managing £1.5 billion investment in West Yorkshire's transport and economic infrastructure. It will work closely with the Local Enterprise Partnership board, whose chair is on the committee, to develop links with local businesses. 
Calderdale Council's Leader, Cllr Tim Swift, said:
"This is the next step in making sure we have greater democratic accountability for the decisions that are taken to invest in transport and economic development across West Yorkshire and York. By taking control of these decisions at local level, I believe we have more chance of making sure that major infrastructure projects deliver jobs and economic growth for Calderdale."
Cllr Peter Box said: "By taking decisions affecting West Yorkshire away from Westminster, and instead deciding them locally, we can ensure that the investment in the region is made where it can have the biggest impact. Significant and well-targeted investment in the transport network for example will create significant opportunities for economic growth, enabling existing, and new, businesses to become more productive through reducing lost time caused by congestion, and allowing better links between people's homes and major employment areas."
CA members also discussed scrutiny and governance issues, to ensure that decisions taken by the new body once it is properly set up in April, can be properly accountable through scrutiny by other councillors.
They were also given a report on progress on transition from the current arrangements to the new body, the most significant part being the dissolution of the Integrated Transport Authority, better known as Metro, and the transfer of its functions to the new CA.
Cllr Box said: "We are where we expected to be by this stage. It is important that we meet as a shadow board to ensure that everything is in place ready for us to be fully functioning and delivering for our first meeting proper in April.
"So while no formal decisions can be taken as yet, this is an important stage in setting the landscape for where the CA will operate, its relationship to councils and the LEP, and ensuring we all have the same expectations of what needs to be achieved by April and beyond.
"There are discussions about the day to day management of the CA to be had, the transfer of Metro staff is going ahead, as well as negotiations with government over funding sources and financial freedoms that we need to confirm. The best way to do this is to start as we mean to go on – by acting as one body, in the interests of the whole region, and to get the best outcome we can for the county."