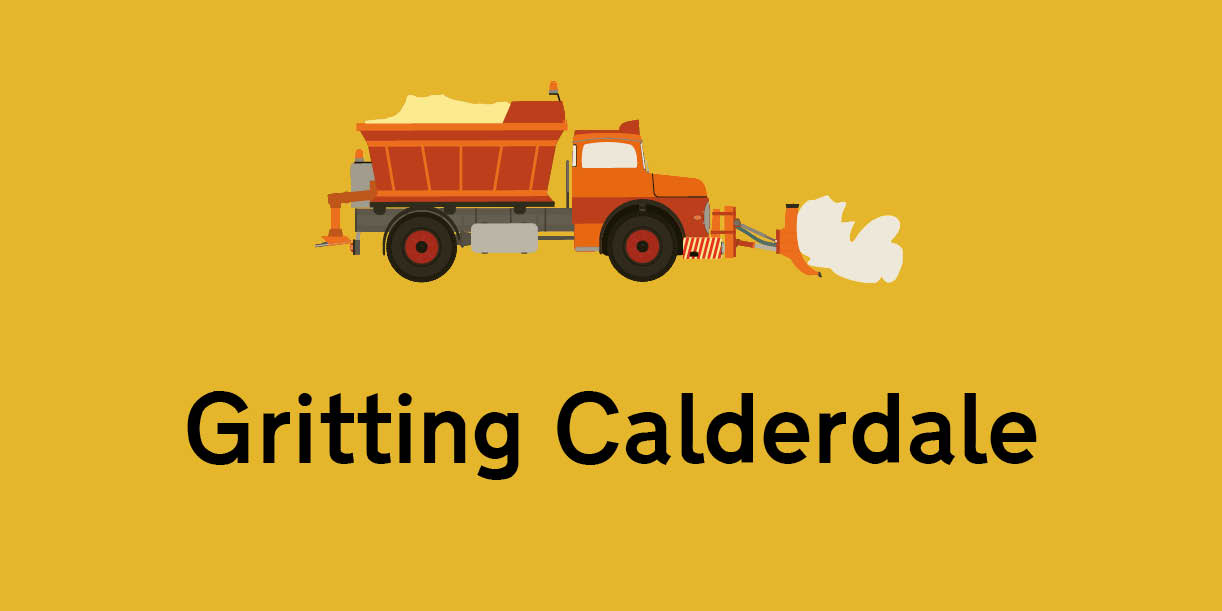 Calderdale Council's plans to keep the borough safe and moving this winter, and proposals for improved salt storage from next winter, will be discussed at the Cabinet meeting on Monday 1 October 2018.
Cllr Susan Press, the Council's Cabinet Member for Communities and Neighbourhood Services, said:
"We always start planning for winter well in advance of the colder months, to ensure we provide a safe, efficient and cost-effective service for local communities. We're now firming up the plans for this winter, looking at how we'll continue to treat 1,035 roads in Calderdale to make our towns and villages as resilient as possible."
Cllr Barry Collins, Cabinet Member for Regeneration and Economic Strategy, added:
"The weather was especially bad last winter. We listened to feedback from local people, adapted our gritting routes and priorities, and we're proposing to continue with the same high level of service this year. We're also considering creating a new, covered salt barn to store salt better, which would save money in the long-term and benefit the environment."
In Calderdale 67% of roads are gritted – a higher percentage than in most neighbouring areas in Yorkshire. The proposed lists of treatable roads can be found on the Council's website at www.calderdale.gov.uk – search for 'winter service and gritting'.
The Council plans to have 22 gritters on standby this winter to carry out precautionary salting and snow clearing on the treatable roads, with additional tractor snowploughs and snowblowers available for the worst conditions. Over 700 grit bins are being filled during September and October and salt piles will be replenished in early November, ensuring the best possible self-help provision.
All of the tender applications are now in for the Council's snow clearing services for 2018-2023, which includes winter maintenance vehicles, snowploughs and snowblowers. While assessing the tenders to choose the most suitable supplier, the Council is reviewing its patrols, night inspection, weather reporting and salt usage / storage.
National guidance recommends that when salt is stored it should be covered to protect it from damage and runoff into drains and watercourses, which has environmental and cost impacts.
The Council currently stores its salt in an open stockpile at Ainleys Depot in Elland and in a smaller store at Holme End Depot in Mytholmroyd, which is covered by tarpaulin.
Cabinet will be asked to approve the proposal to construct a large salt barn at Ainleys Depot in preparation for winter 2019/20, to supplement the covered store in Mytholmroyd.
The salt barn would have the capacity to store 10,000 tonnes of salt. It would protect salt from the elements and reduce waste and environmental impacts by preventing runoff. This would enable the Council to reduce the amount of salt it uses by up to a third on precautionary grit runs. This, plus other efficiencies in the winter service, would save around £60,000 a year.
If approved, the salt barn would be the first phase in the wider plans to transform Ainleys Depot to make it more fit for purpose, as it is now in a poor condition.
The Council is also looking into a possible additional salt stockpile location in the north of Halifax to continue to make the winter service more efficient.
Enhancing Calderdale's resilience is one of the key aspirations of the Vision2024 for Calderdale. The year 2024 marks Calderdale's 50th birthday. Where do we want to be by 2024? What's our ambition and what will be different? Get involved with the debate on Twitter with #VisionCdale2024 and find out more at www.calderdale.gov.uk/v2/council/vision-2024
Calderdale Council's Cabinet will meet on Monday 1 October at Halifax Town Hall from 6pm.