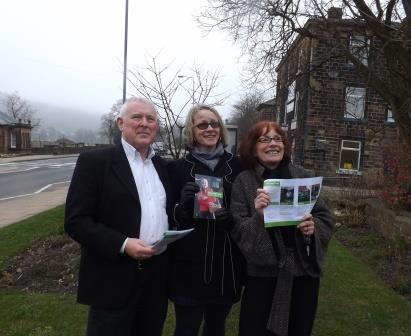 Green-fingered residents in Todmorden will now find it easier to grow their own fruit and veg, thanks to the launch of Calderdale Council's community growing pilot in the town. And if it bears fruit, people across Calderdale could have a blooming marvellous chance to get involved.
 Community growing is for groups of people who want to work together to create spaces where they can grow their own produce – and then enjoy the fruits of their labour. Homemade raspberry jam anyone?
 We're keen to build on the success of Incredible Edible Todmorden, so we've worked hard to make it even easier to get involved in community growing.   
We're starting with Todmorden but after the pilot we'll be looking at rolling out to the whole borough. We've identified patches of unused land across Todmorden and have created a new online map system that shows all the Council-owned land available for community growing in the town. We've also created some easy-to-understand guidance and looked into insurance issues. 
If you fancy giving community growing a go in Todmorden, one of our friendly neighbourhood co-ordinators will meet with you and help you choose a suitable piece of land. You'll need to apply for a licence but we'll support you all the way. Contact Kirsten Fussing at kirsten.fussing@calderdale.gov.uk or on 01706 548133.
 Calderdale Council's Cabinet Member for Communities, Cllr Steve Sweeney, said:
 "Schemes like Incredible Edible Todmorden have really taken root, and people are finding it more and more important to know where their food has come from. So we want to do as much as we can to help residents grow their own food. It's so easy to do, and it's healthier, cheaper and better for the environment. 

"We want to encourage communities to grow food together and particularly welcome applications from groups. It helps you split the workload with others whilst meeting friends and neighbours, socialising, swapping recipes and sharing ideas (but you can still do it alone if you prefer). And it helps previously unused sites to blossom." 
Pam Warhurst from Incredible Edible Todmorden said: 
"This is such good news, we are really chuffed to see how Calderdale Council has taken up the enthusiasm for community food growing and run with it making it easier for residents to make the best of unused council land. Now it's down to us all to just get on with it…"
 You can see our guidance and online map system on the sustainable food page at www.calderdale.gov.uk
 If you don't have internet access at home, pop in to your local library and our friendly staff will be happy to help.
 Another great way to grow your own food in the community is at an allotment. We have lots of sites across Calderdale which people can rent. Visit Allotment gardens for more information, or call 01422 284401.