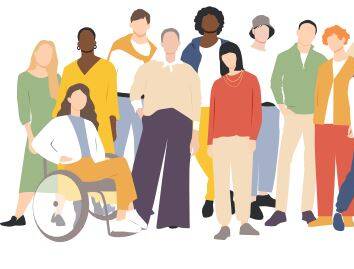 Calderdale residents who would like to get involved in improving their local area are invited to join a volunteer panel to give feedback on Council services and plans.
Calderdale Council has been seeking local people's views through its Talkback panel since 2006.
Panel members take part in surveys and focus groups on a range of local issues on a voluntary basis, which helps the Council understand what really matters to residents and to make improvements.
There are currently 300 people across Calderdale signed up to Talkback. Now the Council wants to recruit more members to reflect the rich diversity of its communities and ensure the panel represents a broad variety of backgrounds and perspectives.
One of the Talkback panel members, Adrian Paffett, said:
"I retired to Calderdale to be near my daughters and grandchildren and fell in love with the area. Joining the panel gives fantastic insight into what's happening and planned for the area and what all the wonderful people are up to."
Cllr Jenny Lynn, Calderdale Council's Cabinet Member for Public Services and Communities, said:
"Thank you to all our brilliant Talkback members who have their say on issues that affect life in Calderdale. 

"If you'd like to join them and help make a difference, we'd love to hear from you. Just pick the surveys you're most interested in, tell us what matters to you and help us shape new plans and projects that better meet our communities' needs.

"We want to hear from as many people as possible, and for our Talkback panel to represent our wonderfully diverse communities, so we've launched a recruitment campaign. This is part of our Vision 2024 for Calderdale to give everyone a voice in helping to make Calderdale a better place to live for everyone."
Examples of previous survey topics include health, climate action, housing need, children's centres, cycling in parks and moorland, arts and culture.
Anyone who lives in Calderdale who is over 18 is welcome to apply to be a Talkback panel member. It is important that the panel represents everyone who lives in Calderdale, so the Council is particularly keen to recruit more people under 35 and those who live in north Halifax, Park ward, Pellon, Warley and Rastrick.
For more information and to join the panel, visit www.calderdale.gov.uk/v2/council/consultation-and-feedback/calderdale-citizens-panel
The year 2024 marks Calderdale's 50th birthday and there is less than a year to go. Where do we want to be by 2024? Get involved on Twitter with #VisionCdale2024 and find out more at www.calderdale.gov.uk/vision