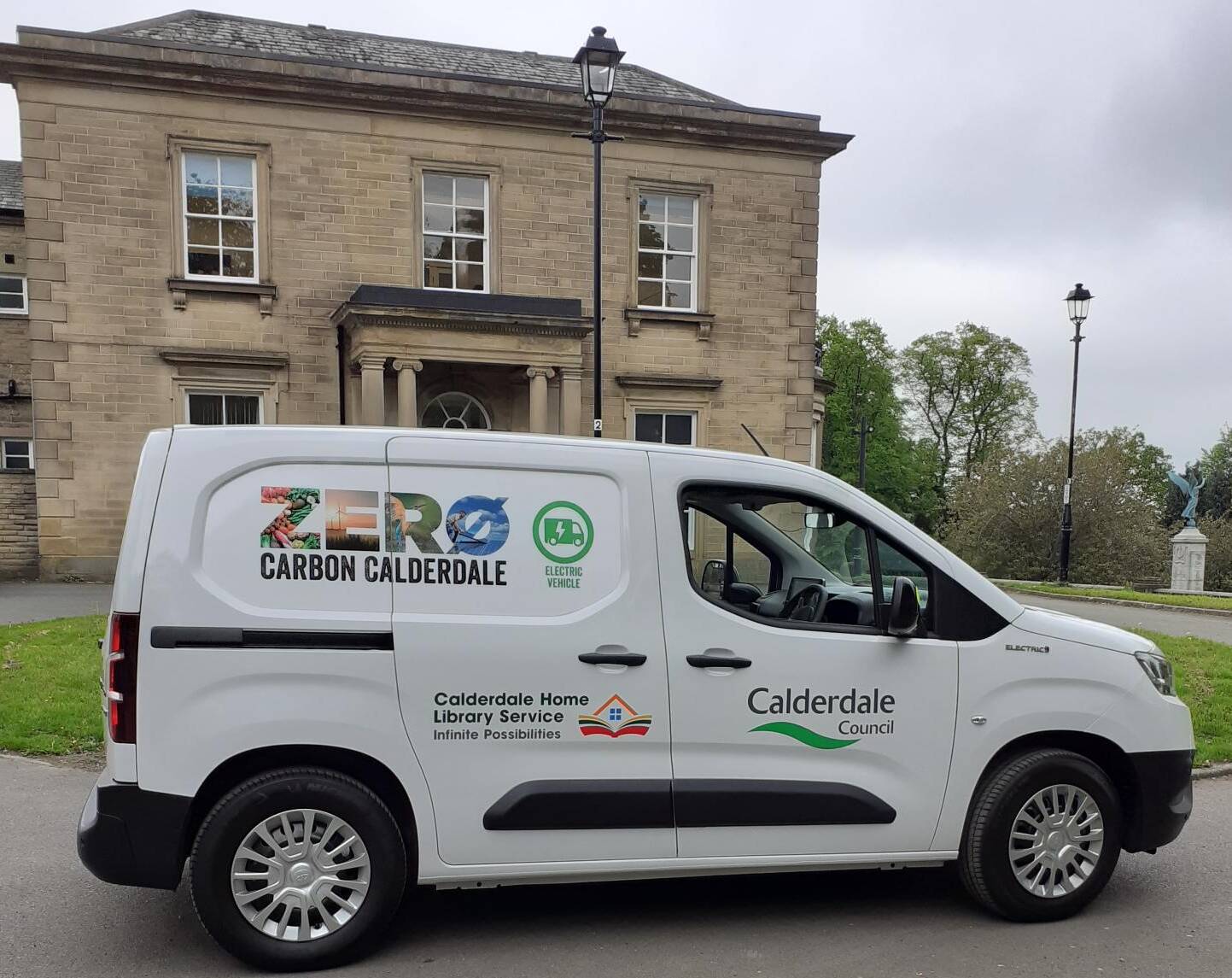 Library books are on the move across Calderdale in a cleaner, greener way, cutting the carbon footprint of the Home Library Service.
Calderdale Council delivers books for free to people who can't get to a library due to ill health, disability, age or frailty, and to carers.
The deliveries are now being made by an electric van for the first time, replacing the old diesel vehicle, reducing harmful emissions and improving air quality.
This supports the Council's priority to take climate action, and the principles behind Clean Air Day – the UK's largest air pollution campaign that takes place on Thursday 15 June.
The Home Library Service has gone from strength to strength over the last few years, providing a vital lifeline to vulnerable people during the COVID-19 pandemic, and then improving its offer and increasing the number of residents it supports.
Now it's contributing to the Calderdale Climate Action Plan and the ambition for the borough and the Council's corporate estate to be net zero by 2038.
The new van adds to the other electric and hybrid vehicles that the Council has in its fleet, which provide services such as community safety and adults' health and social care.
This Clean Air Day, the Council is encouraging people to take simple steps to help improve air quality in our towns and places. Cleaning up our air is good for us in many ways – it not only benefits our physical health and the environment, but can also protect our brain health and mental wellbeing. Visit www.cleanairhub.org.uk(external link) for tips on reducing air pollution, follow @CleanAirDayUK and use #CleanAirDay in social media posts.
Cllr Jenny Lynn, Calderdale Council's Cabinet Member for Public Services and Communities, said:
"Our Home Library Service makes a huge difference to so many people's lives, bringing the joy of books and human contact to those who are not able to visit their local library.

"Now it's doing good for the environment too by reducing emissions. The new electric van also saves money in the library service's budget compared to running the old diesel vehicle."
Cllr Scott Patient, the Council's Cabinet Member for Climate Action, Active Travel and Housing, added:
"As part of our continued priority to tackle the climate emergency, we're always looking for ways to cut our carbon and seek low- or no-emission alternatives.

"Our new electric Home Library Service van is another example of how simple steps to reduce air pollution can have a big impact. Electric vehicles for home library deliveries are still quite a new thing for councils across the country, so we're proud to be leading the way.

"Look out for our new van with its eye-catching Zero Carbon Calderdale branding."
If you or someone you know would benefit from the Home Library Service, please get in touch: https://new.calderdale.gov.uk/libraries/home-library-service
For more information about action in Calderdale to tackle the climate emergency, visit www.calderdale.gov.uk/climateemergency