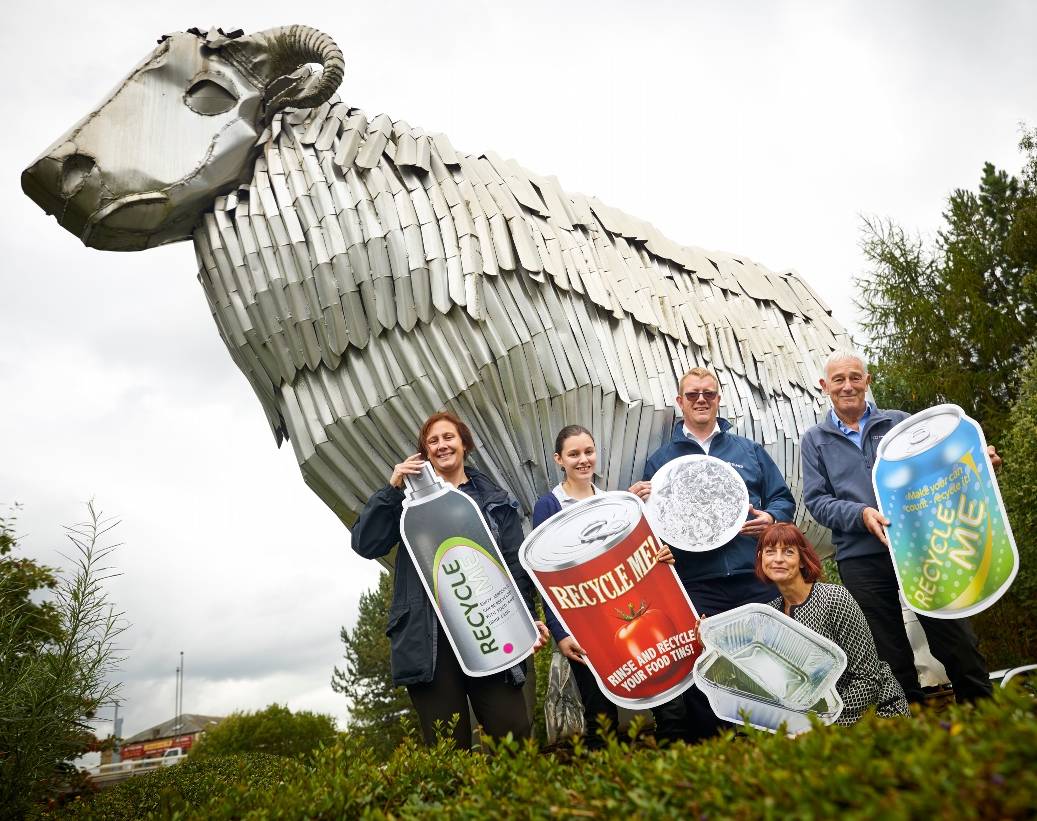 People in Calderdale use over 110 million cans, foil trays and aerosols every year – if they were all recycled it would save enough energy to power a television for two days in every home in the borough.
Calderdale Council along with SUEZ Recycling and Recovery UK has launched a new campaign to make sure that all those cans, foil trays and aerosols are recycled.
The Council and SUEZ have teamed up with the metal packaging manufacturing industry to launch the 'Make your Metals Matter' campaign, encouraging every one of Calderdale's 94,000 households to put metals in their white recycling sack along with their plastics as part of their weekly recycling collections.
Leaflets will be sent to every home and stickers, reminding residents to recycle their metals, will be attached to black wheelie bins. 'Make your Metals Matter' will also be supported by local radio advertising, a social media campaign and roadshows across the area.
The aim of the campaign is to remind residents to recycle all of the metal packaging found around their home, including:
Drink cans
Food tins
Foil trays
Empty aerosols
Metal screw tops
Kitchen foil wrapping
If all of the metal packaging used in Calderdale's homes each year was collected for recycling it would save around 3,017 tonnes of carbon dioxide compared to manufacturing the same amount of metal from scratch. That's the equivalent of taking more than 642 cars off the borough's streets for a year.
Used metal packaging can be recycled into new products at a far lower cost to the environment than making them from raw materials. Making drinks cans from recycled material saves up to 95% of the energy, and greenhouse gas emissions, needed to make both aluminium and steel from raw materials. What's more, every time metal passes through the recycling loop the benefits are repeated, again and again and again!
Cllr Barry Collins, Calderdale Council's Cabinet Member for Regeneration and Economic Development, said:
"Calderdale residents are already committed to recycling and reducing waste. In the last year we have collected an extra 2000 tonnes of recycling, which is great news. We want to encourage our residents to think about metal packaging found throughout their home. Food and drink cans, foil and empty aerosols are all easily and endlessly recyclable. Don't forget every can recycled saves enough energy to run a TV for four hours – so a small action like putting your empty bean tin into your white recycling sack can make a big difference."
The Calderdale campaign is being jointly funded by MetalMatters, an industry partnership comprising the UK's leading producers, users and recyclers of metal packaging and SUEZ the local waste contractor. The MetalMatters programme is managed by the Aluminium Packaging Recycling Organisation (Alupro) on behalf of the funding partners.
Rick Hindley, executive director of project managers Alupro, said:
"It is great to be able to work in partnership with Calderdale Council and SUEZ to promote the recycling of metal packaging. This campaign has delivered significant increases in the amount of metal packaging collected for recycling in other parts of the UK, so we are aiming to repeat – and hopefully better this – in Calderdale."