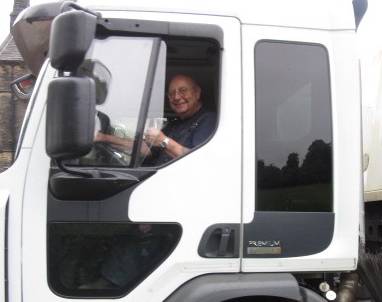 A long-serving employee at Calderdale Council is retiring after over 25 years of doing his bit to keep Calderdale clean and attractive. 
Getting in to work at 3am on a Saturday morning might not be the norm for most people, but for John Darby, who has worked in the Council's Safer, Cleaner, Greener team since 1990, it's been a weekly occurrence. 
John has started work every weekday at 4.30am and at 3am on a weekend. His job involves cleaning all major roads across Calderdale and then moving onto town centres before it gets busy.   
Over the years John has seen many changes. Town centres used to be quiet places at that time in the morning, but a new culture and thriving night time economy means that many people are still out enjoying themselves when John starts his work. He has many tales to tell about the characters he has met whilst doing his job! 
John, who is 67, officially retires from the Council on Wednesday 22 June. He is looking forward to spending time in his motor home, travelling and a well deserved rest. He said of his upcoming retirement: 
"I'm not sure how I feel about my last day of work, I have worked with a great group of people over the years and I hope to keep in touch with the friends I have made. I have had the opportunity to make a real difference sweeping and cleaning the roads across the borough and I feel a real sense of pride when I do.  

"The only thing that I won't miss is the really early mornings. I will be getting ready to travel to France over the next few weeks fitting my new electric bike to the back of my motor home which will keep me busy; as will all the jobs around the house when I get back." 
Calderdale Council's Cabinet Member for Neighbourhoods and Communities, Cllr Susan Press, said: 
"John's job is largely unseen by most people in the borough, but without the dedication and hard work of John and other members of the Safer, Cleaner, Greener team, Calderdale would be a much less tidy place.

"I know he'll be missed by colleagues and the friends he's made over the 26 years he's worked for the Council, and I would like to wish him well for his retirement." 
John is just one member of the Council's Safer, Cleaner Greener team who work around the clock to: 
Sweep roads and footpaths, both manually and mechanically
Empty over 900 litter bins and pick up litter on a daily basis
Remove graffiti and flyposting
Remove fly-tipping
Pick up leaves from streets and other areas
To find out more and to request services online, visit Clean streets