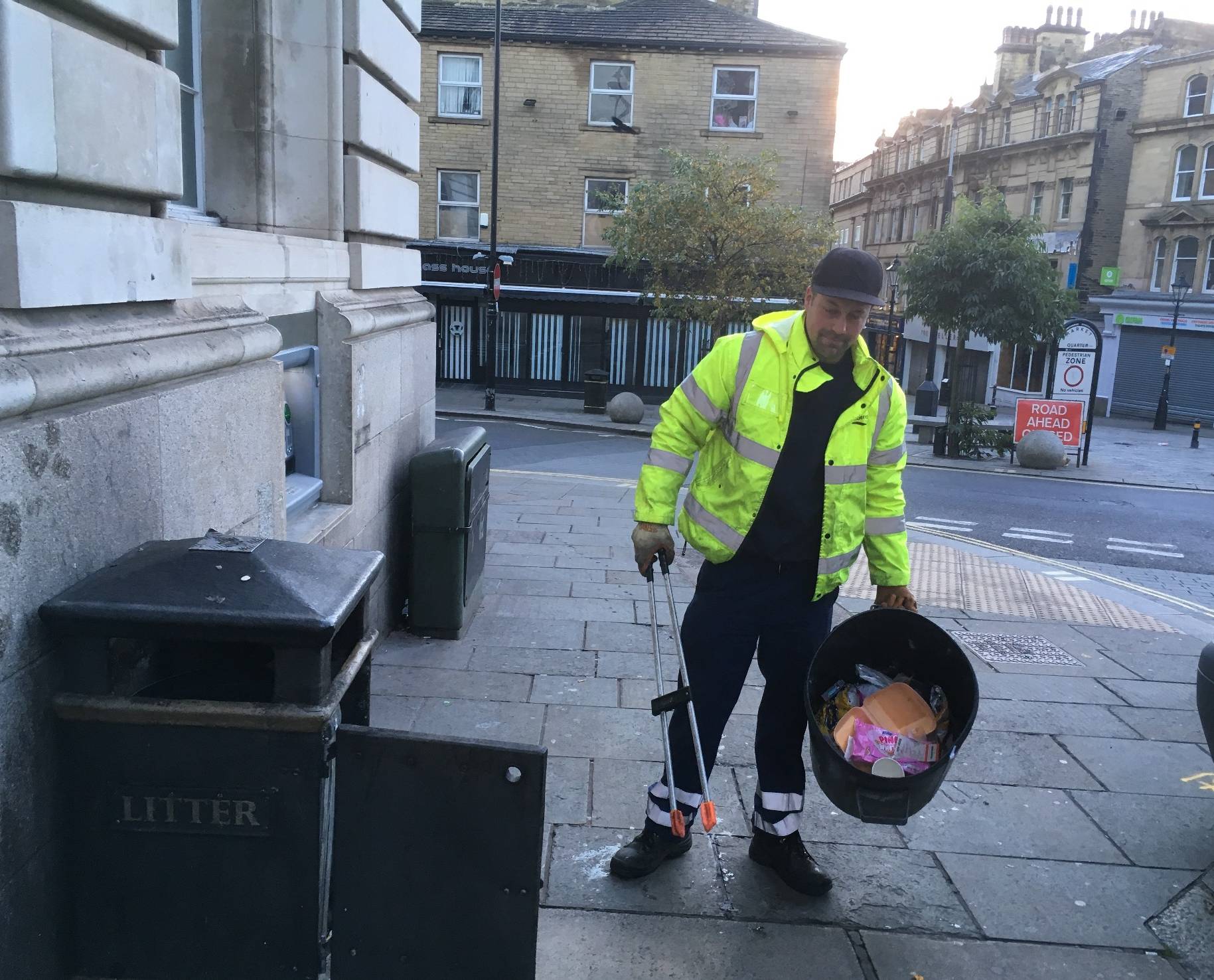 A new approach to keeping Calderdale clean and attractive, including an increase in street sweeping and bin emptying to seven days a week, will be discussed by Calderdale Council's Cabinet on Monday 10 July 2017.
The Council is proposing new ways to run its Safer, Cleaner, Greener service to make the required £400,000 savings in its budget by 2019/20.
The Safer, Cleaner, Greener service manages and maintains Calderdale's many parks, open spaces, children's play areas, woodlands and nature reserves. It also sweeps roads and footpaths, empties litter bins and removes graffiti and fly-tipping from Council land.
Cllr Susan Press, Calderdale Council's Cabinet Member for Neighbourhoods and Communities, said:
"We know how much local people value clean streets and the Safer, Cleaner, Greener team works as hard as it can to make Calderdale an attractive place to live, visit and do business. We are totally committed to continuing to ensure this. However, we're facing significant financial pressures and need to do things differently to make the best use of our limited resources and ensure value for money for the benefit of local taxpayers."
Cabinet will discuss three proposals to make the Safer, Cleaner, Greener service more efficient:
A priorities-based approach to maintaining parks and grounds and cleaning streets
Under the new approach, sites would be prioritised based on criteria such as location, usage, footfall and heritage value. This would ensure that resources are focused where they are needed most.
A new volunteering programme and increased work with community organisations
Over the last few years the Council has become a national pioneer in working with community groups to provide services and support local people, and hundreds of volunteers already do fantastic work helping the Council to deliver a large range of valued services.
To build on this, the Council is looking to recruit volunteers to take on the maintenance of some sites, such as bowling clubs and parks. The Council will also continue to work with community groups to source funding for things like new play equipment, which would reduce maintenance costs. 
More efficient use of staff, machinery and vehicles
To make the best use of its staff and equipment, the Council is looking to introduce seven-days-a-week services, such as street sweeping and bin emptying. At the moment streets are swept five days a week (unless there is a significant event or incident at the weekend), meaning street sweeping vehicles are usually left unused for two days a week. Staff would move to seven-day working weeks, removing the cost of the overtime currently paid for additional weekend work.
Parks and open spaces play a key role in residents' quality of life, and the cleanliness and attractiveness of areas are important to residents, businesses and visitors. Therefore, the proposed changes will ensure that the required budget savings are met with the minimum impact on service levels.
The proposals will be discussed at the meeting of Calderdale Council's Cabinet on Monday 10 July at Halifax Town Hall at 6pm.