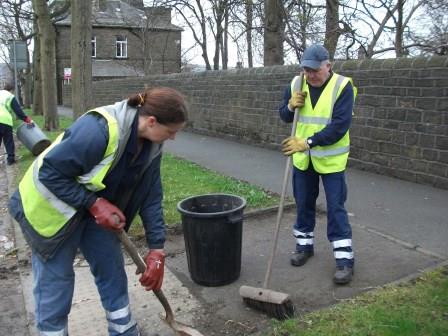 Council workers are devoting a day to sprucing up Brighouse Cemetery, and are inviting local residents to help out.
On Saturday 30 August, between 10am and 2pm, Council staff will be having a clean up day in the cemetery, to ensure that the grounds are looking their best. To help out with this, volunteers would be most welcome.
The cemetery is well looked after, but shrubs and weeds around the grounds seem to have had a growth spurt during the summer months, so some of the help required will involve weeding and pruning plants around memorials. Other jobs include litter picking, general tidying and the brushing of memorials.
Rubbish bags will be provided, along with some equipment, and the Council will help with the removal of anything collected at the end of the day. If people would like to bring their own extra equipment it would be most helpful. 
Volunteers will need to dress for the occasion. Strong, comfortable boots or shoes will be needed; gloves are essential if litter picking by hand.
This event follows other successful clean up days at Rastrick Cemetery, and previous similar events at Brighouse.
 Calderdale Council's Head of Neighbourhoods, Andrew Pitts, said: 
"Keeping memorial grounds clean and tidy is very important to us. By organising this clean up day we are targeting our efforts to make sure Brighouse Cemetery looks its best. 

 "Although Council staff will be working hard on site, we'd really like the local community to help us out, so we can work more efficiently and make a real difference. 

"Anyone is welcome to just turn up on the day, and although it would be useful if you can bring your own equipment, we will have spare items available for people to use." 
If you are able to help, please come along on the day or for more information contact Mags Bryson on mags.bryson@calderdale.gov.uk or call 01422 288017.