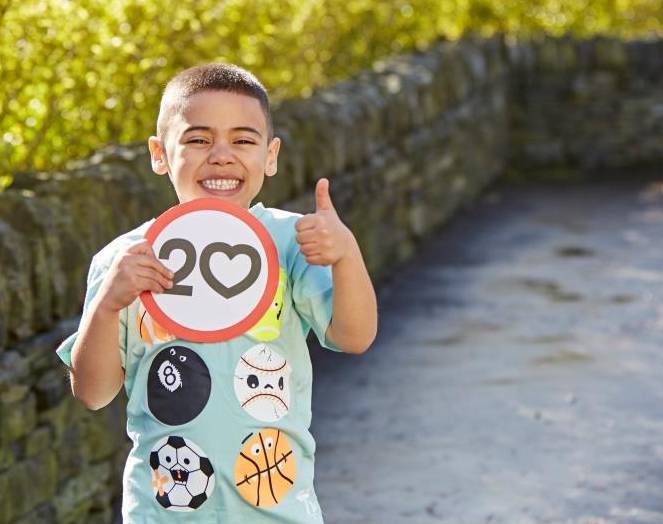 This week marks the launch of Love our Streets – a new campaign by Calderdale Council aimed at helping to make our streets safe and pleasant, wherever we live in Calderdale and however we travel.  
As part of the campaign, 20mph speed limits are coming to residential streets throughout the borough by 2017, as agreed by Cabinet in April 2014. The limits are already in seven areas of Calderdale and the next places will be Siddal and Southowram this June. The rollout will continue in seven further phases for the next three years.  
The move towards more 20mph areas reflects what other parts of the UK are doing. Calderdale is the first in West Yorkshire to introduce 20mph speed limits in most residential streets. 
We want to: 
Help make our streets safe for everyone, reducing the number and seriousness of collisions. 91 people were killed or seriously injured on Calderdale's roads in 2014 – 10 were children.

Enable people to walk or cycle shorter journeys. In areas of slower moving traffic, people are more likely to walk or cycle their regular journeys instead of using the car.

Help create more pleasant communities for us all to enjoy. Children playing outside, slower car speeds and walking and cycling shorter journeys can help make the places we live calmer and happier.

 
Calderdale Council's Director of Public Health, Paul Butcher, said: 
"In our recent survey with over 2000 residents across Calderdale, 89% told us they backed the introduction of 20mph speed limits in residential areas in the borough. When asked what would help them drive at 20mph, nearly half said that other drivers doing 20mph would be the biggest help.  

"Slower speed limits can help everyone, from children to older people, to feel safe and enable them to live healthy lifestyles. This mirrors the aims of the national '20 is Plenty' group, who want the same for all streets in the country.  

"We know that change won't happen overnight, but throughout the campaign we will be sharing the facts and benefits of driving at 20mph for everyone, including offers and practical tools." 
In the survey with Calderdale residents, people also said they were worried that if they drove at 20mph they could experience aggressive behaviour from the driver behind. Car CCTVs are becoming more and more popular, with drivers reporting benefits from video evidence, including less tailgating and reduced aggressive behaviour. 
You could win your own car CCTV, worth up to £50, by taking part in the quiz on the campaign website launched this week – http://20mph.livingcalderdale.co.uk(external link)  The short quiz gets you to think about how you drive and tests your knowledge. Why not check out the rest of the website too, which is packed with offers and advice for drivers, parents, schools and cyclists. You can also read the top 20 frequently asked questions about 20mph speed limits: http://20mph.livingcalderdale.co.uk/why-20/(external link) 
Find out more about Love our Streets and the benefits of driving at 20mph:http://20mph.livingcalderdale.co.uk/(external link)
Facebook: Love our Streets
Twitter: @loveourstreets 
For details of each phase of the 20mph rollout, including the areas and start dates, head to 20mph speed limits.