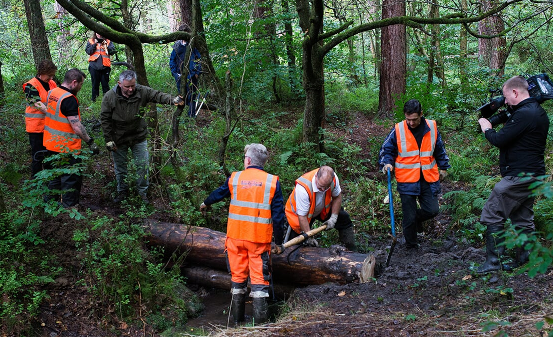 Press release from Slow the Flow and the Environment Agency
If your New Year's resolution is to spend more time in the 'great outdoors', keep fit and healthy, give something back to the community and help prevent Calderdale from flooding, why not volunteer for Slow the Flow during 2018.
Over the past year the Calderdale – based charity has teamed up with the National Trust at Hardcastle Crags, supported by funding from the Environment Agency, to slow the flow of water during heavy rainfall in the Calder Valley.
They have enlisted help from over 100 volunteers and have now built over 120 leaky woody dams as part of the project.
Guided tours of their work will be offered at Hardcastle Crags at 10am, 4 January 2018 – to book your place email: adrianhorton4@gmail.com. Local employees, councillors and residents are being invited to take time out of the office to see what is involved and has been achieved so far, enjoy the scenery and help out in the future.
Adrian Horton of Slow the Flow Calderdale, said:
"Our volunteers have worked incredibly hard in 2017 and we simply would not have achieved what we have without all their help."

"There is still lots to do, not just in Hardcastle Crags, but across the Calder Valley and we are working with our partners to identify other areas which would benefit from the installation of these leaky dams. If you know of such an area, please get in touch so we can arrange a survey and see how we can Slow The Flow near you."
Helen Batt, Calder catchment director for the Environment Agency, said:
"Many of our flood schemes feature a mixture of traditional engineering and natural flood management. We are delighted with the work that is being carried out by Slow the Flow volunteers.

"The amount they have achieved at Hardcastle Crags over the last eight months and the enthusiasm within the organisation is extremely impressive.

"The Calderdale Flood Partnership will continue to work closely with the group to advise them on potential opportunities to secure further funding and passing on research and information into the benefits of using national flood management to help protect the people and business in the Calder Valley."
Cllr Tim Swift, Calderdale Council's Leader said:
"This is a great opportunity to learn more about natural flood management and the amazing work that Slow the Flow is doing to help reduce flood risk in the Calder Valley.

"The group's unwavering energy and innovative approach to flood resilience are integral to Calderdale's flood programme and we are excited to see the results of its work so far."
Volunteer dates for 2018 are: – Jan 14th, Feb 11th, March 11th, April 8th, May 13th, June 10th, July 8th, Aug 12th, Sept 9th, Oct 14th, Nov 11th and Dec 9th with more dates being added in the New Year. The group meet at 9.30am in the Midgehole car park at Hardcastle Crags.
If you would simply like to see get involved in the project or come along to a volunteer day or have a guided tour, email adrianhorton4@gmail.com to book your place. For more information about Slow the Flow visit:- www.slowtheflow.net(external link)
Early indications are that the leaky woody dams in Hardcastle Crags are working to slow the flow and reducing the impact of flood water finding its way down the Calder Valley. Formal results of how much water has been slowed will be published in the New Year.
In November 2016, The Department for Environment, Food and Rural Affairs (Defra) awarded £50,000 to carry out the work at Hardcastle Crags which is the largest area of ancient woodland in Yorkshire.
This year (2017) the Government announced a further £15m to invest in natural flood management schemes across England which can be a cost-effective and sustainable way to manage flood risk alongside traditional engineering, while creating habitat for wildlife and helping regenerate rural and urban areas through tourism.
Examples of natural flood management techniques include:
allowing excess water to spill into land
recreating washlands, wetlands and peat bogs
building woody dams in rivers to slow the flow of water
building reservoirs
planting trees