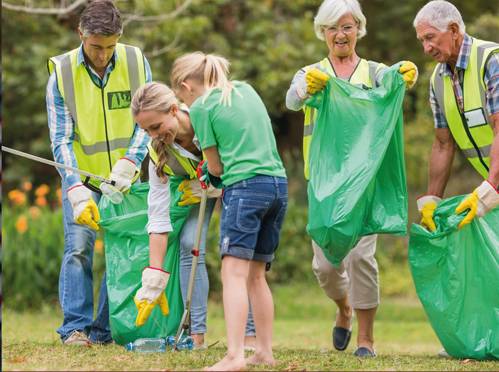 The mission to Clean Up Calderdale continues, as Council teams take to Elland for the latest in a series of clean up events.
From Wednesday 1 to Friday 3 February, Calderdale Council, West Yorkshire Police, West Yorkshire Fire and Rescue Service and Together Housing, are stepping up their day-to-day work to help make a difference in the Elland area.
The events will coincide with the launch of celebrations for Elland 700, marking 700 years since the town received a Royal Charter to officially be classed as a market town.
To make sure the town is looking its best for this big occasion, extra staff will be out and about focusing on a range of issues, based on being safer, cleaner and greener.
These will include tackling grot spots, undertaking food hygiene inspections, as well as extra litter picking, jet washing and bin emptying. Council officers will also be issuing 'on the spot' fines for littering and dog fouling, as well as visiting schools to highlight these issues and tackle problem parking.
In addition to this, there will be an information stall at Elland market on Friday 3 February, where people will be able to talk to experienced staff about a range of issues such as waste, recycling and pest control. Officers from Together Housing Group will also be at the stall to offer Keychoice and other housing related information.
Calderdale Council's Cabinet Member for Communities, Cllr Susan Press, said:
"In the same week as the launch event for the Elland 700 celebrations, we're building on the everyday work of the Council and focusing our efforts on making Elland safer, cleaner and greener.

"Keeping the borough looking its best is something everyone plays a part in, and more information on our work and how you can help will be available at Elland market on Friday 3 February."
Calderdale Council's Cabinet Member for Planning, Housing and Environment, Cllr Daniel Sutherland, said:
"We know how important this work is to our residents, and this is just one of a series of targeted clean up events, which started in Halifax last October.

"The Halifax week of action was a great success, with chewing gum removed, subways cleaned, 22 fixed penalty notices issued for littering, 14 'grot spot' areas cleaned up (with 40 bags of rubbish removed from just one of these areas), plus much more. We hope to replicate this success in Elland, working with our partners to keep Calderdale safe, clean and green."
West Yorkshire Police's Calder Valley Neighbourhood Inspector, Rachel Bairstow, said; 
"The days of action gives us a great opportunity to highlight the work the partnership is doing 24 hours a day to keep Calderdale safe, clean and green. 

"We're supporting activities throughout all three days and running specialist operations to tackle issues such as speeding around our schools as well as issues residents have highlighted such as littering and dog fouling. 

"Keep an eye out and you may also see our Mounted Section on patrol in and around Elland on market day, don't forget to stop and say hello and find out about the range of work they do. Our Crime Prevention officers will also be in town on Friday, able to give advice and support about protecting you, your home or your businesses from becoming the victim of crime. 

"We all have our part to play in keeping Calderdale safe, green and clean and somewhere we can all enjoy living, working and bringing up our families." 
West Yorkshire Fire & Rescue Service Watch Manager, Oliver Crosland, who works in Calderdale district, said:
"We are keen supporters of the 'Elland Week of Action' as it is an ideal opportunity to work closely with our partner agencies in ensuring Elland is a safe place to live. Crews will be present in Elland on Friday 3 February to assist Council Officers and the Police in carrying out visual audits of the town including identifying arson hotspot areas. Fire Officers will also be on hand to offer fire safety advice and book people in for a Home Fire Safety Check."
For more information visit www.calderdale.gov.uk and search for 'getting the basics right'. Follow @calderdale(external link) on twitter and use #CleanCdale(external link)for the latest updates.