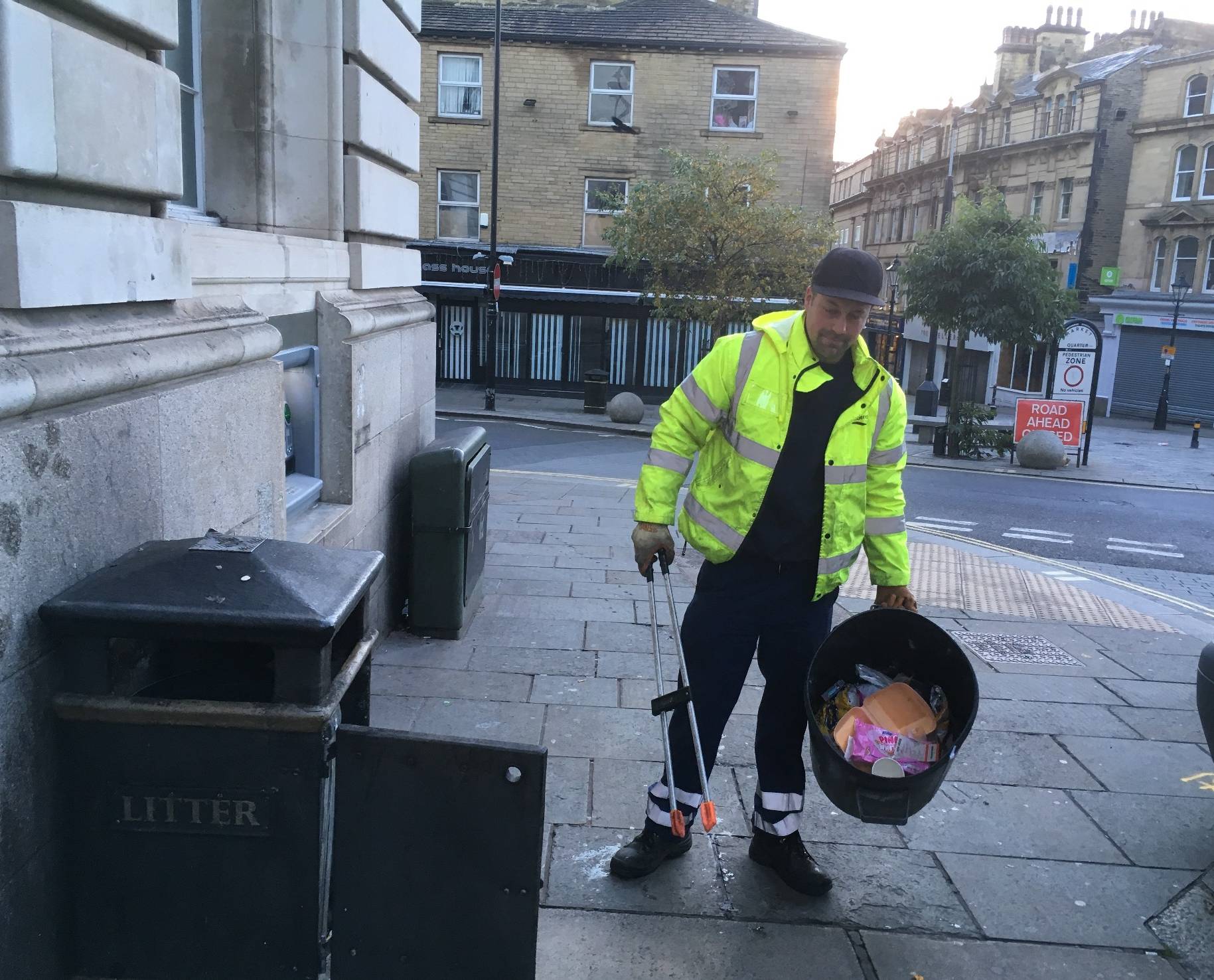 There's no messing in Halifax town centre this week, as the mission to make Calderdale safer, cleaner and greener is well underway.
Teams from Calderdale Council, West Yorkshire Police and West Yorkshire Fire and Rescue Service are out in force on the streets of Halifax, carrying out a complete cleaning blitz and a range of enforcement activities.
The targeted week of action kicked off on Sunday 23 October and continues until Saturday 29 October.
Cllr Tim Swift, Calderdale Council's Leader, said:
"I'm really impressed with the work done so far – thank you to everyone involved. Walking around Halifax town centre, you can already see the difference that the week of action is making.

"By raising awareness of key issues and the shared responsibility to keep Calderdale safe, clean and green, we hope to make a lasting impact. We all play a part in making our towns and villages places that we can be proud of, and together we can build on the week of action to make Halifax a great place to live, work and visit.

"We know that local people want to see more clean-ups and enforcement work in other parts of Calderdale, and we are planning further weeks of action over the coming months."
In Halifax town centre, Council teams are doing a daily clean up, including sweeping roads, jet washing pavements, emptying and replacing bins, clearing litter, dealing with fly-tipping and targeting grot spots throughout the town centre.
They are also cutting back vegetation and replanting to make the most of Halifax's green spaces.
Community wardens are patrolling the streets to deal with anti-social behaviour, and officers are advising bus and taxi drivers to turn off their engines whilst parked to help tackle air pollution. 
The Council's Environmental Health team has served six fines for littering so far. Calderdale Council was the first local authority in England to offer smokers caught dropping litter the chance to attend stop smoking sessions rather than pay a fine, and all of the people fined this week have chosen to go to the sessions.
Look out for the information stall at Southgate in Halifax town centre on Friday 28 October from 12 noon to 4pm, where you can talk to experienced staff about a range of issues including waste, recycling and pest control.
Keep updated during the week of action and beyond by following the Council on Twitter @Calderdale. Updates, photos and videos are being shared using the hashtag #CleanCdale. A summary of the week, including photos, will also be available on the Week of action web page.  
Keep an eye out for more information about other weeks of action across Calderdale.